Thabiso Mchunu: "I am Floyd Mayweather in a 200-pound frame"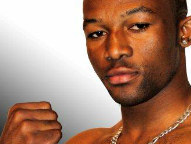 --


The summer is traditionally a quiet time for boxing but NBC did a three-fight broadcast as part of their ongoing series with Main Events with the return of Tomasz Adamek (who outboxed Dominick Guinn) and Curtis Stevens (who drilled hapless Saul Roman in a single round). It also served as Eddie Chambers' cruiserweight debut. He was matched with unknown Thabiso Mchunu.

Going into the fight, Chambers said, "I think the fact when you don't know a lot about the guy, it makes it dangerous. However, it could be one of two reasons: they tried to keep him protected or it's that they want to keep him a secret so they can jump him in on some unsuspecting top fighter," before adding, "I hope it's the latter of the two cause otherwise, he'll be exposed badly. However, I have high hopes for the kid. I want it to be a good fight."

It was very much the latter as Mchunu, a diminutive 5'8" for a cruiserweight, stuck, moved and outboxed Chambers all night long, winning by scores of 99-93 and 99-91 (twice).

It was every bit the way to gatecrash the cruiserweight ranks. At just 25 with a record of 14-1 (10), "The Rock" is nicely poised in the packed division.

The South African confidently proclaimed, "I will fight anyone. After Chambers, I realised I could beat anyone. [WBO cruiserweight titlist Marco] Huck and [WBA cruiserweight titleholder Guillermo] Jones aren't as good a fighter as Eddie."

Currently, Mchunu is ranked six by the WBC #6 and 13 by the IBF.

Anson Wainwright - In early August, you took on former heavyweight world title contender Eddie Chambers. You won a wide decision against him. Can you tell us from your point of view how you saw the fight going?

Thabiso Mchunu - I knew that Eddie was crafty and he could punch but my style was always going to catch him by surprise!

AW - Were you a little surprised by Chambers in that he couldn't change his game plan? Did you expect him to be better than he was?

TM - By round six, I knew I had him all worked out but didn't want to risk the KO on my first time out of South Africa.

AW - As you say, it was your first fight outside South Africa. What was that like for you?

TM - The States is the obvious platform to take it to the next level, so it was a fantastic opportunity given to me by [Main Events CEO] Kathy Duva and Showpony [Promotions]! I think I love America!

AW - It's still early but what are your thoughts on what you'll do next? Might you fight in America again for Main Events or was that a one-off?

TM - We are close to finalising a three-year contract and that's because Main Events realises there is nobody on the planet that can touch me at this weight division! I will unify the belts given the chance. Too young, too fast, too good-looking! NBC summed it up: I am "[Floyd] Mayweather in a 200-pound frame."

AW - You're from [KwaZulu-] Natal. Could you tell us about your younger days?

TM - Natal has a great boxing community and I started at age six, so my amateur background facilitated by my father has been key! I owe him a lot!

AW - How did you come to take up boxing?

TM - My father taught us the basics and I went on to win every junior tournament I fought in - hence turning pro!

AW - What are your thoughts on the cruiserweight division? Are you targeting anyone in particular?

TM - I will fight anyone. After Chambers, I realised I could beat anyone. Huck and Jones aren't as good a fighter as Eddie was and that's all I'm saying…I would beat [heavyweight contender] David Haye given the chance!

AW - One fight that would be very interesting is you against Ilunga Makabu. You both won big fights you weren't expected to in the past few months. What are your thoughts on Makabu and the possibility of that fight?

TM - I've always said that as a team, we are far too global for these locals but Makabu is a good prospect. I am a great prospect and that's the difference. Who knows? Maybe down the line, we could meet and I would school him.

AW - Tell us about yourself. What do you enjoy doing away from boxing?

TM - I love hip-hop and I record my own music as well as do some modeling.

AW – Lastly, do you have a message for the cruiserweight division?

TM - I do: you've just seen the tip of the iceberg. Watch this space. Mr. Huck can't keep running forever…
Please visit our Facebook fan page at www.facebook.com/MaxBoxing, where you can discuss our content with Maxboxing readers as well as chime in via our fully interactive article comments sections.