Taylor Looking to "Keep the Door Open"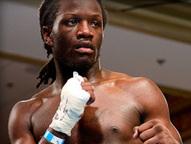 Photo © Tri Nguyen


Welterweight Emmanuel Taylor, who faces Victor Manuel Cayo on ESPN2's "Friday Night Fights" tonight, always seemed to be the type of prospect who, unless truly challenged, would simply take the easiest route to winning his fights. If a knockout opportunity presented itself, fine; he took it. But if he could glide to an easy decision, he would just the same. By mid-2011, his career seemed to be going sideways. Taylor, 16-1 (11), was active and beating the opponents he was supposed to beat but there was little about his wins to suggest he was ready take his career to the next level.
Then came "Fight Night" at the Washington Hilton, (yes, that Washington Hilton). At a $1000-a-plate benefit dinner in a cigar smoke-filled ballroom, Taylor faced Prenice Brewer, who was coming off a year-plus-long layoff after the first defeat of his once-promising career. After a dance number by the Redskinettes, a custom chopper being auctioned off for 70-large and a short concert from Commodores (sans Lionel Richie), the fights started.

After the first two rounds, there was no mistaking what was happening in the ring. The more experienced Brewer was exposing Taylor and completely outboxing - and outclassing - him. It is true that you learn a lot about prospects when they are winning fights but when they are losing fights, you learn it all.
Knowing he was losing, Taylor began to mix things up, going to the body and looking for other ways to not just take opportunities but create them. By the seventh round, Taylor was a different fighter and it was a completely different fight. During that round, Taylor put together everything he had been working on since round three and began dominating the fading Brewer, nearly forcing a stoppage. But Brewer held on and, at least in this writer's opinion, was rightfully declared the winner by split decision at the end of eight rounds.
Despite being the better fighter, Taylor suffered his first loss as a professional fighter.
"Sometimes a fighter needs a reality check and Manny got that." David Sewell, Taylor's trainer, told Maxboxing regarding the Brewer loss. "If he was more aggressive, he could have knocked Brewer out."
Sewell, a good professional fighter two decades ago, is still "old school" in his attitude but understands the pressure put on young fighters today, "A lot of pressure is put on these kids, telling them that one loss could end their career. So too often you see a kid fighting not to lose rather than fighting to win. But a good loss will make you a better fighter and Manny understands that now."
Sewell acknowledged that Taylor was somewhat going through the motions in the summer of 2011 when he fought shopworn veterans such as Marcus Brashears and Jose Angel Roman, so Sewell was ready to step up the competition and put Taylor in with the once-beaten Brewer. It wasn't he first time Sewell moved Taylor up dramatically. In just his sixth fight, Taylor squared off against the always hardnosed Doel Carrasquillo. At that time, Taylor rose to the occasion and won a very hard-fought battle (a six-round majority decision). Less than two months later, Taylor knocked out Ayi Bruce, who entered the ring at 15-1.
If there's a consistent theme to Taylor's career, it is that he is at his best when facing his biggest challenges. He did that again in January when, despite his 2011 loss, he was given a shot to fight on "ShoBox" against Raymond Serrano, who was coming off his own first loss. Serrano, now training under D.C.'s Barry Hunter, was considered a top prospect until being stopped by Karim Mayfield. Like Taylor, Serrano needed a win.
After a couple uneventful rounds, Taylor seized the moment and left no doubt as to which fighter deserved to move forward in his career. In the biggest fight of his young career, Taylor dispatched Serrano in six rounds.
Sewell understands how fortunate he and Taylor were to be given such an opportunity after the loss to Brewer. Sewell credits Taylor's managers, D & D Management and promoter Joe DeGuardia for making the opportunity possible.
Given Taylor's ability to rise to a challenge, the team wasted no time in taking an ESPN2 main event fight against Victor Manuel Cayo. The last American fight fans saw of Cayo was his title elimination fight with Lamont Peterson on ESPN2 in July of 2011. Cayo, 31-3 (22), battled Peterson for 11 tough rounds before finally succumbing to Peterson's relentless pressure with less than 15 seconds remaining in the fight. Cayo has since been knocked out by a faded Nate Campbell in 2012 before winning four fights in the Dominican Republic.
Having been in the ring with the very highest level junior welterweights, Cayo represents another big challenge in the 22-year-old Taylor's career. Sewell expects his fighter to again meet the challenge and believes Taylor will get stronger as the fight goes on. That said, Sewell acknowledged to Maxboxing the first few rounds could be tough.
It's hard to believe Sewell won't have Taylor prepared for those opening rounds. Throughout our conversation, he did not in any way dispute the judges' decision in the loss to Brewer but only focused on how the loss made Taylor a better fighter. And Taylor did become a much better fighter, taking advantage of the next opportunity he was granted and in Sewell's words, "He opened the door."
To this, Sewell followed, "Now he's got to keep it open."
Please visit our Facebook fan page at www.facebook.com/MaxBoxing, where you can discuss our content with Maxboxing readers as well as chime in via our fully interactive article comments sections.