Stevenson-Fonfara Lands on Showtime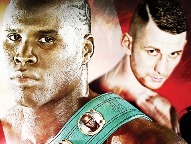 -


The other shoe dropped on Tuesday afternoon as HBO declined its matching rights offer on Adonis Stevenson, who will now defend his WBC light heavyweight title versus Andrzej Fonfara, May 24th on rival network Showtime. HBO had hoped Stevenson would eventually face Sergey Kovalev - who headlines its broadcast this weekend - in the fall. Instead, Stevenson looks like he's on track to tackle IBF titlist Bernard Hopkins down the line.
Yvon Michel, whose company GYM represents Stevenson, sent out this statement:
First, we want to thank HBO for the ride with Adonis in 2013. They gave him his first chance and they have raised him to the star status. We only have great comments for all HBO's executives with whom we have worked very well and have established [a] great relationship. I have presented what I believed was an excellent multi-fight deal offer to Adonis from HBO with a deadline set for March 11th

for approval. After discussions, we have decided to pass and we got a better offer [from] Showtime. HBO had the right to match any offers so we sent them a copy. They had until today to match it but have decided otherwise. This was [a] pure business decision for all parties involved, nothing personal or immoral. We wish to praise M. Steven Espinoza of Showtime for his ambition to do business [with] Adonis and GYM, which was reflected into the offer he has presented; we are thankful to him. We are looking forward for a fruitful association. Adonis Stevenson was the "Fighter of the Year" for many websites and publications in 2013 and feels he is treated that way. His goals are to keep fighting and winning spectacular fights by knockout, to unify the light heavyweight titles and raise his recognition to the top five pound-for-pound [rankings] this year. The next step is May 24th at the Montreal Bell Centre against young number one IBF/WBO and number three WBC contender Andrzej Fonfara.

While it's easy to blame adviser Al Haymon (who inked a deal with Stevenson several weeks ago) and make him the boogeyman here, the reality is it never was all that apparent that "Superman" was completely on board with facing Kovalev. Perhaps at age 36, he looks at Hopkins as more lucrative and less daunting a physical challenge than the hard-hitting Russian. If Stevenson wanted to face Kovalev, there was a deal on the table that his own promoter called "excellent." Haymon merely facilitated what his client yearned for.

As for HBO, it is now left with a 30-1 fight between Kovalev and Cedric Agnew with no real road map leading into the future. When Stevenson and his representatives sought what is being described by sources as a "significant increase" in the license fee for the May 24th event with no commitment of facing Kovalev down the line, HBO - who believed that a deal had been agreed to - decided to take a pass.


Stevenson got what he wanted.

Showtime created a natural opponent for Hopkins.


HBO made a stand which was completely justified.