Sergey Kovalev: "I hope Andre Ward will come up one day to 175."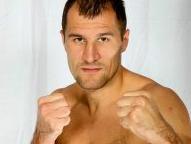 (Photo © Rich Graessle)


The old adage goes "Be careful what you wish for." After witnessing Sergey Kovalev demolish former world champion Gabriel Campillo and fringe contender Cornelius White both in three rounds this year (making Kovalev arguably the most dangerous and best fighter at 175 pounds without a belt), WBO light heavyweight titlist Nathan Cleverly asked his promoter, Frank Warren to get him Kovalev. A bold move when you look at each of those fights.

The 30-year-old former member of the Russian military had a standout amateur career before heading to America in 2007 to turn pro. Since then, he's put the division on notice, marauding his way through 19 of his 21 victories against one draw.


Initially, when the offer came into fight Cleverly, Kovalev was caught between a rock and a hard place, a certain fight with Cleverly and a proposed fight with the legendary Bernard Hopkins, the IBF titleholder, whose situation was unclear after mandatory challenger Maro Kurat declined a visa to enter America. Kovalev says of the situation, "I had two choices. One was to take the fight with Cleverly and another to chase Hopkins with no guarantee that the fight will happen and I will lose the offer to fight Cleverly. Our team decision was to take Cleverly."

With that in mind, Kovalev heads out to Motorpoint Arena in Cardiff, Wales to face Cleverly on Saturday on HBO as well as BoxNation in the U.K. Here's what Kovalev had to say on several subjects ahead of his eagerly anticipated WBO title challenge.

Anson Wainwright - On the 17th August, you fight for the WBO light heavyweight title against Nathan Cleverly. What do you think about of him as a fighter, what do you see as his strengths and weaknesses when you watch him fight?

Sergei Kovalev - Tell you the truth, I did not seen much of Nathan fighting until this offer came to me. I heard his name and I knew he is WBO champion. What can I tell you about a champion? He is a Champion!

AW - The fight takes place in his home country in front of his fans. What are your thoughts about going on the road?

SK - It is not a first time for me to go and fight in someone's territory; done it many times, even fighting in America with American fighters in their hometowns. But tell you what; it is sport, not a war and when you go to somebody's backyard and all the fans are on your opponent's side in the middle of the bout turning to be your fans as you show a good performance, it is a nice feeling.

AW - You've had less than 60 pro rounds and also only once fought eight rounds. Is that a slight concern for you going into this fight?

SK - Not at all. I consider I will be in good shape and if need it, I will go 12 rounds but I hope I do not have to.

AW - Tell us about your camp for the Cleverly fight.

SK - A month before the fight, I was working on my conditioning training running, lifting weights, riding a bicycle. Not much boxing, only shadowboxing. The last month, I have done boxing training with John David Jackson in his Fort Lauderdale gym. My manager has arranged sparring partners for me.

AW - In your last fight, you impressively took out Cornelius White in three rounds. Could you talk us through the fight?

SK – Well, I think you saw the fight. What can I tell you? I did what I do best!

AW - The fight with Cleverly was mentioned, then the Bernard Hopkins fight with Karo Murat fell out and it appeared that you would step in and fight Hopkins. Can you tell us about this?

SK - It turned into a drama. I asked Bernard to fight and there was nothing but silence. When we received the offer to fight Cleverly, I had two choices. One was to take the fight with Cleverly and another to chase Hopkins with no guarantee that the fight will happen and I will lose the offer to fight Cleverly. Our team's decision was to take Cleverly. After the announcement was made that I would fight Cleverly, Hopkins popped out into the media and started making noise that he wants to fight me. I hope he will be still interested after the August 17th fight.

AW - You were born in Chelyabinsk, Russia. Could you tell us about your early years growing up and the path you took into boxing?

SK - Yes, I was born in Chelyabinsk Russia. I started going to the boxing gym at 11 years old. My classmate invited me and I liked it a lot.

AW - You were a very good amateur with over 200 fights. Could you tell us about your amateur days and what titles and tournaments you won? Did you face anyone who's currently a pro?

SK - In my amateur years, I boxed with Matvey Korobov and Artur Beterbiev. Both of them today are fighting in the pros. I was a world-class athlete in amateur boxing, a member of the Russian national team in 1998-2009. The winner of the first youth-va-1997 Russia, silver medalist youth first-va-1998 Russia, the winner of the first youth-va-1999 Russia, member of youth first-va-Europe 1999, the winner of the qualifying tournament for the first-woo World Juniors 2000. Two-time silver medalist Lane Islands Russian Championships 2000-2001. Silver medalist Russia, 2004 and 2008. Champion of Russia, 2005. World Championships silver medalist in the military in 2006. Two-time world champion in the military, 2005 and 2007. Two-time winner of the match between Russia and USA in 2008. Multiple champion of international tournaments, class A.

AW - What do you think of the light heavyweight division?

SK - It is getting to be a good division. I hope I can help to get better and also hope Andre Ward will come up one day to light heavyweight to make it better.

AW - Looking at the top 10 currently according to The Ring magazine, what would you say about each fighter?

SK - I do not like to talk about other fighters. Sorry!

AW - In closing, do you have a message for Nathan Cleverly ahead of your fight?

SK - Be in shape. I am coming to get this WBO title.

Questions and or comments can be sent to Anson at elraincoat@live.co.uk and you can follow him at www.twitter.com/AnsonWainwright. Anson is also a contributor and ratings panelist for The Ring magazine.
Please visit our Facebook fan page at www.facebook.com/MaxBoxing, where you can discuss our content with Maxboxing readers as well as chime in via our fully interactive article comments sections.