Ryo Miyazaki: "I think I am the best at strawweight"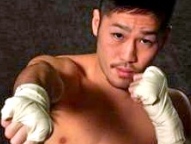 -


When Japanese superstar Kazuto Ioka abdicated his WBC/WBA thrones at strawweight, he left openings for other fighters, including Ryo Miyazaki, a career light flyweight and the reigning OPBF 108-pound champion. The allure of a world title meant Ryo dropped the extra three pounds and met Thailand's Pornsawan Porpramook last New Year's Eve, winning the vacant WBA strap via split decision with scores of 116-111, 116-112 and 113-114, improving his record to 18-0-3 (10). The 24-year-old hopes to soon go back up in weight but first makes his maiden defence when he tackles WBA #7 contender Mexico's Carlos Velarde today in his adopted home of Osaka as chief support to Ioka, who faces Wisanu Kokietgym.

Anson Wainwright - You won the vacant WBA strawweight title when you dropped down to 105 and narrowly beat Pornsawan Porpramook on points in an exciting fight. Could you tell us about it?

Ryo Miyazaki - It was hard. I had not able to take advantage of my potential because I had lost weight; however, I wanted to fight with more speed. He was tougher than I expected. He took the punches and kept coming forward. His force was amazing.
AW - Could you tell us about your first defence?

RM - 8th May, Carlos Velarde. The WBA expects him to win. I will fight to get the KO win in the first round.
AW - Has anything in your life changed since you won the world title?
RM – Yes, my life has changed drastically. Everybody knows me now. I am more popular. That's why I followed boxing. If it had not changed, I would have abandoned boxing. For now, my first defence is most important.

AW - Up until you beat Pornsawan, all your fights had taken place at light flyweight or even flyweight. You were world-ranked and had won the Japanese national title as well as the OPBF title. How hard was it for you to get down to 105?

RM - It was very hard to lower my weight. I started to go down in weight two months
prior than usual. It took more time to lower my weight.

AW – You're promoted by Kazuta Ioka Promotions. He's also a two-division world champion, having won on the same card as you. Could you tell us a little about the relationship the two of you share?

RM - Our relationship is not only that of a professor and student. [Kazuta's father, Kazunori Ioka] is my father. Even though we are not related by blood, to me, he is my father. I met him when I was a high school student. He led me since being an amateur until now as a professional. He taught me to box. Thanks to him, I am now a champion. Kazuto is real star, a really good fellow. I will follow him.
AW - Now that you have won a world title at strawweight, what other goals do you have in boxing?
RM - I want to go up in weight as soon as possible. I want to be at junior flyweight. This is my first step. Step by step, I will go up in weight.

AW - What are your thoughts on the strawweight division and the other champions, WBC titlist Xiong Zhao Zhong, WBA interim champ Jesus Silvestre, IBF titleholder Katsunari Takayama and WBO champ Moises Fuentes?

RM - I think I am the best in this weight class. Confidence is power. I will fight everyone if it offers a good purse.

AW - What were your early years like growing up in Ota, Gunma, Japan?

RM - In school, I concentrated on boxing. My school life was only boxing. I was in a juvenile correction center when I was a high school student. I was very sorry and it reflected very much on my way of life. During that time I met Mr. Kazunori Ioka and he took me to the world championship. He showed me the way I have to go and life I like. I think that to find one's self is to change our life.

AW - How did you first become interested in boxing?

RM - My father was a boxer. He taught me the basics when I was a boy. I was interested in boxing.

AW - Away from boxing, can you tell us about your life, your hobbies and interests are?

RM - Now when I have time, I go to a Japanese public bath and then I enjoy Karaoke. My hobby is bass fishing. I go everywhere to go fishing in the early mornings.

AW - Who are your boxing heroes? Who do you like to watch today?

RM - Arturo Gatti. I think he is a real man who knew fighting. I like him still. And actually, I like Floyd Mayweather. He is a great master of boxing.

AW – Finally, do you have a message for the strawweight division?



RM - I would consider fighting to unify the titles if the offer is a good purse.
Please visit our Facebook fan page at www.facebook.com/MaxBoxing, where you can discuss our content with Maxboxing readers as well as chime in via our fully interactive article comments sections.