Remembering a True Champion: Vernon Forrest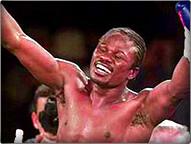 --


Vernon "The Viper" Forrest embarked on his pro career after an outstanding amateur career in which he beat Shane Mosley to earn a spot on the 1992 Olympic team. After returning from the Games, he turned pro in November of 1992. Forrest ran off a string of impressive wins going undefeated in 31 fights, earning a shot against Raul Frank for the vacant IBF welterweight title. Unfortunately, an accidental cut caused the fight to be stopped and ruled a "no contest" in the third round. However, nine months later, Forrest secured a rematch against Frank and beat him over 12 rounds in Madison Square Garden to become the IBF welterweight champion.
After picking up a fourth round KO win over Edgar Ruiz, Forrest secured a match against his old amateur rival, now 38-0 star, Shane Mosley. Considered one the best fighters in the game, Mosley was a favorite going into the fight. However, the long-armed, lanky Forrest worked off a strong jab and thunderous right hands to upset Mosley over 12 rounds. Forrest did it again six months later in a rematch to retain the title. The two wins over Mosley earned "The Viper" newfound fame, popularity and The Ring magazine "Fighter of the Year" award in 2002. The popular fighter was also lauded for his charity work out of the ring. Forrest was directly and actively involved in his hometown of Atlanta, Georgia, assisting people with developmental disabilities. After beating superstar Mosley twice, Forrest was set to defend against tough but crude Nicaraguan tough guy Ricardo Mayorga in January of 2003. This was considered an easier task for the smooth-boxing Forrest but, as always, styles make fights.

The hard-punching, clubbing style of the unorthodox, swarming Mayorga appeared to fluster and frustrate Forrest and he was stopped in three rounds in a surprise upset. He acquitted himself better in the rematch six months later but was beaten via majority decision over 12 rounds. Forrest took two years off after the second loss to Mayorga to deal with a number of injuries including his arm, elbow and rotator cuff. By the summer of 2005, refreshed and injury-free, he was now ready to return to the ring.
Forrest returned in 2005 and amassed wins through 2006 including a tough, close fight against Ike Quartey. This earned him a shot at the vacant WBC light middleweight title against former world champion Carlos Baldomir. He beat Baldomir to win the title, defending it five months later against Michele Piccirillo, closing out his 2007 with an 11th round TKO win. This set up a bout with former "The Contender" series star Sergio Mora. In an upset, Mora took the title from Forrest, outworking him over 12 close rounds to get a majority decision win. Forrest would regain his title three months later in the rematch with a convincing 12-round unanimous decision. Sadly, this would turn out to be the champion's last fight.
Less than a year after his final title winning bout, on July 25th, 2009, Forrest stopped to get gas at an Atlanta service station. While seeing to his car, he was robbed at gunpoint and in the ensuing altercation, he was shot and killed. He was only 38 years old. Vernon Forrest was an outstanding amateur boxer, three-time world champion as a pro and a credit to the sport in and out of the ring. Gone too soon but not forgotten.