Remembering a True Champion: Rocky Graziano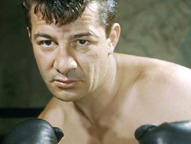 --


Thomas Rocco Barbella was better known by his ring name, Rocky "The Rock" Graziano. New York-born, he has long been considered one of boxing's truly great punchers, having displayed devastating, one-punch power throughout his 83-bout, Hall of Fame career. Rocky was the subject of the 1956 Oscar-winning movie, "Somebody up There Likes Me" starring Paul Newman. The movie was based on the 1955 autobiography of the same title.
Reform school and jail were where the hardnosed street fighter spent much of his early life. However, boxing would save Rocky from making crime - and ultimately incarceration - a career choice. However, Graziano, never accused of overtraining, would quickly garner a reputation for crushing punching power and incredible toughness. In time, these two attributes would help take him to the World Middleweight Championship. Graziano never really had career aspirations as a fighter as he eschewed the discipline training required. With a limited education and few career options he did, however, see boxing as a way to make some money.
Graziano turned pro in the spring of 1942 and rattled of a 20-3-3 record by the end of 1943. He also showed great punching power scoring 15 knockouts in his first 20 wins. "The Rock" was busy in 1944 fighting 20 times. He recorded a 15-3-2 record facing some of boxing's most experienced and iron-tough middleweights. He closed out 1944 with two distance slugfest losses to Harold Green in New York's Madison Square Garden. In 1945, a good year for Rocky, he scored five straight knockout wins, including two wins over former world champion Freddy Cochrane as well as avenging his losses to Harold Green from the previous year, stopping him in three rounds.

Rocky opened 1946 by beating defensive wizard Sonny Horne in January over 10 frames. After another win in March, Rocky was set to face tough-as-nails banger and Indiana native Tony Zale in September in New York's Yankee Stadium for the National Boxing Association (NBA) and New York State Athletic Commission (NYSAC) World Middleweight Titles. In a brutal war, "The Rock" was stopped in six rounds. The fight was voted as The Ring magazine's "Fight of the Year" for 1946. After two quick wins in June of 1947, the two would tangle again at Chicago Stadium with the NBA middleweight title on the line. This time, Rocky turned the tables, stopping Zale in six rounds. With the win, the new world champion was again part of The Ring magazine's "Fight of the Year" for the second year in a row. With both fighters holding wins in their classic pair of title fights, the rubbermatch was set for June of 1948 at Ruppert Stadium in New Jersey. In another classic pier-sixer, Graziano was stopped in three rounds, the victim of one of boxing's classic, highlight-reel left hooks delivered right on the button by the "Man of Steel." The trilogy would cement both fighters in the annals of middleweight history for their hat trick of epic battles.
From June of 1949 until his last fight in September of 1952, Graziano would fight 23 times, going 20-2-1. During this run, Rocky received one final shot at the 160-pound belt against legend "Sugar" Ray Robinson in April of 1952 and was stopped in three rounds. Rocky Graziano retired with a record of 67-10-6 (52 knockouts) over 83 fights.
In retirement, Rocky went into television and sustained a successful acting career. He also opened a restaurant, Rocky Graziano's Pizza Ring, in New York. Rocky "The Rock" Graziano, raised on Manhattan's Lower East Side (where boxing historian Bert Randolph Sugar once wrote, "both sides of the tracks were wrong"), overcame a rough and disadvantaged start in life to become middleweight champion of the world. In retirement, Graziano, voted #23 in The Ring magazine's list of "Greatest Punchers of All Time," was inducted into the International Boxing Hall of Fame. Graziano died 33 years ago this month on May 22, 1990. Gone but never forgotten.
Please visit our Facebook fan page at www.facebook.com/MaxBoxing, where you can discuss our content with Maxboxing readers as well as chime in via our fully interactive article comments sections.