Remembering a True Champion: Randy Turpin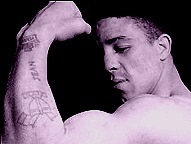 -


Randolph Adolphus "Randy" Turpin was a Leamington, United Kingdom fighter, considered to be one of the top middleweights in the 1940s and 1950s era. "The Leamington Licker" squared off against the likes of champions Carl "Bobo" Olson, Don Cockell and the great "Sugar" Ray Robinson in his 75-fight, Hall of Fame career.
Randy turned pro at age 18 in the fall of 1946. Within three years, through the end of 1949, he was 26-3-1 fighting exclusively in London. In his fifth fight of 1950, Turpin was awarded the opportunity to fight for the British Boxing Board of Control (BBBofC) middleweight title against defending champion Albert Finch. Turpin took the belt from the champion with a fifth round KO. After three more wins, Turpin got a chance to fight for his second title in February of 1951. This time, he would tangle with 105-fight veteran Luc Van Dam for the vacant European Boxing Union (EBU) middleweight title. He picked up his second title in quick fashion, stopping Van Dam in the first round. After wins in March and April, Turpin defended his EBU title for the first time against Jan De Bruin in May with a sixth round KO. After one more win, he was awarded his shot at the coveted World Middleweight Title strap in July of 1951 against legend "Sugar" Ray Robinson. After 15 rounds, Turpin had upset the odds and beaten "Sugar" Ray, winning the World Middleweight Championship. The new champ would defend the title two months later in New York against Robinson in the rematch. In front of over 60 000 people in a fight Robinson had clearly trained harder for than their first meeting, Turpin was stopped in 10 rounds.

Turpin would have a strong return over 1952-53, going 8-1. In this two-year span, he would win the Commonwealth light heavyweight title, the BBBofC light heavyweight title and the vacant EBU middleweight title. In October of 1953, he would drop back to 160 pounds and travel to New York City to challenge Carl "Bobo" Olson for the vacant World Middleweight Title. Despite being dropped in the ninth and 10th rounds, he did manage to finish the fight. However, he lost a unanimous decision over 15 rounds. In Turpin's second of only two fights in 1954, he traveled to Rome, Italy to challenge 76-fight veteran Tiberio Mitri for the EBU middleweight title. On his shortest night as a pro, Turpin walked into a left hook that dropped him just over a minute into the fight and Turpin was counted out 65 seconds into the contest. In Randy's third fight of 1955, he again captured the BBofC and Commonwealth light heavyweight title, beating champion Alex Buxton. However, two fights later in his last bout of the year, he was iced in four rounds by Canadian Gordon Wallace.
In November of 1956, Turpin once again picked up the vacant BBofC British light heavyweight title, beating old foe Buxton again. In his first title defence, six months later in June of 1957 against challenger Arthur Howard, despite being dropped three times, Turpin hung on to retain his title over 15 rounds. From the summer of 1957 until the fall of 1958, Turpin would go 7-1. He would return four-and-a-half years later to score two more wins before retiring for good. Turpin would leave the ring with a record of 66-8-1 (45) over 75 fights.
Athletes often struggle with a civilian routine after a life in pro sports. This can be especially true of fighters who certainly leave a piece of themselves in the ring. They have to make peace with what's left and learn to move on. Turpin struggled professionally, financially and personally in life after boxing. Sadly, a little less than two years after leaving the ring, bankrupt and distraught, Randy Turpin took his own life at 37 years of age. Randy left behind a wife and four daughters. Turpin was inducted into the International Boxing Hall of Fame in 2001. Randy Turpin died 47 years ago this month on May 17, 1966. Gone but never forgotten.
Please visit our Facebook fan page at www.facebook.com/MaxBoxing, where you can discuss our content with Maxboxing readers as well as chime in via our fully interactive article comments sections.