Remembering a True Champion: Kid Gavilan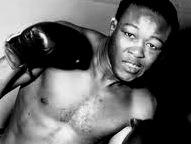 --


Born in 1926 in Camaguey, Cuba, Gerardo Gonzalez was better known by his ring name, Kid Gavilan. The flashy, crowd-pleasing, Hall of Fame welterweight had a record that spanned 15 years and 143 bouts. By the time he wrapped up his legendary career, he had faced some of boxing's all-time great welterweights including Carmen Basilio, Tony Demarco, Bobo Olson and Sugar Ray Robinson, to name a few.
Kid turned pro in the summer of 1943 in his native Cuba. By the fall of 1946, fighting almost exclusively in Cuba, (except for a few jaunts to Mexico), he ran his mark to 34-2. At this time, Gavilan headed north and plied his trade in the United States to try and gain some attention on the world stage. Between the fall of 1946 up to the end of 1950, fighting between Cuba and the United States, he ran up a record of 42-9-3. During this span, he was facing some of the game's best including Billy Graham, Rocky Castellani and the legendary Sugar Ray Robinson. In his sixth fight of 1951, Gavilan picked up the National Boxing Association, (NBA), welterweight title with a 15-round unanimous decision over Johnny Bratton at Madison Square Garden in New York. He would fight six more times through 1951, defending the title once more as well against old foe Graham. In February of 1952, Gavilan won the World Welterweight Title with a 15 round split decision over 104-fight veteran Bobby Dykes in Miami, Florida. After three more wins, he defended the title for the first time in July of 1952, stopping undefeated Gil Turner in 11 rounds in Philadelphia. After three more wins in the summer and fall of 1952, he again beat Billy Graham, this time in his second title defence.

After two quick wins in January of 1953, he defended the title for the third time in Chicago, Illinois, stopping undefeated Chuck Davey in the 10th round after dropping him three times in the ninth frame. After five more wins in 1953, Gavilan next defended the title against Carmen Basilio. After being dropped in the second round, he boxed beautifully the rest of the way to beat Basilio over 15 rounds via a split decision. Gavilan's fifth title defense would close out the year with a 15-round unanimous decision over Johnny Bratton in November. After two wins in 1954, he moved up to the middleweight division to challenge Carl "Bobo" Olson for the World Middleweight Title. The two warriors battled in front of a raucous Chicago Stadium crowd but the naturally smaller Gavilan, who weighed 155 wearing his clothes, lost a 15-round unanimous decision. In his next bout, he moved back down to the welterweight limit to challenged Johnny Saxton in Philadelphia with the World Welterweight Title on the line. Saxton won the title via 15-round unanimous decision. From 1955 until June of 1958, Gavilan would close out his career with 26 fights, going 10-14-1. During his final run, while never again battling for a world title, he did face some of boxing's elite welterweights including the likes of Tony Demarco, Vince Martinez and Gaspar Ortega.
After his last fight in June of 1958, a unanimous decision loss to Yama Bahama, Kid Gavilan (who was never knocked out in 143 bouts) retired and never fought again. In retirement, he was inducted into the original Boxing Hall of Fame and, later, the International Boxing Hall of Fame in Canastota, New York. Kid Gavilan passed away on February 13, 2003 at the age of 77 in Miami, Florida after suffering a heart attack. Gone but never forgotten.
Please visit our Facebook fan page at www.facebook.com/MaxBoxing, where you can discuss our content with Maxboxing readers as well as chime in via our fully interactive article comments sections.