Remembering a True Champion: Archie Moore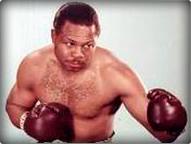 --


Born in Benoit, Mississippi and raised in St. Louis, Missouri, Archie Moore turned to boxing after leaving reform school in 1934. Moore, who fought under the nickname "The Old Mongoose" throughout his career, turned pro in 1935, kicking off one of the longest careers in the fight game. He still holds the record for most knockouts with 131.
Moore was undefeated in his first 15 fights before losing a unanimous decision to Billy Adams in 1937. With a couple of exceptions, during this time, Moore fought predominantly in the San Diego area, which eventually became his adopted hometown. Over the next six years, Moore would fight 43 times, only registering six losses taking him up to the end of 1943. Starting in January of 1944, Moore logged 26 fights over the next two-and-a-half years, going 22-4. This led to a fight against ring legend Ezzard Charles. Moore got up off the canvas in the eighth round to finish the fight but lost a 10 round unanimous decision. Moore remained undefeated in his next six fights leading to a spring 1947 rematch with Charles. Again, Charles came out on top with a majority 10 round decision. Less than a year later, with five more bouts under his belt, Moore would again get a shot at old foe Charles but this time, he was halted in eight rounds. Moore found himself battling for the U.S.A. California state title four fights later. However, he was dispatched in one round by Leonard Morrow. In the next year-and-a-half after the Morrow loss, Moore fought 23 more times going a very solid 20-3. From 1950 until the end of 1951, Moore would bang off 19 wins before losing a 10 round unanimous decision to 33-3 Harold Johnson in Milwaukee. Over the next four years, "The Old Mongoose" would rack up 21 straight wins including avenging his loss to Johnson as well as beating the likes of ring legends Carl "Bobo" Olson and Joey Maxim for the World Light Heavyweight title. His title win against Maxim (himself coming off a win over legend Sugar Ray Robinson) was the fulfillment of a dream after, incredibly, 158 fights! Moore closed out 1955 facing future Hall-of-Famer, 48-0 Rocky Marciano. In a valiant effort, in which he dropped Marciano in round two, he was stopped in the ninth round. Moore notched 11 straight wins through 1956 but closed out the year in a losing effort to Floyd Patterson at the Chicago Stadium in a shot at the vacant World Heavyweight title.

Now 41 years of age but fighting with a schedule and pace of a man half his age, Moore kicked off 1957 with a win in Germany over Hans Kalbfell. In the fall of 1957, Moore would again claim the World Light Heavyweight title with a win over Tony Anthony in Los Angeles. This would be one of 19 wins (one draw against Howard King split the run in August of 1958) taking him into the fall of 1960. During this run, Moore would also defend his title with an 11th round KO over Yvon "The Fighting Fisherman" Durelle in Montreal, Canada. In October of 1960, Moore travelled to Italy, losing a 10 round unanimous decision to Giulio Rinaldi. From then to the spring of 1963, Moore would fight eight more times, losing only to heavyweight legend (then Cassius Clay) Muhammad Ali. After a third round TKO win over pro wrestling legend (and adoptive father of "The Million Dollar Man" Ted DiBiase) "Iron" Mike DiBiase, Archie Moore retired in the spring of 1963 with an absolutely unbelievable record of 185-23-10 (131).
While Moore's career in the ring was over, the accolades and awards continued for years to come. In 1965, Moore was given the key to the city of San Diego. In that same year, he was also inducted into the "San Diego Hall of Champions". In 1970, he was named "Man of the Year" by Listen magazine and in 1985, Moore was inducted into the St. Louis Boxing Hall of Fame. In 1988, he was given the "Rocky Marciano Memorial Award" in New York City. In 1990, Moore was inducted into the International Boxing Hall of Fame. In 1999, he was voted "Number One Light Heavyweight" by the Associated Press. In 2003, The Ring magazine voted him number four on its "Best Punchers of all Time" list and number 14 on the "Best 80 Fighters of the Last 80 Years" list. In 2005, Moore was voted "Number One Light Heavyweight" by the International Boxing Research Organization.
Archie "The Old Mongoose" Moore, truly one of the great fighters of his time. A true boxing legend who sported one of the most remarkable ring résumés in recorded history. Archie died in his adopted hometown of San Diego, CA., four days shy of his 82nd birthday on December 9th, in 1998. Gone but never forgotten.
Please visit our Facebook fan page at www.facebook.com/MaxBoxing, where you can discuss our content with Maxboxing readers as well as chime in via our fully interactive article comments sections.