Remembering a True Champion: Andy Ganigan, the "Hawaiian Punch"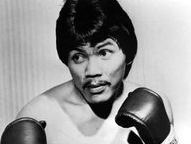 -


Born in Waipahu, Hawaii, Andy Ganigan, known as "The Hawaiian Punch" throughout his career, was considered one of the best punchers of his time and was rated in the top 100 in The Ring magazine's list of "The Greatest Punchers of All Time." The southpaw Ganigan, a fan favorite due to his devastating knockout power, compiled an impressive 34-5 record (30 wins by knockout) in his 11-year career.
Ganigan turned pro in his native Hawaii in 1972 and rattled off 21 straight wins, 19 via the knockout route, in his first five years as a pro. Except for a summer 1977 win at the Olympic Auditorium in Los Angeles, he fought exclusively in his native Hawaii, amassing a strong fan following with his exciting, one-punch power. Ganigan picked up the North American Boxing Association (NABF) lightweight title in his second win of 1978 and defended it two more times that year. He lost a bid for the USBA belt in the summer of 1978, getting stopped in the sixth round by undefeated Johnny Lira. After two KO wins to kick off 1979, Ganigan bested Vicente Mijares in a rematch over 12 rounds in Honolulu, Hawaii, successfully defending his NABF lightweight title and bringing his record to an impressive 28-1. However, two fights later, he was stopped in the seventh round by Robert Vasquez in a non-title bout. In his next fight, with his NABF belt on the line, he reversed the decision stopping Vasquez in the seventh round to kick off 1980. Ganigan picked up two more KO wins in 1980 but dropped a hard-fought 10-round decision to undefeated future three-time world title challenger Rodolfo Gonzalez at the Inglewood Forum in Los Angeles in his second bout of 1981. However, he closed out 1981 with an impressive knockout of Sean O'Grady.

This impressive win turned heads as O'Grady had beaten the Detroit-based, famed Kronk Gym's first world champion, Hilmer Kenty just two fights previous to win the world title. [Writer's note: Ganigan's fight with O'Grady was not for the world title as O'Grady had been stripped of the title for not facing number one contender Claude Noel]. The impressive KO win vaulted "The Hawaiian Punch" into a world title try against Nicaraguan legend and world champion Alexis Arguello. The two bombers waged war in Vegas but the 75-fight veteran Arguello, who was dropped by a vicious Ganigan shot in the opening frame, held on to his WBC title, stopping Ganigan in the fifth round. Ganigan returned a year later, challenging undefeated future world champion Jimmy Paul for the USBA lightweight title. In what would be his last fight, Ganigan was stopped in the sixth round.
Ganigan, a boxing hero in Hawaii, was enshrined in the Hawaii Sports Hall of Fame. Sadly, Ganigan suffered numerous, serious injuries in an unprovoked attack outside a bar in 2010. He required 24-hour care afterward and eventually succumbed to his injuries. Andy, "The Hawaiian Punch", Ganigan passed away one year ago this month on May 2, 2012. Gone but never forgotten.
Please visit our Facebook fan page at www.facebook.com/MaxBoxing, where you can discuss our content with Maxboxing readers as well as chime in via our fully interactive article comments sections.