Please help alleviate the financial burden for Magomed Abdusalamov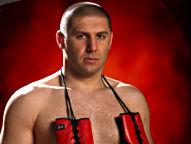 Magomed Abdusalamov


Sampson Lewkowicz, promoter of hospitalized Russian heavyweight Magomed "Mago" Abdusalamov, along with promoters Leon Margules and Lou DiBella, and with help and support of others in the industry, are establishing a fund and to donate and raise funds to help alleviate the financial burden the unfortunate brain injury Abdusalamov suffered Saturday night has placed on him and his family.

32-year-old Abdusalamov had to have emergency surgery to remove a blood clot, and part of his skull had to be removed to reduce swelling, following his brutal 10-round war against Mike Perez at The Theater at Madison Square Garden, on Saturday, November 2. The fight was also broadcast worldwide on HBO.

Mago is currently still in ICU at Roosevelt Hospital in New York.

Abdusalamov's family, including his wife and father, brothers, and three young children, along with his manager Boris Grinberg are keeping constant vigil at the hospital. He has also been visited by his entire promotional team.

"We are going to do what we need to do for Magomed. He and his family are going to need our help," said Lewkowicz. "He is going to need financial assistance for the medical bills for his treatment, and for his family who are faced with an urgent financial crunch from this terrible accident."

Deeply saddened by the unfortunate twist of fate that has befallen his fighter, Lewkowicz says he is happy to have already received so many offers of help, including one from middleweight world champion, Sergio Martinez.

"We cannot, as a boxing family, turn our backs on the brave men and women who compete in our sport when they need us most. We are going to do everything possible to help him get back on his feet. Magomed will never fight again, but he is a good man and a brave man with a nice family. We are going to make sure they all pull through this intact. That is the right thing to do. Every dollar will help."

The Magomed Abdusalamov Trust is currently being set up. In the meantime, donations can be made two ways:

Via PayPal: 100bbb@mail.ru

Or via check, mailed to:

Bakanay Abdusalamova
PO BOX 90174
Brooklyn, NY 11209

Contact Info:
Bakanay Abdusalamova
Phone: 203-368-8510
Email: 100bbb@mail.ru

Please make checks payable to: Magomed Abdusalamov