Ola Afolabi Wakes up from Groundhog Day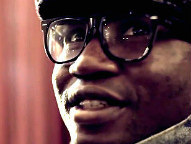 Ola


Cruiserweight contender Ola Afolabi returns to the ring this Saturday night against Lukasz Janik as part of the Gennady Golovkin-Curtis Stevens undercard at the Theater in Madison Square Garden. Afolabi is just relieved the Marco Huck portion of his career is past him.

"

Yeah, it got a little boring but I'm through it now. I'm glad I am fighting someone else besides him," he admitted last Friday before his day's workout at the Wild Card Boxing Club in Hollywood, California.
For the past year-and-a-half, he has faced Huck, the reigning WBO titlist. In May of 2012, Afolabi had to settle for a draw in a fight in which he started off quickly and seemed to do enough to get his arm raised in victory. Then this past June, Afolabi lost a majority decision to Huck. They first fought in 2009 with Huck winning another close decision. All three bouts took place in Germany.

Groundhog Day is over for Afolabi and he couldn't be happier about it except, "Well, I got paid every time I woke up," he says with a laugh. "I made pretty good money, so it was OK but yeah, it took a lot of time."
At 33 years old, Afolabi understands time isn't necessarily on his side. He is still chasing that elusive championship.
"

The goal is still to win the cruiserweight title. I don't want to be that guy where you look back on in history and all they say is, 'Oh, he's that guy who fought Marco Huck a bunch of times,'" said Afolabi, who has a career mark of 19-3-4 (9).
"

I still feel I got another three, four years left in this game," he continued. "I feel good in the gym and I'm ready to go."

Showtime Sports announced that this past weekend's telecast featuring Bernard Hopkins-Karo Murat at its peak had a million viewers.

The press release also noted that Hopkins-Murat "[ranked] third for the year behind to the peak audience from June's
Adrien Broner
vs.
Paulie Malignaggi
(1.3 million) and April's
Canelo Alvarez
vs.
Austin Trout
(1.1 million)
.
Hopkins vs. Murat's peak audience is the fifth highest on record for the network which now has seen its top-five largest boxing audiences in the last 13 months."

SOE

Here's my latest contribution to SportsOnEarth.com on the importance of Gennady Golovkin to HBO:

http://www.sportsonearth.com/article/63478994/

30 for 30

I really enjoyed the latest installment of "30 for 30" on ESPN that featured Jimmy Connors and his memorable run in the 1991 U.S. Open (which, by the way, is the last tennis tourney I ever cared about). Connors was a real renegade and a true entertainer.

No other tennis player was as good as getting the crowd into the match, riding the emotions of the audience and engaging them.

Connors and the way he played tennis reminded me of a tough, scrappy prizefighter. And it turns out his grandfather was a pugilist who actually told him the sport of tennis was boxing but "90 feet apart."

To me, "Jimbo" was a boxer dressed up as a tennis player. He was a great character from a great era of tennis.

(Here's his memorable rally against Paul Haarhuis: http://www.youtube.com/watch?v=_Ubnh3vd5qk (Preview) ).
FINAL FLURRIES

Manager Gary Gittelsohn tells Maxboxing that Alfonso Gomez injured his hand in a household accident and is now out of the December 14
th
bout against Victor Ortiz...If anything, the Lakers will be much more entertaining and fun to watch than they were last season...Yes, there's a good chance that by the time you read this, I will be in New York
...I can be reached at
k9kim@yahoo.com
and I tweet at
www.twitter.com/stevemaxboxing
. We also have a Facebook fan page at
www.facebook.com/MaxBoxing
, where you can discuss our content with Maxboxing readers as well as chime in via our fully interactive article comments sections.