Next Man Up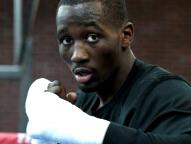 (Photo © Chris Farina / Top Rank)


As the calendar turned to 2014 and Mikey Garcia was looking ahead to his fight versus Juan Carlos Burgos, the dominant storyline was that the talented Garcia was on the fast-track to eventually face Manny Pacquiao. Never mind Garcia was campaigning at 130 pounds and that the "Pac-Man" is a welterweight (who albeit, can probably easily move down to 140 pounds) but this would be the plan for Garcia. Keep him active as possible this year (perhaps fighting four times and gaining more exposure on HBO) and then line him up for Pacquiao.
After dispatching Burgos in late January at the Theater of Madison Square Garden, the most obvious move seemed to be a match-up against the mercurial Yuriorkis Gamboa, with whom he had a ongoing Twitter feud (yeah, that's boxing in 2014).

It seemed like the perfect fight to keep Garcia's momentum moving forward and increase his Q-rating as he marched toward the type of payday every prizefighter yearns for. But a funny thing happened on the way to a Pacquiao fight: Garcia first haggled over the money (wanting over $1.5 million to face the Cuban) and then wound up going to litigation against Top Rank Promotions (mmapayout.com/garcia-sues-top-rank/).
So while Garcia languishes on the sidelines, joining the likes of Andre Ward and Julio Cesar Chavez, who are battling more outside the ring than inside of one, into the breach is Terence Crawford, who not only gets his crack at Gamboa but a career-high payday as well.
It's very simple: as talented as Garcia is (and this scribe has said many times that Garcia is one of the finest technicians in the sport), the game moves on without him or anyone else who simply doesn't get out there and do their jobs. I remember reading a book penned by John Feinstein that detailed a season of the Baltimore Ravens; it's classic Feinstein: incredibly detailed and well-written and you feel as though you are a part of that organization. But what I really came away with is that over the course of a season, football is a brutal sport and business. With that, it doesn't matter if you're Ray Lewis, Jonathan Ogden or the back-up strong safety or the long-snapper; if you can't go for whatever reason, they will find someone to take your place in the line-up. The games will take place with or without you.
The title of the book is Next Man Up.
Boxing is very similar in this regard.
When Garcia took himself out of the running and decided to stall his career, Top Rank, HBO and the sport of boxing didn't suddenly stop and beg him (or Ward or Chavez for that matter) to return. It just simply moved on. Not to infer that these guys don't impact the sport. Ward is considered among the very best boxers in the game as is Garcia. Chavez is still one of the most popular. But again, as you see the boxing schedule, while you don't see their names on any upcoming events, there are still plenty of fights taking place with more being planned for the late summer and autumn.
Time is on Garcia's side given he's still just 26. And for a guy his age, he's made a pretty lucrative living having been on HBO seven times (with an appearance on Showtime) collecting one six-figure paycheck after another the past few years. But like a young Juan Manuel Marquez, being the consummate counter-puncher, his fights aren't always the most entertaining and thus far, Garcia has failed to become a real attraction. He is the type of fighter who would have to put in some work before becoming that multimillion-dollar franchise - much like Marquez, who for years had to toil in the shadows of Erik Morales and Marco Antonio Barrera.
Where Garcia is now, Marquez was once upon a time.
A victory over the undefeated Gamboa wouldn't have necessarily made Garcia a household name but it would have been a solid name on his résumé. Beyond that, it would have been another step toward Pacquiao while picking up a seven-figure check in the process and advancing his career. You can't go anywhere sitting idly.
Now, Crawford has the golden opportunity to become the first man to defeat "El Ciclon" and reap the benefits of victory.
Crawford was next man up.
Yeah, there is something about this place, a certain mystique. And once again, it delivered. Devon Alexander was in perhaps his most entertaining fight against the game, hard-trying Jesus Soto Karass. After 10 rounds, Alexander was the victor in a hard-fought battle. Vasyl Lomachenko was impressive in winning the vacant WBO featherweight title over Gary Russell Jr. in a battle of talented left-handers. Lomachenko, who enjoyed a significant size advantage, was simply too sound and strong for Russell Jr.
Then you had the evening's main event, originally thought to be nothing more than a walk in the park for Robert "The Ghost" Guerrero against Yoshihiro Kamegai. But a funny thing happened in Guerrero's return to the ring after a year-plus layoff - a real fight broke out. The Japanese foe was not only tough but he was more than willing to mix it up with Guerrero, blowing up his left eye with an uppercut in the sixth. This truly was a savage affair, one that was sometimes more about will than skill. Guerrero was awarded the decision but it came at a high cost.
It was an unusually warm night in Carson (seriously, it gets cold - by Southern California standards anyway) and while it wasn't the biggest crowd they had ever had, those who were there had a good time. "The Wave" broke out (much to the consternation of my press row colleague, Robert "Stick in the Mud" Morales) and then later on, a fight in the stands.
Yeah, the StubHub Center, where good stuff happens.
My latest contribution to SportsOnEarth.com on Oscar De la Hoya:
Is there anyone who agreed with Lisa Giampa's score of 114-114 for the Lomachenko-Russell fight?...Top Rank has Lomachenko, Nonito Donaire, Evgeny Gradovich and Nicholas Walters under its banner. Look for some sort of tournament or at the very least, a series of fights at 126 involving these guys...Wale Omotoso told me at the fights that he has inked a deal with Al Haymon...So how many goals did South Korea give up on Sunday at the World Cup?...Will the Knicks really miss 'Melo?...By the way, when are my Lakers going to hire a coach?...Can't wait to be in Omaha (yes, I'm going to Crawford vs. Gamboa)
...Ican be reached at k9kim@yahoo.com and I tweet at www.twitter.com/stevemaxboxing. We also have a Facebook fan page at www.facebook.com/MaxBoxing, where you can discuss our content with Maxboxing readers as well as chime in via our fully interactive article comments sections.