Molina in Mexico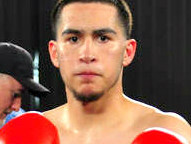 (Photo © German Villasenor)


While most Olympians come into the boxing business with much fanfare, there is a prospect who has flown a bit under the radar despite his Olympic credentials, junior middleweight hopeful Oscar Molina, who boxes this Saturday night in Toluca, Mexico versus Ignacio Miranda. Molina represented Mexico in 2012 despite growing up in Norwalk, California.

"I was invited to participate in the nationals in 2007 and I ended up winning the whole thing. So after that, they invited me to the training center and I made a lot of friends over there and I just liked representing Mexico," explained Molina of this process. "I felt proud representing where my parents were born.

Molina actually failed in his first attempt to make the 2008 squad.

"So I stuck around another four years and thank God I made it to the Olympic Games [in 2012]," said Molina, whose brother, Javier represented the United States in Beijing in 2008.

For some reason, Mexico, despite its storied history in the sport, doesn't have a long, illustrious list of Olympians who have gone on to pro glory. The reality is most standout Mexican pugilists turn pro as teenagers and learn the craft the hard way without the benefit of a long amateur career or the protection afforded highly-acclaimed prospects with medals dangling from their necks.

But Molina says of being a Mexican Olympian, "I think it was a pretty big deal. It was actually only two of us; it was myself and Oscar Valdez and when we qualified, we were a big thing over there."

Valdez, a highly-touted young featherweight - who signed a deal with Top Rank - and Molina both failed to nab a medal in the Olympics. Mexicans are built for the pro game more than any other, it seems.

"I actually thought our team, the Mexican team, had a lot of talent. I actually thought we were going to qualify seven or eight guys; I was shocked. But I just think they have a different mentality. In the U.S., they fight like boxers, boxer-punchers and over here, they just like to bang and soon as they get hit, they want to trade and I think that's what messed them up in the amateurs," opined Molina, who came with a pro-ready style and currently has a record of 6-0 (5).

Molina comes from a fighting family. In addition to Javier, Oscar's older brother, Carlos is a lightweight contender. But unlike Carlos, he brings much more sock.

"Yeah, he can crack a little bit," said Tom Brown, matchmaker for Goossen Tutor, which signed Molina to a promotional pact last year. "We obviously liked his amateur pedigree, that he had such an extensive amateur career and the determination that he showed to go back down to Mexico and work his tail off to make that 2012 team. So he showed the determination to pack up and move at a very young age to complete a goal he had."

In six outings in 2013, he has scored five stoppages (all within the first two rounds). He has a style that resonates on both sides of the border.

"We've been able to do a really nice job in that half of his fights have been in Mexico; three have been in the U.S." said Brown, who has Molina booked for a November 16th appearance on the Andre Ward-Edwin Rodriguez undercard in Ontario, California.

Molina is armed with a potent left hook. He says of his early development, "I've just settled down more on my shots. We've been working a lot in the gym. I think the amateurs was more about trying to be quick, get points and move. Right now, I'm settling down. Every shot I throw, I have something behind it."

Like any other young fighter, the key will be to keep him active and get him as much exposure as possible.

"He's been on ESPN a couple of times and then all three of his fights in Mexico have been televised on Televisa," explained Brown. "So he's getting some great exposure and a real nice fan-base down in Mexico, which will ultimately help him when he becomes a main event fighter up here.

"And I don't see that becoming too far in the distance."

HUMP DAY FLURRIES

No, I haven't forgotten about the passing of Frankie Leal. I will be penning something regarding this tragedy in the upcoming days...Speaking of former Olympians, Felix Verdejo has been added to the Manny Pacquiao-Brandon Rios undercard in Macao for November 23rd. According to Carl Moretti of Top Rank, if all goes well, he could return on December 14th...How bad was that "Monday Night Football" game between the Giants and Vikings?...Jeff Garcia wants a tryout with the Browns? How 'bout Brian Sipe?...The 'Canes are free at last, free at last. The dark "could have" certainty with the NCAA is finally over...I can be reached at k9kim@yahoo.com and I tweet at www.twitter.com/stevemaxboxing. We also have a Facebook fan page at www.facebook.com/MaxBoxing, where you can discuss our content with Maxboxing readers as well as chime in via our fully interactive article comments sections.