Merchant's Swan Song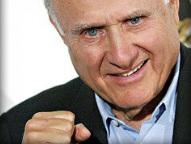 --


After 35 years with HBO Sports, the network announced on Thursday afternoon that longtime commentator and provocateur

Larry Merchant

would be calling his last fight for them this weekend in Houston, Texas, when WBO junior featherweight titlist Nonito Donaire faces Jorge Arce. But he makes it clear; he is not necessarily leaving HBO completely - and he's certainly not retiring.
While on his way to the airport, Merchant told Maxboxing what he'll be doing for the network, "It's another role; I will or may appear when there are some big events, news and to parachute in from wherever I am. But as far as ringside commentary, I'm not doing that for HBO anymore." Back at the beginning of 2011, he signed a two-year extension with HBO, also getting, according to Merchant, "a third year in the - what I call - 'senior kibitzer role,' occasional turn-up. But I am otherwise a free agent and I am looking forward to whatever the next life brings, the next act."

As of now, Arte Moreno has not contacted this free agent.
"So far, nothing has fallen out of the sky," said Merchant with a laugh, "but I've had discussions."
Love him or hate him, Merchant is one of a kind. Coming from a distinguished newspaper background where he penned columns for the Philadelphia Daily News and then the New York Daily News, he brought his hard-hitting, no-nonsense journalistic style to the airwaves. No, he wasn't for everyone so much as really being an acquired taste. In an age of carnival barkers and screamers, Merchant didn't mind pausing to find exactly the right words to perfectly encapsulate the fight we had just seen. He was more sizzle than steak.
And there will never be another guy like him. It's the end of an era at HBO and for the boxing fans who grew up listening to this words. For those who might be rejoicing at his departure, word of warning: Be careful what you wish for. Coming off the heels of the passing of Emanuel Steward, it's not clear if HBO's broadcast team has either its heart or soul anymore.
I don't envy the job Jim Lampley has.
But you'll still have him around to amuse and anger you with his commentary (somewhere). He isn't going anywhere. Bobby Bowden, the legendary coach at Florida State, once quipped during his last years on the sideline that at his age, there was only one more big event after that - and it wasn't good.
Dadgummit, Bobby, you're right. Retirement has killed more people than work. Merchant, as he would say, is still full of piss and vinegar and as he looks ahead to his last night on the job (at least ringside), he has no bitter feelings.
"Look, I've been amazingly lucky to have a 35-year run, to get in at the start of a new network, to see it grow and prosper and all that good stuff and to be able to have my fun and with one of the passions in my life - which is boxing."