Mansour battles Harris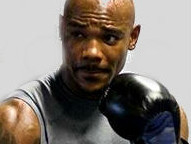 --


Rising heavyweight Amir "Hardcore" Mansour (18-0, 14 KOs) faces clever veteran Maurice "Mo Bettah" Harris (26-17-2, 11 KOs) in a 12-round elimination bout August 23 (tonight) at the Dover Downs Hotel and Casino in Dover, Delaware.

At stake will be the USBA heavyweight title.

The fight will be the third of the year for Mansour. In his last bout he destroyed Jason Gavern in less than a round. Mansour has been vocal in his disdain for other heavyweights, who he feels are reluctant to face him.

"I'll fight whoever wants to fight me," Mansour told this writer on the phone a few months ago. "We were going to fight (Chris) Arreola and (Seth) Mitchell, but it fell through. The matchmaker said there's no way we're fighting Amir."



Harris is no Mitchell or Arreola, but he's a very capable fighter. In a career that spans two decades, Harris holds victories over former contenders David Izon and Jeremy Williams.

In 2010, he won the USBA heavyweight belt by decisioning Nagy Aguilera. Harris, from East Orange New Jersey, lost two fights in a row before venturing to Pennsylvania and defeating Jason Bergman.

Mansour, who resides in Willington, Delaware, carries dynamite in both fists. The southpaw has scored five first round knockouts in a career that's been interrupted by two stints in prison. He scoffs at those who say his age (41) is a drawback.

"I didn't grow up with three hundred fights amateur fights," said Mansour. "When I turned pro, I didn't have any amateur fights. I didn't even have all that abuse before heading to the pro ranks. Many people don't understand that. Ok, I was gone eight and a half years. I didn't box for eight and a half, but I never stopped training.

"So my age isn't a factor man - my performance is," Mansour added.

Harris is without doubt the craftiest boxer that Mansour has ever faced. He can slip and slide and be difficult to figure out. On the downside, Harris, 37, has been stopped 11 times.

Mansour will be seeking a highlight reel knockout.

It says here he gets it done.

The bout can be seen live on GFL.tv.