Maidana Looks to Be the Problem for Broner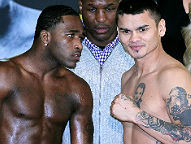 (Photo © Tom Casino / SHOWTIME)


Tonight at the Alamodome in San Antonio, Texas, Adrien "The Problem" Broner, 27-0 (22), will square off against Marcos "El Chino" Maidana, 34-3 (31), for the World Boxing Association (WBA) welterweight title on Showtime. If there ever was a fight pitting a talented slickster against a rugged brawler, this is it. If it's a title scrap you want, this date should fit the bill with the stacked card also featuring Keith Thurman facing overachieving, tough guy Jesus Soto Karass for the World Boxing Association (WBA) interim welterweight title. Also, Leo Santa Cruz will go up against Cesar Seda in a World Boxing Council (WBC) super bantamweight title tilt. And Beibut Shumenov will go against Tamas Kovacs for the WBA light heavyweight title.
Texas may be cooling down a little as winter sets in but this card should heat things up in the "Lone Star State" on this night.

On paper (or if you ask Broner), the Broner vs. Maidana matchup is "easy work" for the clearly talented Cincinnati native. It would appear his speed, defense and overall skill-set would simply be a little much for the game, gutsy but outmatched Maidana. However, Maidana, who has been working with world-class trainer Robert Garcia in Oxnard, California, has made a career out of excelling in high-profile bouts in which he shouldn't have. And if you sleep on the Santa Fe-born (Buenos Aires, Argentina-based) banger, he'll pose all kinds of problems. Maidana is as tough as they come and knows one style and one direction: forward and all-out. While the slick, mobile Broner can avoid punches from offensive opponents and use that aggression to set up strong counter shots, he's not to take Maidana lightly. In "El Chino," he'll have a confident, aggressive and dangerous puncher on him all night long.
Broner turned pro in the spring of 2008 and by November of 2011, had moved to 22-0 and was in place to challenge for the World Boxing Organization super featherweight title. He picked up the title stopping Vicente Rodriguez in three rounds in his hometown of Cincinnati, Ohio. He defended the title twice and within a year, was challenging Antonio DeMarco for the WBC lightweight title. He stopped DeMarco in eight rounds to claim his second world title. Broner defended the title three months later against Brit Gavin Rees. In his following fight, he moved north two weight classes and challenged Brooklyn's Paulie Malignaggi for the WBA world welterweight title, which he won via controversial, 12-round split decision. Broner's third and final fight of the year will pit him against the tough Maidana who (in pre-fight pressers) "The Problem" boldly claimed he would "knock the f*ck out."
Maidana turned pro in June of 2004 and was 25-0 by February of 2009 as he travelled to Germany to challenge Andriy Kotelnik for the WBA world light welterweight title. He lost a razor-thin, split decision over 12 rounds. In his next fight, he travelled to Los Angeles in June and upset the odds, stopping Victor Ortiz in six rounds to win the WBA interim light welterweight title in a war that saw both fighters each twice take trips to the canvas. Maidana defended the title three times, then faced huge, English star Amir Khan in December of 2010. He would hurt the faster Khan on a couple of occasions but ultimately lost a unanimous, 12-round decision. In April of 2011, he beat Mexican legend Erik Morales to again win the WBA interim light welterweight title. After one defense five months later, he lost a 10-round decision to Devon Alexander in February of 2012. He picked up two more wins in 2012, beating Jesus Soto Karass and Angel Martinez, then kicked off this year with a June stoppage of tough Josesito Lopez over six rounds in California. This takes us to the Alamodome for Maidana's challenge of the undefeated Broner and a shot at the WBA world welterweight title.
Both fighters look to make their final mark in 2013 to set up bigger and better fights for 2014. In a recent interview, an always confident Broner said, "He's not going to lay down unless I make him lay down and I don't have no problem with laying nobody down." Maidana claims he has made huge improvements in ring movement and his ability to be "more than a brawler" under trainer Robert Garcia. "El Chino", aware he is the underdog going in, also seemed very confident that he could solve the Broner puzzle and be the first to beat him. "I'm not sure what round I'm going to stop him in but I'm going to go straight for the knockout", he said.
A cool December evening in Texas is heating up…
Please visit our Facebook fan page at www.facebook.com/MaxBoxing, where you can discuss our content with Maxboxing readers as well as chime in via our fully interactive article comments sections.