Kovalev: "I would like to fight the winner of Cloud-Hopkins."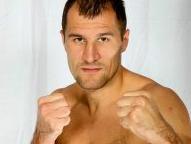 Photo © Rich Graessle / Main Events


When Sergey Kovalev stepped into the ring last month to meet former world champion Gabriel Campillo in the main event live on NBC, it proved to be his coming-out party. He knew going in that the slick Spanish southpaw had the skills to give him problems. However, the man known as "Krusher" didn't let Campillo get into any rhythm, jumping on him early and dropping his adversary three times in the third round. Kovalev showed his considerable power and repertoire of punches with the knockdowns coming from a straight right, a left hook and a body shot before the action was waved off by referee Mike Ortega. The nature of the eye-opening victory served notice to the cream of the light heavyweight division. The 29-year-old has garnered just 54 rounds of pro action in his 21 fights to date and is currently 20-0-1 with 18 stoppages (at a KO ratio of 85%). The significant victory was rewarded with a place in The Ring magazine's top 10 ratings at 175 (where he debuts at number five) while his standings with the various sanctioning bodies - currently number five by the WBC, 10 by the WBA and 15 by the IBF - will also improve.

Anson Wainwright – Firstly, congratulations on an eye-opening, third round KO over highly-regarded Gabriel Campillo.

Sergey Kovalev - Thank you for your congratulations! I am training very hard and my victory is a result of my work.

AW - Can you talk us through the fight from your point of view?

SK - What can I tell you? You've seen it all. Campillo is not as simple as it seems at first look. I can say one thing, that I was not ready 100 percent but I was very motivated because I did not want to upset the audience and everyone who was rooting for me. I'm happy that my work and work my team did has brought us victory!

AW - The win put out a statement of intent to the rest of the light heavyweight division but how happy were you with the performance overall?

SK - I am happy. The bout ended earlier and in my favour, just to make sure nobody will be talking Campillo was robbed again or something like that.

AW - It's very early days but what would you like to do next? What are your goals for this year?

SK - Right now, I want to take just a little time off, relax and start training again. My goal for this year is to get a fight on HBO and to become a champion of the world.

AW - Who are the members of your team, your manager, trainer and promoter? Also where do you regularly train?

SK - My team is Egis Klimas as my manager; John David Jackson is my trainer with [assistant trainer] Derik Santos and my promoter, Main Events. I am training at Contender Gym in Florida.

AW - You were born in Chelyabinsk, Russia. Could you tell us about your early years growing up and the path you took into boxing?

SK - When I was a kid, I was playing all kind of sports like soccer, hockey, wrestling. December 1st, 1994, I start training in boxing and it became my last choice in sports. There was a time in my training period when I quit training boxing but my trainer came to my house and talked me into going back. Three months later, I was back in the gym boxing.

AW - You were a very good amateur with over 200 fights. Could you tell us about your amateur days and what titles and tournaments you won? Did you face anyone who's currently pro?

SK - In 1998, I became a member of the youth Russian boxing national team and every year, I was either champion or at least medallist of the Russian championships. 1997, 1999 youth champion of Russia. Champion Russia 2005. Two-time World Champion in Army Championships, 2005 and 2007. Many-time champion of all kinds of "Class A" tournaments. Three times, I met in the ring with Matvey Korobov (current pro middleweight, 19-0 (11), and a former amateur standout who won gold at the 2005 and 2007 World Championships).

AW - You turned pro and have fought all except one of your fights in America. How did fighting in America come about?

SK - I really like to train and have my bouts in America. From my childhood, it always was my dream to visit the United States but now everything worked out. I am building all of my career here in the U.S.A.

AW - What do you think of the light heavyweight division and the current champions, the WBC's Chad Dawson, the WBA's Beibut Shumenov, the IBF's Tavoris Cloud and the WBO's Nathan Cleverly?

SK - All of them, strong and good fighters. They also have very nice title belts. I want some of these belts also.

AW - OK, How do you see the Cloud -v- Bernard Hopkins, Dawson -v- Jean Pascal and Cleverly –v- Luan Krasniqi fights going?

SK - I really do not like making predictions. It is boxing and anything can happen; one punch or a great combination can end a bout. But I am very interested in the Cloud-Hopkins fight. I would like to fight the winner of this bout.

AW - What is your life like away from boxing? What are your hobbies and interests?

SK - My hobby is travelling and automobiles. I like to discover new countries, the ones I have not been yet. From the countries I have been, I liked Thailand. It is an extraordinary country with very friendly people. Also like Europe, it has historical spirit and beautiful architecture. I would like to visit Spain, France, Italy, but right now, travelling is not much on my mind. I haven't been at home for a year in Russia, so first of all, I would like to fly back home to visit my family and loved ones.

AW - In closing, do you have a message for the light heavyweight division?


SK -
I was waiting a long time for big fights and aiming to fight for a title. I'm hoping to return to the ring soon with one of the present champions.
Please visit our Facebook fan page at www.facebook.com/MaxBoxing, where you can discuss our content with Maxboxing readers as well as chime in via our fully interactive article comments sections.