Jessie Vargas: "2013 will be my year"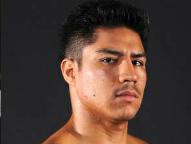 (Photo © Chris Farina / Top Rank)


Over the summer months, welterweight contender Jessie Vargas had
several

choices to make, notably to his team

. He's no longer represented by Mayweather Promotions and after his contract expired, the Las Vegas resident of Mexican heritage elected to head to pastures new following four years with Mayweather. Vargas first signed with manager Cameron Dunkin who, in turn, took his client to Top Rank, of which Dunkin says, "I've known Jessie for several years. I liked him back then and when he approached me, he asked if I could help him. It was an easy decision for me; he's a talented guy and I think with Top Rank's help, he can become a star." There certainly seems to plenty of potential. Currently, Vargas, 23, is

20

-0 (9) which includes wins over two former world champions Vivian Harris and Steve Forbes as well as a points win over Josesito Lopez that looks all the more impressive in light of Lopez's win over Victor Ortiz. When asked how far he believed his charge could go, Dunkin continued, "Right now, we have to get past

[

Vito

]

Gasparyan on the seventh [of December],

then we'll move from there

. Maybe a few more

fights and he'll be ready for

anyone." His

second fight

under the stewardship of Top Rank takes place

at the Texas Station Casino, Las Vegas, Nevada as an appetiser the night before Manny Pacquiao-V-Juan Manuel Marquez 4.
Anson Wainwright - You return to action on 7th
December against Vito Gasparyan. What are your thoughts on that bout?

Jessie Vargas – Well, you know, he's a prospect. He's going to come and try to prove himself and I'm here to stop him. That's our plan.
AW - Your last fight was on ESPN when you beat Aaron Martinez in September. Can you tell us about that fight?
JV -
It was a good fight; it was a very entertaining fight. My fans, they enjoyed the fight. I think Martinez came in from the beginning, the first round, to put pressure on me but it didn't work for him. I think he felt the power after about the second round. I felt he was just trying to survive, make the 10 rounds, and that's what happened.
AW - After the fight, in the lobby outside the arena at the Hard Rock Hotel where the fight took place, you were mobbed by fans. You seem to have a very good rapport with them.
JV - It means a lot. For a fighter like myself, I'm just so grateful that my fans, they enjoy my fights and receive me with open hands. They wanted autographs and pictures - which I did. It was my pleasure to do it. If I had to do it two hours after the fight, I would do it. I'm just here to entertain them and I'm just very grateful they are enjoying my style and fights.
AW - You have made some changes to the personnel in your team over the summer, signing with renowned manager Cameron Dunkin and you'll now be promoted by Top Rank. Can you tell us how this came about and why you decided to make these changes?
JV - Well the contract with Floyd Mayweather Promotions was finished and we negotiated our next contract. Top Rank were in; we negotiated and Top Rank offered me a better deal.
AW –
Previously,
you outpointed Steve Forbes over 10 rounds; however, it wasn't the most exciting of fights. What are your thoughts on the fight and the reasons it wasn't so exciting?
JV – I think one of my mistakes was I should have tried to get him out of there. On occasions, I could have but I didn't press it. That was a mistake. It changed the momentum of the fight. I am a young fighter; it comes with experience. I'm only 23 years old and my next fight is going to be an action-packed fight for sure. You know, I'm known as a fighter who comes and gives fans great fights. My fight May 5th was more a boxing match the whole fight. It was one of my only fights - I'm not going to lie - it wasn't as exciting as my fans are used to seeing. All it was a learning curve and we'll come back stronger.
AW - In your opinion, how far do you believe you are from fighting the very best in the world and competing for world titles?
JV – I think we're right around the corner. 2013 will be my year; we will be fighting for a title very soon.
AW - What do you think of the current state of the welterweight division, the current champions and contenders?
JV – I think the welterweight division is packed with great fighters. You know, we have [Juan Manuel] Marquez, [Manny] Pacquiao; we have a lot of great fighters. We have Timothy Bradley; now we have [Robert] Guerrero, who just became [interim] champion. I think there's a lot of money in this division; it's where I want to be. [There's] a lot of talent and I'm one of them and I'm going to show I'm a force to be reckoned with at 147 pounds.
AW - Of course you were with Floyd Mayweather for several years. Could you tell us about that experience and how it helped you?
JV – Mayweather Promotions did a great job moving me up; I have nothing bad to say about him. Floyd is the best fighter, pound-for-pound. You know, you learn things from watching him train and also his dedication and how dedicated he is to the sport. There's things you learn from him.
AW - Did the two of you ever spar?
JV- No, I never sparred with him.
AW - You have appeared on several big Floyd Mayweather undercards, notably his fights against Juan Manuel Marquez, Shane Mosley, Victor Ortiz and Miguel Cotto. Can you tell us about what it was like being in and around these major events and how the experience has helped you?
JV – Well, yeah, it's definitely nice being on the big stage. Usually, you fight at the MGM; it's such a big stage. You get nervous; I did my first fight. After that, you get used to it. That's something I did benefit from being on one of the biggest cards of the year. I was happy to be a part of it. I got used to the big stage, how to calm your nerves.
AW - You're of Mexican descent
. Can you tell us about your younger days?
JV – I'm from Los Angeles, California; we moved to Las Vegas, Nevada when I was about six years old. I've been raised here; I started boxing at the age of eight and I fell in love with the sport. Before I started boxing, I tried a karate gym. I didn't like it; it didn't work for me. Right away, I told my parents, "I don't want to do Tae Kwon Do anymore," and they took me to boxing and I never complained ever since I was eight years old. Right now, I'm 23. I haven't stopped boxing. I want to say I haven't had a longer break than two months if that. Boxing has been part of my life; it's my career. My father was born in Mexico; my mother was too. They came to the United States to form a family. They started off having nothing to rising up the scale to have three homes. My parents have always been there and guided me the right way. They tried to give me as much as they could. You have to understand, when I was younger, I didn't have everything I wanted but I definitely did have the love and my dad was always a hard worker. My mother as well and now I'm trying to help them out and get them out of work so they don't have to work anymore.
AW - You were Mexico's representative at the 2008
Olympics; however, unfortunately, you didn't make the games because you lost in one of the qualifying tournaments. What can you tell us about that?
JV – Well, with the United States, I was trying out. I didn't feel there was a straight game in the U.S. boxing team, in the U.S. Nationals. I want to say, the PAL, I didn't like that decision at all nor did a lot of people in the United States. In the Golden Gloves, I was in the finals; it was going to take me straight to the box-off if I had won. That I was in the final and they gave it to him…it was his hometown. I said, "That's it. I don't like the way the system works here." So I went to represent Mexico, which I thought to do when I was a kid. It's always been on my mind, so I went to Mexico, made the team, fought in a couple of tournaments and won them. I went to the Worlds; we had some great matches with, like, Ukraine. Being on the Mexican team had helped me now as a pro. Going back, when I was in the qualifiers, I lost to the Cuban [Roniel Iglesias]. We had a great match, the Cuban went on to win bronze at the Olympics, so it was a great match. Another time I lost to a Puerto Rican fighter in the eliminator to go to the Olympics. Thankfully, I can say nobody in the amateurs or pros has beaten me. When I lost, I lost great fights, so I represented the country with pride.
AW - Could you tell us about your amateur career and what titles or tournaments you won?
JV - I won two Golden Gloves Nationals, a PAL National, Silver Gloves National, then I got a bronze at the PAL another year. So I've always been at the National

tournaments. I either lost bronze or silver. [I got] gold a few times. I always made it pretty far, about 120-20.
AW - Away from boxing, tell us about yourself and what you like to do to relax.
JV – I'm very family-orientated; I like to hang out with my family. I like play sports; I like to go to the lake. Me and a couple of buddies, we have a boat, go to the movies, bowling. I try to stay away from the strip; it's not really my scene. I do it every now and then when I have family from out of town and they want me to show them around. Mostly just hang around with friends away from the strip, family get-togethers and boxing shows. I try to go to as many boxing shows as I can.
AW - What boxers did you look up to as a youngster and who do you enjoy watching today?
JV – Julio Cesar Chavez [Snr.], he was the one I looked up to and he was actually the one that got me into the sport of boxing because I picked up so much just watching him. I liked what he was doing and I wanted to do the same thing he was doing. I look up to Sugar Ray Leonard; he was a great boxer.
AW - In closing, do you have a message for the welterweight division?
JV – Be ready for me 'cause I'm coming. Whoever has a title, I'm going to go after them. Look out

Dec

ember

7

th.
Please visit our Facebook fan page at www.facebook.com/MaxBoxing, where you can discuss our content with Maxboxing readers as well as chime in via our fully interactive article comments sections.