Ivan Morales: "This year, I will make history"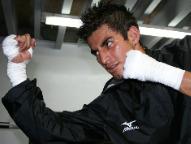 Photo © Juan Carlos Manzano


2012 was a coming-of-age year for Ivan Morales. He intends to follow up with another equally impressive year with his goal of emulating big brothers, living legend Erik (who won world championships in four weight classes along with countless titles) and lesser-known sibling Diego (who also reached the pinnacle in boxing by winning the a portion of a world title at super flyweight). It's something the youngest of the Morales clan looks to as inspiration and not added pressure. Like his brothers, "Nino Maravilla" (who's only just turned 21 last October) debuted as a teenager and has so far won all 19 of his contests with 12 wins inside the distance. In fact, Ivan was just over a year old when Erik made his professional bow (it seems like only yesterday). Morales fights

tomorrow

when he takes on Patricio Camacho in Villahermosa, Tabasco, Mexico. Though he still has plenty to learn, he's coming along nicely, breaking into two of the sanctioning bodies' top 10 rankings at 15 by the WBC and 14 by the IBF.
Anson Wainwright - When are you going to fight next and what are your plans for 2013?

Ivan Morales -

January 19

in Tabasco [Mexico]. My plan for this year is to get the chance for the World Championship.
AW - You come from a fighting family. Two of your older brothers are world champions; Erik is a legend of boxing and Diego was also a world champion. Can you tell us about this?

IM - For me, it is a great honour and a great motivation because if they did it, I can also!
AW - Does having Erik and Diego add pressure for you or help?
IM – [It helps] but in reality, it makes no importance [one way or the other].

AW - You have a tattoo above your eye. Can you tell us about that and what it means and why you had it there?
IM - It has a personal meaning; it is not anything what I like speaking [about].
AW - Who are the members of your team like your manager, trainer and promoter?
IM - Diego Morales (manager and coach), Jose Morales (coach) and Noé Murillo

(mitts).
AW - What was your childhood like growing up in Tijuana and having famous brothers?

IM - It was a very nice childhood because I've always had a good example in them and they are very loved by the people.
AW - Can you tell us about the path you took into boxing, following your brothers, etc.?
IM - From when I was born, my family was already dedicated to boxing. I saw my brothers train and liked what they were doing and I wanted to be like them.

AW - What do you think of the current world champions in your weight class? How far do you think you are from fighting for a world title?
IM - I think they are excellent and worthy champions. I believe that this year, I will have the opportunity and I am sure that I will win and the rival will not matter. Nobody will stop me from achieving my dream of being a world champion.
AW - When you're away from boxing, what do you like to do with your time? What are your hobbies and interests?
IM - I like being with my family and friends. I am a person who loves being home very much. I love cinema, cooking, listening to music and playing soccer.
AW - What are your goals in boxing?
IM - To be a world champion in several divisions and retire undefeated.
AW - Who were your boxing idols growing up?
IM - Sugar Ray Leonard, Oscar De la Hoya,

Erik Morales

, Diego Morales, Nonito Donaire and Yuriorkis Gamboa.
AW - In closing, do you have a message for the boxing world?
IM - I want to wish [it a] 2013 full of success and do not lose of sight of my career because this year, I will make history.
Please visit our Facebook fan page at www.facebook.com/MaxBoxing, where you can discuss our content with Maxboxing readers as well as chime in via our fully interactive article comments sections.