Interview with Antonio Orozco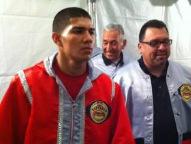 Photo © Espinoza Boxing


Growing up in Kansas Antonio Orozco was friends with both Brandon Rios & Victor Ortiz, while both have made their marks in boxing, being involved in their share of exciting scraps and winning world titles, thing's have been a little slower for the 25 year old Orozco, though he's been impressive he's taken his time, running his ledger to 15-0 with 11 wins inside the distance since turning over in the summer of 2008. While Rios & Ortiz left a trail of destruction behind them in the unpaid ranks Orozco was a little more conservative, a decent amateur but one who never quite reached the pinnacle of the amateur game. Boxing's a funny thing with no exact science, sometimes top amateurs fail to make the mark many predict for them in the pros while amateurs who don't appear to have as much upside go from strength to strength in the pro game, nicknamed "Relentless" because of his offensive style he brings to the ring offers his style was simply always a better fit for the pros. Though currently under the radar Orozco who was born in Mexican boarder town Tecate, but now lives in San Diego though was brought up in Kansas has impressed several television executives and if he can continue his progress in the already packed Light Welterweight division looks primed to appear further up the cards in 2013, he's certainly one to keep an eye on.

Anson Wainwright - You return to action on 10 November against Danny Escobar on the

Abner

Mares-

Anselmo

Moreno

undercard

at Staples Center, Los Angeles, Ca. could you tell us about the fight and what your thoughts are fighting on such a big card?
Antonio Orozco – You know what

I have to say

it's a privilege to be on such a big card. My last

couple

fights have been on great card's and this is no different, obviously there's more to the fight you want to put on a good show

like every body else

and with regards to Danny Escobar we've worked hard, we're ready to go 10 rounds, ten hard rounds. It's all been put together and we're just ready to put to work what we've been doing.
AW - You impressively stopped Alberto Cruz in three rounds last time out. Can you tell us about the fight and how you got the stoppage?
AO - The fight with Alberto Cruz I gave him my respect, he was a strong man, he's a stronger fighter but that's the style I bring, push forward controlled aggression, I think that's what helps us out the accumulation of combination punches that's how the stoppage came, putting together a pace we can control.
AW - Earlier this year you appeared on the undercard of Floyd Mayweather Jnr-V-Miguel Cotto. What was it like appearing on such a big stage?
AO - It's a great opportunity even though when you walk out there only real fight fans are in the chairs, it's almost an empty space. But breaking the ice its good, getting used to the bright lights, it's always a plus whether the arena's empty or full it's just a matter of getting used to the

occasion

, above all rising to the occasion.
AW -

You're perhaps a guy who's a little under the radar c

an you tell us a little about yourself as a boxer, about your style?
AO – We would like to be a crowd pleaser. And things to improve on, there's many it's a never ending learning sport. Some of my strengths, I fell I'm able to adapt, we just do all our work, we never underestimate anybody, being able to be aggressive

and

being in control, I know that's not always possible but you have to try to make it work, we have to try to adapt to what the other guy comes with, having an answer

for every scenario.
AW - What is your amateur background like?
AO - As an amateur I did accumulate over 100 fights, I had some loses probably 20/30 loses. I always came up short at the National level, always making quarter finals or semi finals. I was always told your style isn't an amateur style. I did the best I could; I worked with what I had. Although I did get a

National championship

at the Ringside tournament, I won a bronze & silver

at the Junior Olympics

. I had my fair share of participating in big events and like I said I made the best of what I could. It's always a great learning experience, we just had the transition to

being a

pro

fessional

, it wasn't a big transition but it's always a work in progress.
AW - Can you tell us about your team; who is your manager, trainer & promoter? Also what gym do you train at?
AO - Very loyal team, I would have to say. My trainer Carlos Barragan Jnr & his father Carlos BarraganSr. they were there for me

, we're

like family, that's the main principle of our team. We talk to each other and communicate. His son is just opening his own gym "The House of Boxing" in San Diego. I'm very grateful for there help. In the last few years we've made some big changes, he was able to bring forth Espinoza, Frank

Espinoza

and his son with the work Carlos has put into me, got the attention of Frank & his son, signing with them it's also a great honor. He's very (straight) forward man

him and his son

, real supportive anything we need. Being part of Golden Boy

Promotions

, it's every fighters dream to be part of a big promotion and be managed by a man who's been manager of the year and managed 8 champions and the team is complete, there's no missing links, there's no loose links we're just working together

.
AW - So far in your career have you sparred or trained with any big names if so how did it go? How has it helped improve you as a fighter?
AO - You know the way I see it the only way to

learn

is

to be

tough, hav

ing sparring sessions with

guys

that

can put hands on you, make you think twice

about things that you do

. I've been working with Art

emi

o

(

Artemio Reyes

)

, Javier Molina now I'm working with Ray Beltran, it's a great experience, it shows you as I sa

id

it's a never ending learning process, you just have to be open minded and

not feel like you know everything and

learn from it.
AW - What were things like for your growing up? How did you first get into boxing?
AO - My childhood, I always had what I needed, I never had a difficult time, I never went hungry. I'm very thankful, my parents have given me there full support

, friends, family

. It's like I said I don't think I've ever had a hard time, you know my father always encouraged me,

it's always been

three rules in our house, school, work or be a professional at something and I decided to start boxing. From the

first

day a kid came to our door doing a fundraiser for his boxing gym, from that moment

i mean

why not? Let's try it. I've had the support from the whole family. I would have to say my biggest sacrifice has been not being such a big part of my oldest son's life. I was back and forth from Tecate to Kansas wh

ile

my girlfriend was pregnant, seeing her every 3 months, then watching the birth of my son was amazing and not seeing him until he was 3 months and 6 months, it was a year until we were a family and that's been my biggest sacrifice. I missed out on something that only happens once but you have to make sacrifices, glory is only

t

here for those willing to sacrifice.
AW - Could you tell us a little about yourself as a person and what you like to do away from Boxing? Do you have a day job or are you a full time professional?
AO – When I'm not boxing I have my hands full, I have a 4 year old and a 2 year old. I am a family man; I have been since my son started living with me. I make the most of the time I have with my children, my wife, spending time with friends and family. I'm really calm; I don't have the needs to flaunt anything. I just live the life of a fighter and father, that's all I can do. I'm a big fan of the sport of drifting, its cars going 80/90 miles and hour but the thing is there going side ways next to each other. It's real popular in the UK, its popular everywhere. When it comes to cars I am your guy. I like

cars, I like

getting dirty.
AW - Before you took up boxing did you have a day job?
AO - As a young child from my teen years my grandfather when he was still around, it's always been a family thing to be a decent mechanic, my uncles were mechanics. And I was always around the shop, every summer, every vacation I wouldn't say mandatory but it was a place I was headed every time I got a break. I guess that's where the getting dirty came from.

That has probably been it, when I made the move at 18 to California and I did work on and off truck driving, delivering rental trucks.
AW - You're from Kansas like Brandon Rios & Victor Ortiz. Do you know those guys?
AO -

Oh

Definatelty, I was born here in Los Angeles but then at the age of 8/9 I didn't have no option so I had to follow my parents out to Kansas and that's when I started boxing when I met Vic & Brandon, our relationship was we grew up together until we parted way's the communication isn't what it was back in the day but everytime I see them we always exchange words and check up on each other, we're obviously in a sport that's competitive.
AW - Who were your boxing hero's growing up and who do you like to watch today?
AO –

When I started boxing I was in an era when a lot of Mexican Americans had it going against the Mexicans (Oscar) De La Hoya beating up (Julio Cesar) Chavez (Snr.) i put myself in predicament when asked my favourite. That's when boxing got my attention and you know I've always been fans of the Marquez Brothers, Isreal Vazquez, (Diego) Chico Corrales, (Jose Luis) Castillo those are fights that to this day people still look up on-line. Miky ward and Arturo Gatti these are fighteres that left and imprint in boxing and right now there's two guys who have the spotlight to themselves (Manny) Pacquiao & (Floyd) Mayweather (Jnr.). There's many icons in the sport of boxing and I just take bits I like from every fighter I can.
AW - Finally do you have a message for the Light Welterweight division?
AO -

No message at all, I know the position I'm in, making a name for myself and like you said I'm under the radar. I don't mind it, everything comes at a certain point, I'm in no rush, taking my time, when the time comes I'll have to rise to the occasion and i'll make a statement.