How good is heavyweight prospect Parker?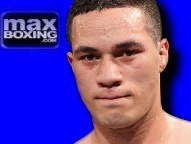 --


New Zealand heavyweight Joseph Parker began perfecting his world class jab before he hit kindergarten. At the age of 3, he was popping his tiny knuckles into the palm of his father Dempsey, who just happened to be named after legendary heavyweight champion Jack Dempsey.

"I don't remember a time when boxing was not a part of our family life," Parker told Anson Wainwright of ringtv.craveonline.com "My father Dempsey had always loved boxing and we would always watch the boxing fights on TV as they would come up."

Twenty years later, the buzz surrounding the young fighter is increasing.

Last weekend, Parker iced former heavyweight challenger Bowie Tupou in 63 seconds. The victory was his 15th in a row, with 13 of those wins coming by knockout.

Parker stands 6-foot-4, weighing close to 240 pounds.

That's a pretty big man, but not in today's heavyweight division where Parker would be gazing up at giant champions Wladimir Klitschko, and Deontay Wilder.

But Parker might have the great equalizer--speed.

His jab is quick, and when he hurts an opponent, he lets fly with rapid-fire combinations.

"I haven't seen a heavyweight before with Parker's speed," former champion Jeff Fenech told www.tvnz.co.nz.

Parker turned pro three years ago after compiling a record of 27 wins and 8 losses. He won gold at the China Open as well as Arafura games. He was raw but talented.

Before taking on former Lennox Lewis challenger Franz Botha, Parker traveled to Las Vegas to work with trainer Kevin Barry, who had previously trained New Zealand's most popular boxer, David Tua.

The trainer and fighter hit it off. Parker stopped Botha in two explosive rounds.

Neither has looked back.

"Joe is an exceptional young man who has a terrific drive and focus," Barry told Ray Wheatley of World of Boxingphotosport.co.nz. "This disciplined young man understands that good things come to those that work hard and that there is no substitute for hard work.

Parker gained valuable experience last year when he helped prepare Klitschko for his fight against Alex Leapai.

"Once I felt what the champ had I felt: this could be me one day; I'm not that far off," said Parker in an article by Hamish Bidwell of www.stuff.co.nz. "Like, I am far off, but I could get there one day."

Klitschko later praised the youngster for his help.

Many see a showdown between Parker and England's Olympic champion Anthony Joshua happening sooner rather than later.

Joshua, 25, is undefeated in 13 fights, with all of his wins coming via the knockout. His longest bout lasted three rounds.

"If both guys continue along the same developmental path, then it's inevitable that it's going to be a huge fight in the years to come" Barry told Liam Napier of www.stuff.co.nz. "We're watching Joshua, and he's watching Joe.

"He's the most exciting fighter to come out of the UK since Lennox Lewis, and we all know how good he was. He went undefeated for seven years," he added.

The heavyweight division has lacked fire for a number of years. After Lewis retired, the Klitschko brothers dominated the division, polishing off most of their foes while barely breaking a sweat.

But now with Parker, Joshua, and Wilder, the heavyweights are back in demand. Fans love a big man who can punch.

The last heavyweight to capture the imagination of the masses was "Iron" Mike Tyson. The dynamic Tyson wowed with brutal power and blistering hand speed.

Placing Parker or Joshua anywhere near Tyson at this point would be premature. Neither has been tested. They've been feasting off journeymen and old-timers.

In October, Parker will face 45-year-old Kali Meehan—who brings an impressive record of 42-5 record. Joshua will battle undefeated Gary Cornish next month at the O2 Arena in London.

Hopefully we'll learn more after their next matches.

One thing seems certain.

The heavyweights are back in the spotlight.