George Groves: "Next time, I'll beat James DeGale even better."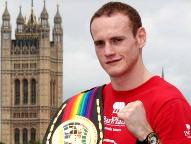 --


Since George Groves turned pro after a successful amateur career, he's wasted little time, winning the Commonwealth super middleweight crown in his ninth fight. He continued his rapid progress adding the British title, beating archrival James DeGale in May 2011. Today, the 24-year-old from London, England is a perfect 15-0 (12) with the experience of having fought twice in America. Groves has dealt with cuts and being on the canvas but showed, aside from considerable talent, he's also got battling qualities to help him through initial setbacks to record wins. On Saturday, he faces seasoned veteran Glen Johnson, 51-17-2 (35), at the ExCel Arena in London's Docklands in his fourth defence of his Commonwealth title. "The Saint" intends to use this fight to springboard himself onto the world stage. Currently he's ranked number four by the WBC, seven by the WBA, eight by the IBF, two by the WBO and eight by The Ring magazine.

Anson Wainwright - On Saturday, 15th December, you take on Glen Johnson in London at the ExCel Arena. What are your thoughts on that fight and him as a fighter?

George Groves - I'm really excited, to be honest; that's the main feeling I've got at the moment. I think it's exciting for me to get in with a genuine world-class fighter who's campaigned at the highest level. It's exciting for me to make that step up. It's exciting for me to fight someone like him. I've been watching him for a long time. I'm a fan of Glen Johnson and it'll be nice to get in there and trade punches with him, as strange as that sounds. So yeah, training's gone really well, so I can't wait to make that step.

AW - Without looking past the fight with Johnson, what are your plans and hopes for 2013?

GG - I think it's a fight that pushes me into world-class boxing. I'll be regarded as "world-class" after this fight, after the performance I plan to put in. People will know I mean business. That'll be what we look for in 2013, maintain the progression I've made and edging toward a world title shot if not get a world title shot. That's what we want.

AW - Back in the summer, you travelled to and fought in Northern California on the Robert Guerrero-Selcuk Aydin card. You stopped Francisco Sierra in six. Can you tell us about the fight, the experience and how it is different from Britain?

GG - Yes, it was my second fight out in the States. It was against a much better opponent, Francisco Sierra. He's been about; he's boxed good opponents. He's come through and won; he was a big puncher. You could tell that through his record, he only went the distance twice in 25 wins, so we knew he could definitely bang. He was a huge guy for the weight; we didn't realise how big until we got to the weigh-in. All these factors were beneficial for me when I'm looking to get experience. Boxing out in the States is always a big experience for me. You've got to deal with travelling, boxing away from home, sort of like the out-of-town fighter, especially there. I was boxing a Mexican with a pro-Mexican crowd. So I got booed on the way in but Robert Diaz of Golden Boy [Promotions] said, "Look, they love their boxing. They understand what boxing is." If you box well, they'll be on your side by the end and that was the truth 'cause they booed me on the way in and cheered me on the way out, which was sweet. So they're fight fans out there; it's lovely to box in front of them. They're genuine fight fans who just support any fighter they decide has talent, so I've got that and hopefully, I'll get more experience boxing in the States, as regular as possible - maybe as often as here in the U.K.

AW - You got cut in that fight. Can you tell us about the cut and the experience of having to deal with it?

GG – Um, I mean it was a clash of heads and the referee identified that straight away. That was more comforting right away knowing at worst it's going to the scorecards if we got past the fourth round. I knew I was winning the rounds. I never wanted it to get stopped on cuts 'cause that's not a good way to go out. It was accidental so it's not just that a fight has to get stopped with a cut from a clash of heads. I was looking to take him out. I didn't want to be hanging around boxing with a cut for 10 rounds, so I knew once the big shots landed, he'd do well to stay up. He ended up taking four clean shots on the button just to put him over and he still got up. He had no right to get up but he got up so I had to finish the job. Having a cut is something you have to get used to in boxing; it happens in boxing sometimes. I had blood running into my eyes; it was tough to see where the punches were coming from. At the same time, you don't want to show the referee it might need to be stopped. I had to deal with it and I did, so I was really happy with that.

AW - Who are the members of your team?

GG – Yeah, you know, when I wanted to turn professional, I met with Adam Booth and David Haye, the two guys who run Hayemaker Boxing. At the time, they were looking to put together a fighting stable 'cause they had got dates with [Irish-based network] Setanta, which ain't about no more. So yeah, I formed a great friendship with those two guys. Adam became my trainer/manager and David was like an experienced friend and fellow advisor and I boxed under their promotional banner for the first couple of years. They got me right up to British and Commonwealth champion; at that point, we had to think about what the next step was. I was struggling to get fights; the U.K. TV scene was cutting back; TV channels were dropping out. So we decided to sign with Frank Warren; from there, I haven't looked back. I've had two fights with Frank Warren, one in the States on a Golden Boy card and one last year against Paul Smith, which was a defence of the British title at the time and it's great. It's all going well at the moment. Frank's promoting me, getting me on big shows, obviously the next one in London, and he's got a world-class opponent for me as well. It's all going well; Adam's still training me, still working out in our gym in London, so everything's shining.

AW - Can you talk to us about your younger days and what it was like for you growing up in London and the path you took into boxing?

GG - I think I was fortunate; I told my dad I wanted to box. He sort of did a few bits and pieces, kickboxing and that sort of thing. When I was old enough to actually box and compete, he took me down to Dale Youth, which is a club down Laterow Road, which is only two stops away from me on the tube, and sort of stumbled into one of the best clubs in the country. They're a very successful junior club with very fine coaches and the time great sparring for me. So I was lucky in that way; I didn't realise how lucky I was until I got older. I had a lot of success at that club; I won various junior tournaments, represented England and finished up with two ABA titles before I turned pro. So that's pretty much how it was in the younger days. We always used to stay at the same club, Dale Youth. I still go back and say hello whenever I can. I started to box for England around 15, 16. I then made my way through cadet level, junior level, under-19s and into senior boxing as well. I had 75 fights with 65 wins in the end; it was much better than that but the last few bouts I boxed in a few countries as a senior boxer and had a couple of dodgy decisions but up until that point, I was doing well.

AW - Back in those amateur days, a much talked-about rivalry started with James DeGale. Could you talk us through this?

GG - Yeah, in the gym at Dale Youth, everything was fine; everyone got along. There were a lot of fighters in and around the same weight growing up. I was always a few years younger than the guys I used to train and spar with and I think that's what used to make me a little better than the guys around my age because I was always used to fighting bigger, older lads growing up. Obviously James DeGale was one of them and everything was fine until we became rivals. We both wanted to enter the ABAs. Obviously I went and beat him. It's grown and got steadily worse; he went on and done his own thing and I've gone and done my own thing. Our paths crossed last year for the British title and I beat him again. So I don't suppose he likes me anymore than he did before; he probably likes me a little less. It's always going to be the same; we don't see each other, so that's good. We don't cross paths too often; we're not under the same promotional banner as me now, so we don't ever see each other at the press conferences or anything like that. All's well.

AW - The fight with DeGale was always going to happen; however, would it be fair to say maybe it happened a little early? Perhaps it could have been for a bigger title than the British title, with all due respect?

GG – Yeah, I'd agree with that. I think he's ranked number three by the WBC; I'm ranked number four. I'm ranked for the WBO at number one. We're both world title contenders now. I don't think he's performed as well since I beat him. He doesn't seem to be as good a fighter as before, a broken man, if you will, but he's still winning and going in the right direction. I'm getting better and better. I think definitely our paths will cross again, maybe at world title level, maybe a world title eliminator but it's still a fight that interests me because next time, I'll beat him even better, even clearer. And, um, it's still going to capture the public imagination, I believe. It's interesting for the fans; it's a good fight.

AW - The two of you were destined to fight, it was just about the timing of it all.

GG – Yeah, exactly. Sometimes these things are inevitable, you know? They just come about; they just come down to personal pride. There was no way I was going to take a different route apart from boxing for the British title and there was probably no way James was going to give up his British title, so we didn't fight. It had to happen and it did. Other rivalries haven't materialised because of guys vacating and taking different routes, stuff like that. Maybe they're waiting for a bigger opportunity where they might make more money. I always thought I'll beat him now and he'll still want to get beaten again. So I think we'll fight again, we could probably end up boxing 10 times.

AW - How real is the dislike between the two of you?

GG – Yeah, it's genuine; we have nothing to do with each other.

AW - What do you think of the current champions the WBC/WBA "super" champion Andre Ward, the WBA "regular" champ Mikkel Kessler, the IBF's Carl Froch and the WBO's Arthur Abraham?

GG – Yeah, I think Andre Ward is definitely the elite of the division by a long way. I would consider myself in the category with the rest, the next tier of fighters, which is Carl Froch, Mikkel Kessler, Arthur Abraham and the rest of the guys in and around that level. I think it's probably a little too soon to say that but after the Johnson fight, people will sit up and take note that I am knocking on the door for these guys and you know that's what we're after.

AW - You have a different promoter then Carl Froch but it would seem like a very interesting fight for the British public. Maybe not right now but a year from now?

GG - I think so; I think it's a sensible fight. I think it's definitely a fight fans want to see. To the British public, it would be a big draw, therefore, it'll make Carl money. He doesn't have to go abroad, so, yeah, it would be interesting. It would be good for the fight fans of Britain to have two super middleweights go at it; it's our glory division. We haven't seen two Brits fight for a world title at super middleweight in a long time, so it would be good.

AW - You were scheduled to fight Robert Stieglitz for the WBO title back in May. You had to pull out through injury. He ultimately lost to Abraham. Is that a fight you are now looking for?

GG – Yeah, that was a tough time. I was training out in Cyprus; I was sparring. I took a whack on the nose and dislocated the cartridge in my nose, which stopped me from sparring. We weren't even sure if it was gonna be fixed by the fight but I was willing to take the risk and go in there through the pain but because I couldn't do it in sparring, my trainer didn't want me to box with no sparring behind me, so I had to listen to him. He knows best and I had to pull out of that fight, which was tough. I was in a mandatory position, so I thought we could delay it or get a crack at the winner but that hasn't really materialised since but I'm not dwelling on it. I have a great fight with Glen Johnson ahead of me, so once that's done, we're looking at the next move, the next step.

AW - Away from boxing, what do you like to do?

GG - My football team is Chelsea. I like to get down there as much as I can. They're not doing so well at the moment, which is a bit tough but I've got a training camp to distract me. You know, I like to socialise like everyone else; going out clubbing isn't my scene. I'd rather go out for food with friends. Food is a big part of my life, whether I'm denied it or supplied it. I love comedy as well, stand-up comedy. I follow all the stand-ups. I try to go out and see as many as possible and try to get some live stand-up 'cause I think there's nothing better than laughing. It's been one of my biggest hobbies; that's a nice way to spend some downtime after training but also after training, have a drink with your friends at a comedy club and enjoy yourself. You get the best of both worlds.

AW - Growing up, who was your boxing hero and who do you like to watch today?

GG - I'd say as a kid, I loved Nigel Benn 'cause my dad did. He was always on TV because my dad was a big fan. I was also a massive fan of Gerald McClellan. Once I was old enough to get DVDs and YouTube watching his old fights, the way he threw a right hand with so much spite and venom was a sight to behold and there haven't been many fighters like him since and, obviously, their fight was one of the first fights I ever saw, Benn-McClellan, and fell in love with boxing ever since. The sad side of it was a touching thing. Nowadays fighters I like are [Miguel] Cotto. He's not the fighter he once was but I love watching him box, his style, his aggression. Seeing him and understanding why he's so popular among Puerto Rican people because of his tenacity. [Floyd] Mayweather [Jnr.] just gets better with age; he's amazing. As a kid, I remember first watching him and thinking he's one of those fighters, he's got God-given natural ability like hand speed but as he's got older, those things have slightly deteriorated where he doesn't have that edge but he's still performed at the top level. We've seen other fighters like Roy Jones Jnr. with great natural ability when it comes to hand speed or punch power but once they lose that edge, they don't have the invincibility anymore. But Mayweather's different; it just shows how technically sound and well-schooled and drilled he is and probably how well he trains and how well he knows the game. He can still cope with the highest level and still be the best. They're probably the two.

AW – Finally, do you have a message for the super middleweight division?

GG - I'm here; I'm going to ring the doorbell as many times as I can. I ain't going home; I ain't going nowhere. I'm here; I'm arriving maybe a little ahead of time.


Groves v Johnson is live and exclusive on BoxNation (Sky Ch. 437/Virgin Ch. 546). Join at
www.boxnation.com
Please visit our Facebook fan page at www.facebook.com/MaxBoxing, where you can discuss our content with Maxboxing readers as well as chime in via our fully interactive article comments sections.