Foster Upsets DeAlba In Bethlehem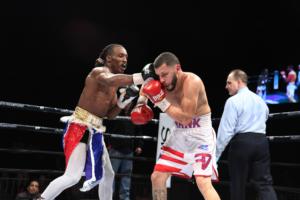 all pics Ray Bailey

By J.R. Jowett reporting from ringside: Just a week from his last show, peripatetic Marshall Kauffman, having acquired a new connection to Houston boxing, moved from Philly to The Sands Casino in Bethlehem for a fine card on Friday the 13th ('18). It's hard to estimate a crowd that's scattered throughout a spacious arena, but it looked to be a bit small, maybe 400-500. Too bad for those absent! It was an exceptional card, with all competitive bouts, no record builders, and more upsets than predictable wins! At least it could be caught live streamed on Kings Boxing Facebook Page, with publicist Marc Abrams at the mic. Madra Clay was timekeeper and Alex Barbosa ring announcer.
The main event was a sizzling good contest, although it turned out poorly for Kings Prom'ns. Frankie DeAlba, 130 ¼, Reading, 22-3-2 (9), out of the ring a year, faced a tough assignment in unknown O'Shaquie Foster, 131 ¼, Houston, 13-2 (8), eight. Frankie could have been returned against a soft touch, but that would have made for a lackluster contest. This was two separate fights in one, and the intruder won them both! The mobile O'Shaquie moved well, with quick hands, and fired combos to the plodding, resolute southpaw. Frankie let some big lead lefts go in round two and brought up the fans, but it was still being controlled by the underdog. Action became a bit more cautious in the third, with O'Shaquie picking his shots carefully, one at a time. After the fourth, in which referee Gary Rosato warned O'Shaquie for using the forearm under the chin to push DeAlba off, the local favorite needed at least a knockdown to win.
Smart and game, DeAlba did what he had to do in round five, bringing up the crowd by forcing the action to close quarters and trading openly. But Foster still got the better of it, with quick inside combos in a heated round. This set the tone for the rest of the fight, with the next two rounds close and encouraging to Frankie's fans but O'Shaquie's hands consistently outscoring. The fight finished in a blaze of glory, with desperate all-out attack by Frankie but met with precision counters by O'Shaquie. By final bell, DeAlba was being punished and giving ground for the first time in the fight. Then came the scoring, and a heart stopper! Fans on both sides were whooping it up, and no exactly objective in their sentiments. Barbosa announced John Poturaj went with the flow and had it 76-76. But Marc Werlinsky and Adam Friscia justly awarded the majority verdict to Foster, 78-74 and 79-73. Phew!
The verdict got a mixed reception from excited fans, with Frankie's crowd sure he'd gamely pulled it out, but it was entirely fair and correct. With many corrupt and crummy commissions, the local fave would have been given the win. But in PA, fans can at least see competitive boxing on its own terms instead of a political circus.
Having dodged a bullet, the winner was cavalier about it. "In the second half I knew I had to come out and bang a little bit because it was his back yard. I like to box, but I like to mix it up, too."
The semi six was an explosive banger, but again a bit rough on the more local fans. Luther Smith, 199 ¼, Bowie, MD, 10-2 (9), took on no easy task in sleeper Elvin Sanchez, 198 ¾, Paterson, 8-4-1 (6). With both southpaw, the pairing was a bit like the main event; the stolid Elvin a walk-in banger and Luther the more mobile, quicker and sharper. Smith came out fast and confident, striking like a snake with well-placed and solid punches while keeping elusively on the move and forcing Sanchez out of his lefty stance. But near round's end, while gathering momentum, Luther left himself a bit open and Elvin struck with a lightning left hook counter that spilled Luther over with both gloves on the canvas. Shortly after ref Ronald Ali Bashir's count, the bell ended the suspense. In a spectacular second, the game Sanchez was attacking freely and forced Smith into a neutral corner where he attempted to unload on the trapped quarry. But dropping his hands low to dig in for leverage, Elvin got nailed with a lash-back right and went down! He immediately regrouped and went right back to the attack to regain control, but walked into a straight left lead down the pike that flopped him onto all fours, with the referee waving a KO at 0:55.

Another great fight was again a good mix of styles, with popular Jesus Perez, 142 ¾, Reading, 3-1 (1), versus Anthony Sonnier, 143 ¼, Seattle, 4-0 (2), six. The oh-so-willing local favorite, short and stocky, attacked with wild and reckless abandon against his tall, standup foe. But Sonnier showed good defensive skills in his ability to get his shoulder in the way and roll with punches when corralled on the ropes, enabling him to counter inside and drive Perez back. Not for long! Jesus never wavered in his attack even when scalded, going with overhand blockbuster rights that Anthony was often able to slip. In the second, Jesus' tactic almost worked, as he forced Sonnier to the ropes and brought up a booming right that rocked him, then poured it on to the bell. But in the third, patience paid off for Sonnier as he turned the fight with two knockdowns. Perez was caught at long range by a surprise right and dropped. Back in gear, the local favorite was again on the attack and had Sonnier pinned on the ropes when Anthony brought up a left hook and dropped him again. Still, the game Perez fought hard to the bell. Sonnier gained control in the fourth, using his long reach to batter Jesus with the jab and badly bloody his nose. But Perez refused to yield, battling his way inside in a close fifth with hard trading. But Sonnier wrapped it up in the sixth when he again kept Perez at bay and bleeding with long lefts. Friscia scored 58-54, Poturaj and John McKaie 59-53, unanimous for Sonnier.
A six between once-promising Greg Jackson, 151, Phila., 8-6-1 (2), and dangerous perennial underdog James Robinson, 156 ¾, York, 5-9-4 (1), was a difficult fight that is difficult to describe, not to mention score. A contest of negatives, with neither looking impressive but keeping it at least interesting with suspense and expectation. Jackson won a feel-out first, boxing behind the jab. Robinson started to let fly with winging wide punches in round two, scoring some good lefts. The third was close, as Jackson controlled the pace with boxing but Robinson made his presence known with some ambitious, wild flurries. Jackson may have edged the fourth with some carefully picked shots, but seemed to yield an awkward fifth when Robinson finished the round with an extended volley of big, missed punches. The final round was similar, with again James ambitiously firing but missing. Who won this? Anybody? Werlinsky didn't think so, scoring 57-57. But Poturaj and Friscia went with at least the attempt to score, giving the majority decision to Robinson, both 59-55. Greg's costly error was his failure to counter.
The show opened with an earnest if not classic six between Craig Callaghan, 152, Houston, 17-1-1 (7), and Cesar Soriano Berumen, 151 ½, Iztacalco, MX, 28-37-3 (17). After a feel-out first, the smaller Mexican began to attack in a good second, firing with both hands before the favorite began to find the range with long, single shots, for a close round. The next two were close, with Callaghan punching from long range but not putting punches together while Berumen forced the action and tried to get inside. Callaghan started the fifth with straight rights to the belly that visibly made Berumen cringe. Late in the round, long rights to Cesar's head had him bleeding from the right eye. Then came the final round, in which the favorite let the trialhorse back into the contest and blew the win. Callaghan seemingly had it won after the strong fifth, but in a hectic sixth, it was anybody's round and Cesar was forcing the fight. Poturaj still scored it to Callaghan, 58-56, not a bad call, but Werlinsky and McKaie made it a majority draw, 57-57, not a bad call either.
In a four, Martino Jules, 128, Allentown, 4-0, dominated Vincent Jennings, 126 ¾, Grand Rapids, 5-5 (4), for a unanimous win. The contest was one-sided, with the short underdog unable to get anything going against the rangy lefty. But it was good to see Jules showing some fundamental boxing off the jab, although he got off track at times with hotdogging. Werlinsky scored 40-36 while Friscia and McKaie gave a mercy round, 39-37.
| | |
| --- | --- |
| 4-13-18 Sands1 382 a | |