Ezzard Charles: A boxing life by William Dettloff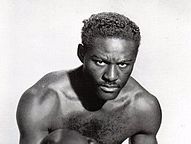 --


It's sad to realize that one of the best fighters of the past century, Ezzard Charles, is mostly forgotten.
Hollywood made movies about two of his opponents, one of whom he defeated
.
But
Charles has never been the subject of a biography.
Author William Dettloff's impressively researched
Ezzard Charles: A Boxing Life
is a hard-hitting, occasionally elegant,
biography of one of the most misunderstood pugilists in boxing history.
His book is easily the best boxing
related
volume of this year.

Charles, who grew up poor in Lawrenceville, Georgia before moving to Cincinnati, Ohio at the age of 9, began his boxing career as a middleweight.
Fighting bigger men soon became routine. Charles never complained. He liked to fight. There was a quiet determination about him.
When Charles was making his way up the rankings, defeating the likes of Charley Burly, Jimmy Bivins, Joey Maxim, Jersey Joe Walcott, and future Hall of Famer, Archie Moore (three times), nobody seemed to care.
Things changed on September 27, 1950, when Charles faced his boyhood idol, Joe Louis.
Louis, one of the most popular fighters to ever lace on a pair of gloves, had retired two years earlier. He was 36, eight years older than Charles. His reflexes had dulled—while Charles was quick as a cobra.
Still, the betters installed Louis a 2-1 favorite to regain his crown from the paper champion.
Louis outweighed Charles by 34 pounds. He reckoned all he had to do was clock the smaller man with one of his vaunted hooks and the so-called "champion"
would collapse.
Boxing fans agreed. Charles had "borrowed" Louis' title.
The thinking going into the bout was that Charles, criticized for being too cautious, would use the ring and box the still-dangerous "Brown Bomber."
They were wrong. Charles stayed in the pocket and outfought Louis for 15 rounds. He took some hard shots—was even hurt in the ninth round, but the fight was basically a no-contest. Both fighters looked battered when the final bell rang.
Charles won the fight by a wide unanimous decision. The moment should have been the greatest of his boxing life.
Instead, the crowd booed. How dare he beat Louis!
For the next nine years, catcalls and heckling would be the norm at a Charles fight. The boxing masses would never forgive him. He should have put "Boo" on his boxing robe.
Charles, a sensitive soul, never forgot how the fans and media treated him. He felt bad, too, when he defeated Louis, but what was he to do?
For all his ability, Charles' behavior could be puzzling. He came up short in fights that he should never have lost. Dettloff explores Charles psyche—ultimately providing plausible reasons for his mysterious doings.
Another aspect of the book that this reviewer enjoyed was the inclusion of background histories of past contenders like Elmer Ray, Lloyd Marshall, Pat Valentino, Nino Valdez, and many others.
With all the success that Charles achieved in the ring, his life was a tragic one. On one hand he was blessed to be married to his wife Gladys, who stuck by him through various infidelities and unwise financial decisions. Only in his mid-forties, Charles was diagnosed with Lou Gehrig's disease,
or amyotrophic lateral sclerosis (ALS). He would die at 51.
Dettloff's prose is consistently superb. He writes as if he was following Charles around with a pen and notebook.
The result is an inside look into the life of a man that Rocky Marciano said gave him his toughest battles.
Charles finally has his biography—and he couldn't have asked for a better one.