Evgeny Gradovich: "I want Billy Dib's belt."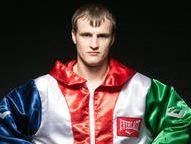 --


Originally, IBF featherweight champion Billy Dib was scheduled to make his mandatory defence of his title against Luis Franco. However, when the Cuban backed out of the fight, promptly retiring from the sport altogether, it left the door open for Evgeny Gradovich. The 26-year-old Russian comes into the bout with a perfect 15-0 (8) record, while having almost 150 amateur bouts from his days fighting under the tough Russian regime. Not perturbed with having just a month's notice, Gradovich constantly stays in shape, training six days a week and was only too happy to roll the dice to face Dib. It takes place on tonight's edition of ESPN2's "Friday Night Fights" from the MGM Grand at Foxwoods Resort, Mashantucket, CT. "The Mexican Russian" intends to make the most of his opportunity and not only open the door but step through it and win the world title.

Anson Wainwright - You will be fighting for the IBF featherweight title when you meet Billy Dib on 1 March. What are your thoughts on fighting Dib and getting the title opportunity?

Evgeny Gradovich - I think that it's good opportunity for me 'cause I have just 15 fights and already got this chance. It's cool!

AW - You have only had a month's notice for the fight. Is that concern at all? What sort of shape were you in and were you in training for another fight anyway?

EG - I am always ready for fights and this time, I will be also. I always keep myself in shape, never gain too much weight. I am around 130 pounds right now [a month out from the fight], so I do not need to get in shape. I think one month is enough time for preparation as far as boxing skills.

AW - It's been almost three years since you turned pro and you have moved quickly. Could you talk us through your pro career to date and talk about how you feel you have improved?

EG - Every fight I get, it was good experience for me. I was growing like a boxer and people, the audience who came to see it, they liked my fights. I think it's good 'cause if people in the arena are happy, I am happy.

AW - Who are the key members of your team, your manager, trainer & promoter? Also what gym do you train at?

EG - Each person in my team is very important in my boxing life. They do their work and I think they do it perfectly! I train at the Robert Garcia Boxing Academy. My manager, Egis Klimas, and I signed my promotional agreement with Top Rank.

AW - What is a typical day's training for you?

EG - I train six days a week, run in the mornings three-to-five miles, after, do some road work, during the day sparring, punch bags and punch pads, physical training, condition training, a lot of work at the gym. I have my diet; my weight is always good.

AW - Could you tell us about your early years growing up in Russia and how you became interested in boxing?

EG - I was born in Russia in the Ural Mountains. I began training when I was 12. I just wanted to play soccer but in my small city, I didn't have this opportunity and I began training at the boxing gym. I got a lot of fun at the gym and now boxing is my hobby, job and passion. It is my life.

AW - You were almost 24 when you turned pro. What was your amateur career like?

EG - I was an amateur boxer for 12 years; I have almost 150 amateur fights. I was on the national team; I won the World Cup of Petroleum Countries, Cup of Russia, some national and international tournaments. It was a good time but we should move only forward and now, I am a professional fighter!

AW - Can you tell us how the move to America came about and why you have based yourself in the United States?

EG - My friend from Russia, Sergey Kovalev, who is a great professional light heavyweight fighter, introduced me with my manager, Egis Klimas, and we started working together. I think America is the main country of boxing and only here you can grow in your professional career.

AW - What are your thoughts on the division?

EG - I know just that the featherweight division has a lot of good fighters and it's good 'cause we can show good fights.

AW - What is your life like away from boxing?

EG - Away from boxing, I enjoy time with my family.

AW - In closing, do you have a message for Dib ahead of your fight?

EG - I want his belt.
Please visit our Facebook fan page at www.facebook.com/MaxBoxing, where you can discuss our content with Maxboxing readers as well as chime in via our fully interactive article comments sections.