Erislandy Lara: "I'm better than Molina and Andrade."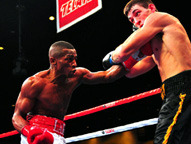 (Photo © German Villasenor)


Over the summer, Erislandy Lara took on Alfredo Angulo in a fan-friendly clash of styles, the smooth boxing of the former Cuban amateur standout versus the hard-charging pressure of the Mexican warrior.

Following a trip to the canvas in the fourth round, Lara found himself there again in the ninth. The southpaw held a slim one point lead on two of the scorecards while Angulo was up on the dissenting judge's card by three points. It looked as though Angulo was coming on strong, in a position to win the fight before midway through the 10th, Lara landed a combination that saw Angulo back off and decide enough was enough. Self-preservation was more important at this point.

The win took Lara to 18-1-2 with 12 stoppage wins. The 30-year-old took a well-earned rest but now looks to close out the year and become a world champion when he faces Austin Trout, 26-1 (14), for the vacant WBA light middleweight title tonight at the Barclays Center in Brooklyn, New York.

Keen to prove he's the better man, Lara says, "I've worked very hard to get to this position and I'm not going to let this opportunity slip away. Trout is a good fighter but I know he's not on my level."

Also, the Showtime broadcast will be headlined by Paulie Malignaggi-V-Zab Judah, along with Devon Alexander-V-Shawn Porter and Sakio Bika-V-Anthony Dirrell in support, live at 8 p.m., ET/5 p.m., PT.

Anson Wainwright - On Saturday, you take on Austin Trout at Barclays Center, Brooklyn, NY. What are your thoughts on this fight?

Erislandy Lara - This is a big fight for me and my team. I've worked very hard to get to this position and I'm not going to let this opportunity slip away. Trout is a good fighter but I know he's not on my level. I feel I'm the best 154-pounder in the division and I want to prove it on December 7th.

AW - What do you think of Trout as a fighter? What do you see when you break him down in terms of weaknesses and strengths?

EL - Like I said, he's a good fighter but I've fought many guys like him in the amateurs. He's similar to Paul Williams being that he's a tall southpaw and I know he's coming to fight. I don't want to give away what my game plan is but I'm going to dictate the fight on my terms. He does a lot of things well but he definitely has some flaws that I'll take advantage of.

AW - There has been some bad blood between the two of you in the build-up. Could you tell us about this?

EL - He's trying to get under my skin with his brave talk but once he steps in the ring with me, he's going to know I'm here to punish him. I speak my mind when someone starts talking smack and I replied to his comments with firm words of confidence. I'm going to beat him down.

AW - Both of you are known as boxers. On paper, this doesn't look the most exciting of fights. What are your thoughts on that?

EL - People have their own opinions on how this fight is going to play out and that's just part of the business. I can do everything in the ring and I believe this fight will be more exciting than people think. Everyone will be surprised on how this fight will play out.

AW - In your last fight back in June, you were involved in a very entertaining fight with Alfredo Angulo, you had to twice get off the canvas before stopping him in the 10th round. Can you talk us through the fight?

EL - It was a great fight and I showed the world I can handle adversity. I worked very hard to get in great shape and took care of my body as I [have] for this fight. I was easily dominating him with superior boxing skills until I got dropped. But I got up off the canvas and got back into my groove. He caught me again late in the fight but as we all know I got up again and finished him off. Angulo is a very tough guy and I took him out.

AW - Where has you camp been for this fight? Can you tell us about it?

EL - I'm hosting camp in Houston Texas, where I have my whole team here getting me ready. I'm feeling very sharp and sparring has been fantastic. Everything is going great.

AW - You had such an extensive amateur career before turning pro. For you, how easy was the transition to the pros?

EL - It's a difficult transition from the amateurs to the pros I would imagine for some fighters but for me, it's been a smooth switch. I had so many amateur fights, it's like riding a bike. I just know what to do in the ring. I actually enjoy not wearing headgear because I can see everything coming at me. And the smaller gloves give me confidence in my power. I was born to be a fighter.

AW - If we look at the light middleweight division in general, what are your thoughts on the current champions and top contenders, WBC & WBA "super" champion Floyd Mayweather, the IBF's Carlos Molina and the WBO's Demetrius Andrade? Plus top contenders like Saul Alvarez, Miguel Cotto, etc.?

EL - All the fighters you mentioned bring something to the table. Floyd, of course, is considered the best fighter in the world but he's never faced an opponent like me. I know I can beat Mayweather if given the chance. "Canelo" is a bright young star who is still learning his craft but he's not on my level. Cotto still has some fight left in him but nothing like before when he was in his prime. Molina and Andrade are hungry fighters who accomplished their goal of becoming a world champion but I feel I'm better then both of them.

AW - What are your goals in boxing?

EL - To be the best fighter in my division and hopefully, one day, be considered worthy enough to become a Hall-of-Famer.

AW – Lastly, do you have a message for Lara and the fight fans who will be watching on Showtime?

EL - To all my fans who support me, I want to say thank you for being there for me. I fight with a lot of heart and will continue to work hard in the gym to be ready for the elite in my division. God bless you all.

Questions and/or comments can be sent to Anson at elraincoat@live.co.uk and you can follow him at www.twitter.com/AnsonWainwright .
Please visit our Facebook fan page at www.facebook.com/MaxBoxing, where you can discuss our content with Maxboxing readers as well as chime in via our fully interactive article comments sections.