Donovan George: "Anyone who stands in my way must go!"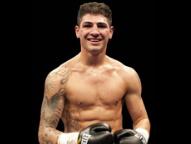 --


Back in the day, Chicago was a well-known and respected fight town. It produced some of the finest fighters of all time including former middleweight ruler Tony Zale and lightweight/welterweight kingpin Barney Ross. During this time, fighting in Chicago was a rite of passage and boxing icons such as Sugar Ray Robinson (who defended his middleweight crown there a few times in the 1950s) and Rocky Marciano (who defeated Jersey Joe Walcott in a heavyweight title defence) performed there. However, if we fast-forward to today, things are relatively bleak in comparison from the golden era boxing once enjoyed. The number of shows has declined and not since 2005 has the city reached double figures, whereas there were 53 shows in 1950 alone, a vast drop-off. Despite this fact, fight fans still turn up in droves. A raucous crowd showed up to witness the Carlos Molina vs. Cory Spinks bout on ESPN2 at the start of February (the last time the "Windy City" saw a significant fight between two contenders of renown was back in December of 2009, when Paul Malignaggi defeated Juan Diaz in a highly anticipated rematch). So as we pick through the ashes with no obvious candidate to return Chi-Town to its once lofty status, it's left for several local fighters to make the most of the city's famous boxing history. One of those fighters is Donovan George, a career super middleweight who recently elected to drop down to middleweight, reasoning, "At super middleweight, I was always the smaller man fighting monsters. At middle, I'm the big guy. I'll be the monster." If he can do so safely, "Da Bomb" may just be able to explode on some of his new rivals. The 28-year-old, an eight-and-a-half year pro, is currently 24-3-1 (21) and meets grizzled tough guy David Lopez, 41-13 (23), on ESPN2's "Friday Night Fights" next Friday night.


Anson Wainwright - You return to action on 22 March, headlining in your hometown on ESPN2 when you meet David Lopez, What are your thoughts on Lopez and fighting at home?

Don George - It always great to fight in Chicago in front of my family and friends. David is a proven warrior with only two losses in nine years and one was to current [WBA light middleweight] champ Austin Trout. I am preparing for a very hard war.

AW - Having been a career super middleweight, you recently decided to drop down to middleweight. Could you tell us about that and how you're finding dropping the extra weight?

DG - At super middleweight, I was always the smaller man fighting monsters. At middle I'm the big guy, I'll be the monster. The weight has been very tough. I haven't been 160 since I was 16 years old but I will make weight and be very strong.

AW - Last year, you went 2-2 with both losses coming against top 10 guys Edwin Rodriguez and Adonis Stevenson. Though you lost, you gave both guys good fights. Could you tell us about how last year was for you?

DG - This boxing world is a crazy, up-and-down business. I am proud of myself and the fact that I take big fights against tough guys. I was at the wrong weight class; things will be different now.

AW - Who are the members of your team? Also, where do you regularly train?

DG – Well, I just became a free agent as far as management. It feels good to be in charge of my own life now. My father has always trained me since I was very young. I'm signed with Warriors Boxing and 8 Count Productions in association with DiBella [Entertainment]. I'm currently training at 8 Count Gym. I have spent three weeks at the Kronk Gym in Detroit, working with Adonis Stevenson.

AW - Could you tell us a little about your early years growing up in Chicago?

DG - I was very lucky to grow up in a very safe part on town. My parents worked hard so all four of us could live in a great household.

AW - How did you first become interested in boxing?

DG - My father was an amateur boxer in the 1970s. Boxing was always a big part of my life; it was always around me growing up.

AW - Chicago is an old fight town. It seems like a city crying out for someone to step out of the shadows and make a statement.

DG - Chicago needs a name fighter to put it back on the map. During the Golden Age of Boxing, Chicago was the king; now, it's only smaller club shows. With the help of [President] Dominic Pesoli of 8 Count boxing, we can get it back on track. Chicago needs a star and I want to be that guy.

AW - You're the consummate professional, so without looking past Lopez, who are you aiming for at 160?

DG - I don't feel comfortable talking about any fight but David Lopez. I can say I would love to fight any of the top names in any country.

AW - The middleweight division has come alive in the last couple of years. What are your thoughts on 160?

DG - I only know "GGG" (Gennady Golovkin) and he is a beast! I think he is, hands down, the best of the current champions. Sparring with him was a great learning experience; he made me a better fighter. I would love to one day fight him for his [WBA middleweight] title.

AW - Away from boxing, what do you enjoy doing with your time?

DG - Away from boxing, I play a lot of poker. We are currently working on a deal with PokerStars. My godfather is a pro player and taught me the ropes. When I'm not in training, I play cards four days a week and try to play as much as my fiancé will allow me. Poker is a passion of mine and will be something I can do after boxing. Tattoos, I love them. I won't stop until I'm covered or run out of money. (laughs)

AW - Who is your boxing hero and why? Who do you enjoy watching today?

DG - My favourite all-time fighter Sugar Ray Robinson, he was a masterpiece in motion. I don't have a current fighter that I must watch but of course, I watch all and every boxing broadcast on TV possible.

AW - In closing, do you have a message for Lopez and the middleweight division?

DG - I am here to make a name for myself and win a world title. Anyone who stands in my way must go!
Please visit our Facebook fan page at www.facebook.com/MaxBoxing, where you can discuss our content with Maxboxing readers as well as chime in via our fully interactive article comments sections.