Canada's Gardiner Is Making Noise in the North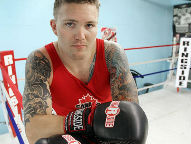 --


Andrew Gardiner is starting to make some serious noise north of the 49th parallel in his home country of Canada. And if all goes according to plan, he'll be looking to cross the border to warmer climates and bigger opportunities before long. The Winnipeg-born, Ottawa-based light heavyweight has moved to 9-0 (5) since turning pro 15 months ago. Scheduled to fight in his hometown on October 12th with a follow-up date in late November in Quebec, Gardiner is looking to be 11-0 by the time he closes out the year. He is coming off a highlight reel, third round knockout win over Michal Nieroda in his last bout on September 6th and is excited to lace them up at least two more times this year, finish the year strong and plan for some big moves in 2014.

Gardiner's ascension in the game was fast after wandering into the Crescentwood Boxing Club as a 16-year-old. "As soon as I went to the gym, I just loved it. I took to the sport very quickly and I had some great coaches and teammates to train with." Putting a long road to a possible Olympic bid aside, he decided to turn to the pro ranks. He made his debut in May of 2012 under former Canadian national team coach Eric Belanger, who has handled the somewhat shy, friendly slugger since he relocated to Canada's capital city. "Ottawa has been a good fit for me in terms of staying active. Winnipeg is always home but I had to go where I could stay busy and Quebec City and Montreal, just a couple hours down the road, are putting on shows all the time so it is easier to stay busy and get fights in. When we are sparring, I'll go down there [Montreal] two times a week to get some good work in." Like most early-stage pros, Gardiner is being handled in small steps but it is apparent that the 6'0" light heavy is clear on his long-term goals.
"Well, like most fighters, a world title shot is a dream and what we are after. I don't just want to build a good record [with] not fighting anyone of substance. I want to be tested. I want to improve and make progress and you only do that in competitive fights." The recently engaged Gardiner, a chief sparring partner for former world champion Lucian Bute, debuted against tough, 21-fight veteran Patrick Tessier and in his fourth fight, beat Canadian gatekeeper David Whittom. The first round KO of Whittom turned heads as Whittom shared ring time with many good fighters including current World Boxing Council (WBC) light heavyweight champion Adonis Stevenson and former world title challenger Adrian Diaconu.
Gardiner is also looking forward to doing some business in his hometown in mid-October. "I'm really excited to be fighting in Winnipeg. It is home, so I will have family and friends there so that will be fun. Everything came together in my September 6th bout. I felt great that night, so I'm really looking to build off that win in my next bout," he said. After his bout this Saturday night, he is scheduled for another bout in Quebec in November before a short break around Christmas. His team has big plans for 2014.
"We are always looking down the line; while at the same time not getting ahead of ourselves, it is very early and I'm still learning. But we really would like to have another very busy year in 2014 and then go for a title. I'd love to fight for a Canadian title and then later in the year, if all goes well, look at perhaps something like a North American Boxing Federation title or something. If I keep winning and progressing, eventually I have to start getting noticed. I'm learning all the time and I'm looking to get better each time out." With Gardiner, who boasts a style that mixes a Joe Frazier-esque bob-and-weave attack (coupled with the ethos that he "never met a brawl he didn't like") that would make fellow Canadian legend Arturo Gatti proud, we may be watching the progress of Canada's most fan-friendly fighter. If all goes according to plan, he'll be taking his act well beyond his current Canuck borders. Says Gardiner, "My dream is to fight for a world title and I'll do whatever it takes to get there."
Please visit our Facebook fan page at www.facebook.com/MaxBoxing, where you can discuss our content with Maxboxing readers as well as chime in via our fully interactive article comments sections.