Bradley hangs on to win unanimous decision over Vargas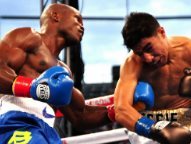 --

By John J. Raspanti
(Photo © German Villasenor, MaxBoxing)

It's been 20 months since two-division world champion Timothy Bradley has been victorious in a boxing match.

Bradley returned to his winning ways Saturday night by winning a 12 unanimous decision over Jessie Vargas at the StubHub Center in Carson, California.

The scores were 116-112, 117-111 and 115-112.

Maxboxing and Doghouseboxing.com had Bradley winning by a tally of 116-112.

With the victory, Bradley, 31, captured the interim WBO welterweight title.

Bradley (32-1-1, 12 KOs) started the fight fast. He went to the body and head. The results were consistent. Vargas (26-1, 9 KOs) snapped Bradley's head back with a few jabs, but Bradley ended the round by connecting with stinging rights. Vargas found Bradley's chin with a left hook in round two. The punch seemed to bother Bradley who slowed his activity for a few seconds. Vargas did some good work to the midsection, but Bradley came out with more intensity in round three by landing a four-punch combination. Vargas, the taller boxer by four inches, connected with a good right hand.

Bradley upped his workrate in rounds four and five. He knocked Vargas back with a long left hook. A few seconds later a big right crashed off the chin. Bradley punctuated the round by stinging Vargas with a combination at the bell. He pushed Vargas even harder in the next round. It was battle of wills and Bradley was winning. He opened up to the head, but also ate a wicked counter right.

The pace slowed slightly in round six, but only for a minute. Bradley landed a right cross. Vargas connected with a short hook and a number of jabs, but Bradley, one of the most determined fighters to ever lace up the gloves, invested more time to the body. He continued to outwork Vargas in rounds seven and eight. Bradley's punches were coming in bunches--while Vargas fired a jab and occasional right.

Vargas needed something positive to happen in round nine. Bradley was in charge, but there was no quit in the 26-year-old fighter from Las Vegas.

With three rounds left in the bout, it appeared that Bradley was likely ahead on the scorecards. Could he maintain his edge? Vargas still needed to throw more punches.

In round 10, Bradley bobbed and weaved and forced the action. Vargas landed two inside shots. Bradley ignored the blows and fought back. Neither fighter is a big puncher, but Bradley was winning the activity battle. Vargas was more aggressive in round 11. He landed a couple of hard hooks, but Bradley appeared to still be in control.

Bradley, older by five years, still had more bounce in his legs in the 12th round, but that would change in the last few seconds of the fight. Vargas connected with a with a vicious right hand to the chin. Bradley staggered and backpedaled. His legs had turned to Jell-O. Vargas fired two big hooks that Bradley managed to blocked.

As Bradley languished on the ropes, a ringside official sounded the clapper--meaning there were 10 seconds left in the match. Referee Pat Russell stepped in in and stopped the bout. Vargas celebrated, but Russell had mistakenly thought the clapper was the final bell.

Four seconds remianed on the clock.

"I feel great right now," said Bradley in the ring. "He caught me with a good shot at the end of the round. The ref thought that he heard the bell. I was good enough. I could have maintained. We can do a rematch."

"All I needed was one shot. That's all I was looking for," said a disappointed Vargas.

"It was very loud," said Russell. "I thought I heard the bell."


---