Bodysnatcher Mendez disposes Foe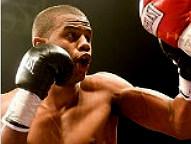 --

By John J. Raspanti, Doghouse Boxing

Rising middleweight Paul "El Gallo Negro" Mendez might have to change his nickname to the "Bodysnatcher" after his latest victory at the Storm House in Salinas,Ca. last Saturday night. Mendez (11-2-1, 5 KOs) used a relentless body attack to stop tough veteran Lester Gonzales (12-8-4, 6 KOs) in the fifth round of a scheduled eight-rounder.

The TKO victory was the third in a row for Mendez with all credit going to his left hook and right hand that found the midsection of Gonzales consistently. The fight started slowly with Mendez measuring his opponent. The 22-year-old did land a thudding right to the body. Gonzales, a southpaw, was drilled by a combination of lead right hands in round two. He gamely fired back with a left, but was on the receiving end of a snappy combination.

In round three, Gonzales tried to use the ring and box. He did pretty well until another Mendez body shot made him stumble and crouch. Mendez backed Gonzales into the ropes and unloaded a combination of shots - punctuated by a right and left hook to the liver that put Gonzales down. The San Diego resident managed to beat the count, but looked discouraged.

Gonzales, 35, showed his smarts in round four. He moved and jabbed. Mendez hurt him with another beauty of a left hook to the ribs. In round five, Mendez threw the same punch, a wicked left hook to the body that took most of the fight out of Gonzales. A four-punch Mendez combination convinced referee Ed Collantes to stop the bout.

The time was 2:35 of round five.

Mendez told this writer how happy he is with the development of his career.

'I'm definitely improving in every one of my fights, "Mendez said. "I have a great team with the Garcia's. They are the reason for my improvement. I honestly don't know what 2013 is going to bring for me, but Kathy Garcia and Don Chargin said they already have the year planned out.

"So, I'm very excited and motivated to get back into the gym and start perfecting my craft," he added.

Jonathon Garcia (10-0, 8 KOs) electrified the crowd with a first round demolition of Rudolfo Armenta (12-9-1, 9 KOs ). The heavy-handed Garcia, who hails from nearby Watsonville, connected with a scintillating left hook in the opening minute of the bout. A few seconds later a counter right put Armenta on all fours. The warrior got up, but the fury of Garcia was soon on top of him. Garcia ended Armneta's night with another wicked left hook.

The time was 2:03 of the opening stanza.

"I tried to stay out of his reach by using my jab," said the 21-year-old Garcia."I was working slowly since the fight was a six-rounder. The knockout just came."

Loren Myers (9-17-1, 2 KOs) withstood a shaky first round to pound out a unanimous four-round decision over former welterweight star Jose Celaya (31-7, 16 KOs). Myers rebounded in round two by pressuring Celaya . His looping right hand found Celaya 's chin. In round three, Myers staggered Celaya with another right. He soon scored a knockdown.

Celaya, likely sensing he was behind on the cards, tried to end the fight in the last round. A combination caught Myers solidly, but the iron-chinned fighter from Fresno ignored it. Celaya continued to punch, but Myers clipped him with another right hand. Myers proceded to knock Celaya down for a second time a few seconds later.

Scores were 39-35 and 38-36 for Myers.

"I think those punches (in the first round) woke me up," said the happy Myers after the bout.

His plan is to return to the middleweight division.