Beltran Back in a Familiar Role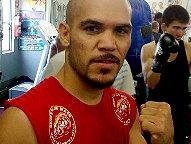 Ray Beltran


On the latest installment of "Friday Night Fights" on ESPN2 (10 p.m., ET) from the Resorts Hotel and Casino from Atlantic City, veteran lightweight Ray Beltran finds himself in a familiar role against the talented "Hammerin'" Hank Lundy. Beltran is the B-side against a fighter slated for bigger and better things in the future, very similar to the likes of Sharif Bogere and Luis Ramos, who edged out Beltran in two disputed decisions in the past year. Beltran has been brought in to provide a test but certainly not to win.
He knows he is the "opponent" in this equation.
"Yeah, man, once again, it's been my life lately in boxing," he said last week after finishing up his work at the Wild Card Boxing Club. "I just stepped up to the challenge and made it happen." It's a role he is now used to. "But most of my career, I've been the opponent. So it's really nothing, really, really nothing new for me," said the seasoned veteran.

It could be argued that Lundy is a cut above Bogere and Ramos (who are both undefeated) and is considered a legitimate lightweight contender. He's fast with power in both hands and confidence that spills over but remember, Beltran is a guy who has spent hundreds of rounds sparring with Manny Pacquiao the past few years. Don't expect him to be intimidated or overwhelmed. "What I think about him is that he's a very solid fighter, not really the type of prospect he's been built into," said Beltran of Lundy, 22-1-1 (11). "He's fought some really tough, good guys on a good level. He's the type of guy that, he gets knocked down, gets up and knows how to win. So he's a good fighter and I expect it's going to be a great fight for me. It's a good challenge; I'm motivated for that fight."
For all his skills, Lundy still has one significant flaw- his chin. He's been decked more than once early in fights (by Dannie Williams and David Diaz) and unraveled in the late stages against Johnny Molina in his one career loss. Lundy figures to sweep the early rounds and it will be paramount for Beltran to consistently push Lundy throughout and put on the pressure. But he says much of what he does tonight will be predicated on how the fight actually unfolds.
"I think it's all about playing games. I mean, he's a counterpuncher. I don't really do plans on my fights; what I try to do is get the right sparring partners, the right people for me, for any kind of situation," he explains. "We'll see how we adapt; maybe the plan will be to put pressure but be smart. Don't go in there and be stupid and fall into his game." But Beltran believes the late rounds are where he'll thrive; he says, "That's why I think they made it a 10-rounder, for his advantage. But hey, a punch can change anything in any round."
This is an important fight for both men. Lundy can perhaps put himself in the mix to face the likes of Adrien Broner (who fights in Atlantic City on October 6th) and Beltran is fighting for relevance. He says he has contemplated retirement, should he come up short.
"Honestly, yes, that crossed my mind. I love the sport but I hate the business. The business is just messed up and makes it worse every time. But hey, my heart's still there and I'm still good to fight and can make it happen; just gotta be my time."
Beltran feels the system defeated him against Bogere and Ramos and, for a fighter, it's the most helpless and disgusting feeling in the world to have.
"Man, think about it; I got three kids. I got a family. I don't fight for me; I fight for my family. I can fight for their future and it's so frustrating that they take it away from you just because they have the power- because they can," he says. "It's real different; you can accept it when you lose but when somebody takes something away from you, it's hard to describe it because it's a lot of sacrifice, a lot of hard training, dreams you have in your life- they just take it from you. It's hard, man. It's really hard to describe."
This fight isn't do-or-die for Beltran but there's no denying its importance to his career and its direction.
"I think it's a big fight for me and I don't think it's my last chance. I mean, this time, it's not the way it was with the other two guys (Bogere and Ramos); this is even better, way better. This time, I got nothing to lose and everything to win. So to me, it's a great fight, a great fight and I don't think it's a last chance. I still got a long ways to go."

MAIN EVENTS TIX

Main Events has a couple of fight cards in September. The first one takes place on September 8th at the Prudential Center in Newark, New Jersey, where Tomasz Adamek faces Travis Walker. Here is the ticket info (from a release):
Tickets go on sale 11AM tomorrow. Tickets priced at $180 ringside, $105, and $55 are available through Ticketmaster:

online at

www.ticketmaster.com

;

Charge-by-phone: 1-800-745-3000; Ticketmaster Express 866-448-7849; and Ticketmaster ticket centers. Tickets are also available at Prudential Center's Box Office beginning Saturday 7/28 and

www.prucenter.com

.
Then on September the 27th, their latest installment of "Fight Night" on the NBC Sports Network has a doubleheader featuring light heavyweights Gabriel Campillo and Sergey Kovalev and a welterweight fight between Ronald Cruz from the Sands Casino Resort in Bethlehem, Pennsylvania. Here's the ticket info (again, from a release):



Tickets are priced at $130 (luxury suites), $80 and $55. They go on sale Friday at the Sands Event Center, all Ticketmaster outlets and at the offices of Peltz Boxing Promotions, Inc., in Philadelphia, PA.



FRIDAY FLURRIES

InterBox announced on Thursday that Lucian Bute will make his return to the ring November 3rd in Montreal against Denis Grachev...It looks like the Turning Stone Casino in Verona, New York will play host to HBO's September 1st card with Gennady Golovkin taking on Grzegorz Proska...HBO premieres "Road to 24/7" this Saturday night at midnight...Folks, my crack on Twitter about Manny Pacquiao being promoted by Jessica Sanchez and her new promotional company, Filipino Idol, was just a joke (seriously, some actually took it very seriously). However, it does look like 50 Cent will promote Floyd Mayweather (http://www.maxboxing.com/news/promo-lead/50-to-promote-money)...What a big sports weekend- NFL training camps are opening up
...
I can be reached at
k9kim@yahoo.com
and I tweet at
www.twitter.com/stevemaxboxing
. We also have a Facebook fan page at
www.facebook.com/MaxBoxing
.