Behind on the scorecards, Glowacki upsets Huck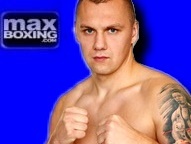 --


Though undefeated, Krtsztof Glowacki (25-0, 16 KOs) was given little chance of upsetting defending WBO cruiserweight champion Marco Huck (38-3-1, 26 KOs) last Friday night at the Prudential Center in Newark, NJ.

Things looked bleak for the challenger when he found himself on his back in round six, courtesy of a wide left hand. But Glowacki, a star in Poland but little known in the United States, was hardly finished.

Five rounds later, Glowacki stopped Huck in round 11 to capture the championship.

Glowacki's brutal victory also prevented Huck from regaining his crown for the 14th consectitive time, a record he shared with Johnny Nelson.

Glowacki, a southpaw, got off to a good start in the opening frame. He pursued Huck with bad intentions--slamming shots to the body and head. A hard right at the bell caused Huck's knees to buckle. Huck fought back in round two, but Glowacki was still finding him with heavy shots.

Huck, 30, did better in round three by employing the southpaws' kryptonite, the lead right hand. Glowacki, 29, tested Huck's chin in the next stanza, as his passionate pro-Polish-throng cheered his every move. Huck countered with wicked blows upstairs.

The defending champion did well in round five. He banged to the body, and landed flush shots to the head. Glowacki ate the blows and walked forward, pushing Huck into the ropes. As Glowacki concentrated on Huck's midsection in round six, the Serbian-born fighter unleashed a long left hook. Glowacki's legs collapsed. He somehow pulled himself up at the count nine and immediately fought back. Huck looked surprised as Glowacki found holes in his defense.

The resilient Glowacki was again the aggressor in round seven. He let his hands go as Huck found himself trapped on the ropes. Both fighters were landing thunderous blows.

Huck rallied back in the next two rounds as Glowacki looked to be running out of gas. In round 10, Huck scored with clean shots.

Glowacki found his second wind and fired punches inside. He was successful at times, but was eating hard punches for his audacity.

Huck was doing very well in round 11 when he made two critical mistakes--he dropped his hands and he pulled away from a punch. An overhand left crashed off Huck's chin. A follow-up right sent Huck to the canvas for the first time in his 11-year career. Hurt badly, he somehow beat the count.

As Huck languished on the ropes, Glowacki connected with a variety of nasty punches. Two vicious left hooks caused Huck's body to crumble into the middle strand. Referee David Fields jumped in and waved off the contest.

The time was 2:39 of round 11.

At the time of the stoppage, Huck was leading on all three judges' scorecards (96-93 twice, and 95-94).

Fight of the year? You bet.


---