Badou Jack: World Champion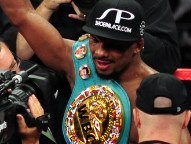 Photo © German Villasenor, MaxBoxing


There's a belief held in the boxing world that once a fighter wins a world championship, pride takes over and performance changes.
Most boxers start with the dream of winning a world championship, a dream that only they, and perhaps a trusted trainer, believe in
.
Their goal is always the same.
Not many reach their goal
.The going is hard and
arduous
. O
nly the special ones
eventually make
their way to the mountain top.
When they get there, the big win usually shows in their first fight after claiming the belt.
They've become better fighters.
Maybe being called a champion boosts their confidence so much they can't help but get better.
Even
lesser fighters often look sharper after capturing a championship belt.

The most recent example of this phenomenon happened last weekend on the undercard of the Floyd Mayweather vs. Andre Berto fight.
Badou Jack was making the first defense of his WBC super-middleweight title that he captured four months ago by defeating the favored Anthony Dirrell. His opponent, George Groves, was acknowledged by most experts as the more talented fighter.
Groves had more rounds under his belt and had fought the better opposition. He can box and punch. Groves agreed with the experts.
"As good as he is, we know we've got a plan to beat him," Groves told
www.skysports.com
a few weeks before the bout. "He does everything well but nothing exceptional and I feel I'm better than him in all departments."
Jack, 31, won his first 16 professional fights. Then he ran into journeymen Dereck Edwards.
Edwards had dropped his previous match and wasn't looked at as much of a threat. Instead, after only a minute of fighting, Edwards was acknowledging the cheers of the crowd--while Jack was in
shock.
A single counter right hand had done the trick. Jack went down. He got up smiling, but his legs were as weak as two wet noodles. Another right put him down for the second time. The referee stopped the fight.
Jack regrouped, won two tune-up fights, and challenged Dirrell four months ago in Chicago. Dirrell won the first few rounds by outboxing Jack, but the
Swedish-Gambian kept pressuring the defending champion. The strategy worked. When Dirrell began to tire in the late rounds, Jack used a stinging jab and some terrific bodywork. The rally won Jack the bout by a majority decision.
Last Saturday night in
his home base of
Las Vegas, Jack got off to a terrific start against Groves. He floored his English challenger in the opening stanza. Groves got up and fought back. His strong jab kept Jack off balance. But Jack, just as he did against Dirrell, appeared to grow stronger as the fight progressed. He began to go to the body with conviction.
After a few exchanges, Groves
midsection was red and had welts all over it. Jack's punches were sharp and deadly.
Down the stretch, Jack was the stronger fighter mentally and physically. The judges agreed. He won the fight by a split decision.
Groves stormed out of the ring, but in this writers opinion, at ringside to watch the match, Jack won it fair and square. It's apparent that Jack's confidence has grown since winning a championship. Even with Groves flashing speed and quality, Jack never wavered. He kept working.
Jack has said he wants to fight undefeated IBF champion James DeGale. The fight will likely happen next year—possibly in London. Jack will again be the underdog, but no matter what happens it would be foolish to underrate him.
He'll give it everything he's got.