A Purse Bid Game?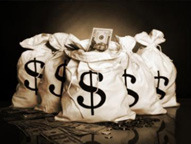 --


When it was announced last week that Hryunov Promotions won the purse bid of the heavyweight title unification showdown between Wladimir Klitschko and Alexander Povetkin at a whopping $23,333,330, many wondered if the bid was the biggest ever in the history of boxing. It's actually not; the biggest was $32,100,000 bid made by Steve Wynn, who promoted the Evander Holyfield-Buster Douglas fight back in 1990.

It brought back happy memories for Kathy Duva, CEO of Main Events, who tells an interesting story, "We had a partner; we had an investor that came out of the Olympics in '84 called Monitor and they were our financial partner. As it happens, one of the principles of Monitor was a close friend of Steve Wynn, who opened the Mirage not too long before that and wanted to have the fight at his hotel. He wanted to be the promoter; he wanted to take over everything. So we knew he was gonna go bid. The day before the bid, our partner, who was friends with Steve Wynn, called my husband. Dan was well-known for never telling a lie. He was absolutely undecided on what to do because they're partners; they're on the hook and at the same time, there was this connection with Steve Wynn and the last thing he wanted was for them to find out what the bid was. So Dan said to the guy when he called him up, 'Here's the plan; we're gonna bid $32 million dollars,' and [the Duvas' friend] said, 'OK, that's the deal.' At that point, you have to put up 10 percent of the bid. Our attorney, relatives, everybody had to put their houses up so we could borrow the money cause we had no money [to do so]. But the truth that he didn't tell him was that we were putting up $24 million. So they get to the purse bid the next day and they open Mirage's first and it's $32.1 million dollars and my husband sat there smiling 'cause he knows and they open our bid and it's $24 million dollars. He described this to me over the phone because I wasn't there. He said the lawyer for the Mirage, he saw his face go completely red and he ran out the room!" (laughs)

Duva continues, "So my husband called our partner and he said I have to apologise to you for lying but the fact was Main Events and Monitor were getting a quarter of that bid, so instead of being on the hook for $24 million, Evander and Main Events/Monitor was getting eight million dollars, so we ended up making so much money."



So Main Events made an extra two million dollars, which they were able to share with Holyfield as well as not have to worry about their houses anymore, whilst Steve Wynn lost a fortune. Duva added with a smile, "That's what we call the purse bid game and the one time we won."
Questions and or comments can be sent to Anson at
elraincoat@live.co.uk
and you can follow him at
www.twitter.com/AnsonWainwright
. Anson is also a contributor and ratings panelist for The Ring magazine.
Please visit our Facebook fan page at www.facebook.com/MaxBoxing, where you can discuss our content with Maxboxing readers as well as chime in via our fully interactive article comments sections.