50 Years of Fights, Fighters and Friendships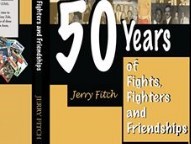 H1_50-Years-of-Fights.jpg

Reviewed by John J. Raspanti

Jerry Fitch has spent most of his life writing about boxing.
He's the author of two engaging books on pugilism,
James Louis Bivins: The Man Who Would Be Champion

, and

Cleveland's Greatest Fighters of All Time.



Both volumes demonstrate his love for the sport while he brings new insights into the lives of the fighters he writes about.
Fitch recently
released his third book
based
on his love affair with the sweet science titled
50 Years of Fights, Fighters and Friendships
.
This book, more personal than his other two, delves into Fitch's career as a
writer and jack-of-all-trades, b
ut also the friendships he's made with some
legendary boxers.
Fitch reminisces about Archie Moore, Jersey Joe Walcott, Muhammad Ali, Earnie Shavers, Joe Frazier,
and many more. He also tells what it was like to work for promoter Don King. That experience didn't last very long.

Fitch's memories of his close relationship with two-time welterweight champion,

Jimmy McLarnin,

are heartfelt. McLarnin

, who boxed at various times in his career

as

the "Baby Faced Assassin," "Murderous Mick," and "The Belfast Spider," treated Fitch like a son.





B

ut it appears no one had a bigger influence

on Fitch's life than former heavyweight contender,

Jimmy Bivins,

and

Fitch writes warmly about the special bond that developed between the two.



The book is an

easy read

and at times, a pure delight, as

Fitch clearly loved his ride as a boxing insider,

both

the good and the bad. That love shines through in his memoir.





Highly recommended.





To purchase a copy of this book, please contact Fitch at:
Jerryfitch@aol.com
.