50 to Promote Money?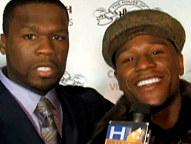 --


On Tuesday afternoon, the always…uh…shall we say, "entertaining" Oscar De la Hoya tweeted (@OscarDeLaHoya), "Everyone wanting to be a boxing promoter? Good luck. Easier said then done." The timing of this message was a tad strange but perhaps it was directed at one 50 Cent, well-known crony of

Floyd Mayweather

, who just recently took out a promoter's license in New York (and will be doing so in other states very soon).
By Wednesday night, it seemed like "Fiddy" had caught wind of Oscar's tweets and responded with his own barrage of tweets (and not necessarily in this order) toward the "Golden Boy":
-
"sweet heart I'm surprised you would respond to me and Floyd starting company the way you did."
- "I just want you to know if you ever want to talk you can give me a call girl"


- "I don't gamble floyd do,but I bet you you won't be promoting Floyd mayweather no more. TMT PROMOTIONS"
- "girl you can call me if you want to talk. Ok

"
- "Baby girl,@

oscardelahoya

,baby girl you here me,stop hating STOP IT RIGH NOW."
- "now every body wants to be a promoter girl you better stop.

"
50 would reply, "Great back pedal,can you swim backwards like that to girl?lol I except that as a apology.

#

GBB

#

TMT

more success a head."
Two things here: first, I can't believe I just did a story based on a bunch of tweets from two individuals I don't even follow (welcome to covering boxing in the year 2012) but based on his history, 50 (or if you want to be more formal about it, Curtis Jackson) wasn't in this to just promote the likes of Yuriorkis Gamboa or Andre Dirrell, who are talented fighters, no doubt. Second, the real money in this business is in pay-per-view and Mayweather is the most lucrative pay-per-view franchise in boxing and there is already a built-in audience from which to draw from.
Boxing, for 50 Cent, could be another venture like Vitamin Water. Make an early investment and then cash out.
The questions are just who will run the actual infrastructure of TMT Promotions on a day-to-day basis and will Al Haymon and Leonard Ellerbe still be involved? There are other questions to be asked and the man who can best answer them is being released next week.