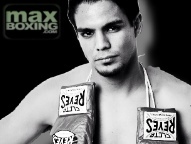 -


Since turning pro four years ago, Jose Zepeda has largely remained in the shade. Despite building an impressive 18-0 (16) ledger, he's not one of the more talked about junior welterweights on the planet.

He's quietly gone about his business, building his résumé and preparing himself for the challenges ahead on the world scene.

"I'm about four-to-five more fights away from making that step." Zepeda told Maxboxing.com. "I want to make sure I'm prepared and ready rather than just taking a chance."

Zepeda made his 2014 debut back in March on the undercard of Julio Cesar Chavez Jr.-Brian Vera II blitzing Johnnie Edwards in two rounds.

Tonight, Zepeda makes a quick return to action against battle-tested Robert Frankel at Oceanview Pavilion, Port Hueneme, California.

Robb Hernandez, who has managed Zepeda for three years, likes the progression his fighter has made to date.

"Jose has improved in many ways." said Hernandez. "What I personally feel has excelled with Jose is his precision. He rarely misses his target. He also has developed great ring foresight and you can see this in his movements. He is quick but most of his fights haven't lasted long enough for people so see that.

"Jose's future is very bright. With the level of dedication he has shown, I see him becoming a world champion; there is no doubt about it. He is hungry for the shot but for now, we are taking it fight by fight, so he's ready when his time comes."

Anson Wainwright - On Saturday, you face Robert Frankel. What are your thoughts on that fight?

Jose Zepeda - I'm taking this fight as all my previous fights, training very hard, giving 100 percent in training camp. I know this fight can go the distance since he is a veteran and has not been knocked out. I'm prepared for anything.

AW - You previously fought and stopped Johnnie Edwards in two rounds. What would you say of that performance?

JZ - It was a last-minute opponent. I was supposed to fight someone else. I was prepared for a more competitive fight.

AW - You seem to be a fighter who's a little under the radar. Do you feel now that you're starting to get attention?

JZ - Yes, I think my performance has brought me more attention. My team and I have done a very good job and I think it's paying off now.


AW - Last October, you fought veteran Luis Arceo on the Friday night prior to Timothy Bradley beating Juan Manuel Marquez. That was probably the biggest card you've appeared on so far. What was that like for you? Also did you attend the Bradley-Marquez fight and what was that experience like?


JZ - It was a new experience for me. It was a great atmosphere as Las Vegas is the Mecca of boxing. I'm ready to fight regularly here on the big cards. I actually did not get a chance to attend the fight but hopefully I will be able to attend one soon.

AW - Who are the members of your team? Also where do you train? What's a typical day's training?

JZ - My manager is Robb Hernandez; my trainer is Robert Alcazar and my promoter is Fernando Beltran with Zanfer Promotions. I work out of Baldwin Park Community Center, which is where I learned how to box. For training, I wake up around 8 a.m. and start with a run followed by eating breakfast, then followed by training at the gym with boxing-related workouts. Training varies, depends on when I am working with my strength coach. Of course, it always comes down to my three fundamentals that I live by: eating, sleeping and training.



AW - You clearly you have power having, accounted for stopping 16 of your 18 opponents to date. What other skills do you have?
JZ – First, I'm that a boxer that can counterpunch but of course, most people have not seen this much because most of my fights have not gone the distance. My biggest strength is my accuracy. When I throw a punch, it's calculated to hit you. I don't just throw a punch to just throw it. Also, my footwork is another strength of mine.

AW - Tell us about your upbringing in Southern California and also living in Mexico.

JZ - I was born in Long Beach, California but spent the first 10 years of my life in Mexicali, Mexico, then moved to La Puente, California. Mexicali, I always consider a home but I have to say I love Southern California a bit more because I get to focus and develop my boxing career. I just went snowboarding for the first time the other day with my family over the Holidays, which was a fun experience but also just one of the cool things I am able do living in Southern California. Something unique about SoCal is that you can surf, ski and watch a Lakers game all in the same day. You can't really do that anywhere else in the world.

AW - What do you think of the light welterweight division and the current champions?

JZ - There are good champions but I do not see any elite or pound-for-pound champions at 140. I would have to say the most solid champion at 140 is Danny Garcia.

AW - How far do you feel you are from facing the best at 140? Have you sparred or trained with any of the top 140-pound guys or other world-class fighters?

JZ - I'm about four-to-five more fights away from making that step. I want to make sure I'm prepared and ready rather than just taking a chance. Unfortunately, I have not been able to spar with many top 140-pound guys. I sparred two rounds with Victor Ortiz a few years back but wasn't able to get much out of it since it was only two rounds.

AW - Who are your boxing heroes and why?

JZ - Manny Pacquiao because he is a great boxer. He is one of the few boxers that fights for the fans and the love of boxing. I like the way he carries himself and he is a great role model.

AW - In closing, do you have a message for the light welterweight division?

JZ - My statement will be made in the ring.

Questions and/or comments can be sent to Anson at
elraincoat@live.co.uk

and you can follow him at

www.twitter.com/AnsonWainwright.
Please visit our Facebook fan page at www.facebook.com/MaxBoxing, where you can discuss our content with Maxboxing readers as well as chime in via our fully interactive article comments sections.