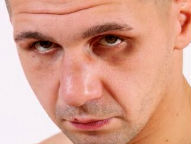 Pawel Wolak


It was everything that is great about boxing in New York, NY's Roseland Ballroom Friday night as junior middleweight Pawel "The Raging Bull" Wolak (29-1, 19 KOs) went to war with former welterweight Delvin Rodriguez (25-5-2, 14 KOs) for ten rounds of awesome.

Wolak, Debica, Poland by way of Mount Arlington, New Jersey was relentless with his pressure style from bell to bell. Rodriguez, Dominican Republic but fighting out of Danbury, CT, took some time getting going but found his rhythm by the middle rounds. From there, the fans were treated to a rare back and forth affair that in the end amounted to a majority draw for the fighters and a Fight of the Year and Round of the Year candidate for the fans.

The action began as a typical Wolak fight. He pressured Rodriguez from the get go, crowding him along the ropes and staying in his space. Wolak stayed close and pressured Rodriguez who backed away and tried to get his jab going. However, Wolak stayed economical, finding the openings a little at a time in Rodriguez' defense. Wolak got off a nice left hook to the body midway through but Rodriguez, a tough veteran who was returning after a year-long layoff, handled it like a pro. Wolak worked the body of Rodriguez here, dropped a chopping right there, always mauling, always in his opponent's face. Rodriguez seemed too crowded to get anything of note off.

Rodriguez bounced right back in the second and third. He landed a nice right uppercut on Wolak as he closed the gap to start the second. Rodriguez began to let his hands go in combination. Rodriguez popped his jab and moved backwards while looking for his uppercut. He a left one in to go with a right hand but Wolak walked right through them and continued to the ribs of Rodriguez. They exchanged hooks to the body late in the a round that saw Rodriguez begin to really get on track.

The third was close as Wolak worked his way inside and let his hands go. Rodriguez worked in hard right hands off uppercuts from both sides. The round was a tangle of punches, forearms and push-off's with the shoulder as each man worked for punching space.

The physical nature of the fight seemed to take a toll a bit on Rodriguez in the fourth. While he visibly did not hit a wall, Rodriguez seemed unable to land anything to deter Wolak.

By the fifth, the snap seemed gone from his shots. Instead, he seemed to take off some power in order to begin landing volume on Wolak who was busier but no defensive wizard. Rodriguez, the fifth and sixth, landed some nice uppercuts and got in a right hand over the top by the end of the round. What started as tough rounds for him ended as a round where Rodriguez found some answers.

Wolak, whose pressure was dictating the pace, was sacrificing a bit of defense to get his job done and that would turn the tide in the seventh. Rodriguez now seemed to get a second wind. Wolak remained the same energetic oncoming train. A left hook from Rodriguez cause the right eye of Wolak to begin swelling almost immediately. It was a brutal injury that looked like it might stop the fight and served to spur on Rodriguez who seemed behind on the scorecards to this point.

Both men gave no quarter. Wolak kept coming forward, Rodriguez kept moving back and letting his hands go when he had room. Rodriguez landed a hard right hand and Wolak answered with one of his own. A left from Rodriguez landed and still Wolak was undaunted as he got in a right and a left to the body. This was as good as it gets action.

In between rounds, the ringside physician checked out Wolak's rapidly swelling eye. Wolak's eye was about swollen shut but he didn't seem to care.

"It's ugly but I don't mind." Said referee Steve Smoger.

The doctor took a good long look but let it go.

Round eight picked up where the last one left off as both men jumped on each other and did not let up. Wolak pressed forward and let his hands go to the body. Rodriguez pushed off and got in some left hooks to that swelling eye as well as a couple uppercuts. The action was relentless as both men traded in spots, pushing forward or pushing off to get off a shot.

The ninth ramped up the violence even further to become a Round of the Year candidate.

Rodriguez got off a hard right off the ropes then a left hook. Wolak worked inside, practically blind in one eye, got in a right inside. Rodriguez would let his hands go in combination, land on Wolak's impressive chin and then rock back onto the ropes. A brutal right hand and right uppercut by Rodriguez was followed by a left hook but Wolak just kept coming. Wolak flurried late but Rodriguez answered right back down the stretch. It seemed both men had just enough to hurt the other but not enough to get the other going towards a knockout. It was a perfect meshing of styles.

The tenth round felt like the fight was on the table and both men knew it and reacted accordingly. There was no dancing to protect a lead. No holding and running out the clock. Instead both men acted as they had all night. Back and forth they traded with no man clearly taking control of the fight but each having their moments.

It seemed a shame that someone would have to win or lose this fight and the judges agreed scoring it 97-93 for Rodriguez and 95-95 twice for a majority draw. There were no boos, only cheers as ref Smoger smiled and raised both men's hands to the air.

There was no winner in the fight except the fans who hopefully, if both men get their wish, will get to see this great piece of matchmaking again.

N the undercard, welterweight prospect Raymond "Tito" Serrano (16-0, 8 KOs) scored a unanimous decision over Daniel Sostre, (11-3-1, 4 KOs). The eight round bout was won by scores of 78-74 twice and 77-75.