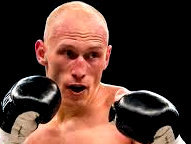 --


On August 16, the lights of U.S. Cellular Field (home of the Chicago White Sox) shined bright on center ring and the perfect breeze of wind sailed through the air as the restless crowd watched boxing in a baseball stadium for the first time in 51 years.
Among those in attendance was WBC cruiserweight champion Krzysztof Wlodarczyk, coming all the way from Poland to cheer on fellow Polish fighters Artur Szpilka and Andrzej Fonfara.
One by one, fans came up to Wlodarczyk to meet him. Wlodarczyk, 48-2-1 (34), held his green and gold title belt over his shoulder while mingling with fans. He was also introduced in the ring by ring announcer Thomas Treiber.

"
It was very nice," Wlodarczyk said with a smile on his face. "It was very good to have new fans here in the United States."
Now Wlodarczyk returns to Chicago on a different note – this time facing off against Giacobbe Fragomeni, 31-3-2 (12) for a third time on Friday at the UIC Pavilion. While Fragomeni is a familiar foe, Wlodarczyk hopes to become an even more familiar face to Chicago fight fans.
"
I hope that not only Polish fans get to know me but the rest of the people do as well," Wlodarczyk said. "I hope to fight more here."
This will be Wlodarczyk's second fight in Chicago but a lot has changed since his last appearance in 2005. For one, he's become a two-time cruiserweight champion and is making the sixth defense of his WBC title.
Another key factor has been the development of Chicago's boxing scene. Fonfara, who fights on the undercard, emerged as a legitimate draw and Szpilka proved he could draw a crowd in his first fight against Mike Mollo. Both fighters captured the excitement of Chicago's large Polish community.
Wlodarczyk's co-promoter, Leon Margules of Warriors Boxing said he hopes "Diablo" draws the same kind of intensity the other Polish fighters have brought to the "Windy City."
"
I think for the great Polish boxing fans in Chicago, this is an opportunity for them to come out and see their champion," Margules said. "He's the only Polish world champion."
Margules also said, however, that Wlodarczyk fighting in Chicago is very much an experiment. He was blunt in saying that he didn't know if Wlodarczyk would become Chicago's next Polish franchise.
Margules mentioned the challenge of promoting Wlodarczyk when premium networks have little interest in the cruiserweight division and the fellow champions in the division reside in Europe.
"
We'll see how the fans show up on Friday night," Margules said. "Since he had already fought Fragomeni in Italy and in Poland, we thought it would be a good opportunity for Chicago fans to see a WBC title fight."
Wlodarczyk's previous two fights against Fragomeni resulted in a draw in 2009 and later an eight-round stoppage in 2010. Fragomeni, 44, is only getting a title shot because he beat Silvio Branco almost a year ago to become the mandatory.
"
Diablo" admits it was hard at first to get motivated for an older fighter and one he has already beaten clearly.
"
Later, I cannot start thinking that it was an easy fight," Wlodarczyk said. "This is an important fight for me and I have to win this fight."
"
I've fought in Australia," Wlodarczyk said. "I've fought in Russia. I've fought in Rome. It's nicer to be Chicago because there are all these Polish fans here."