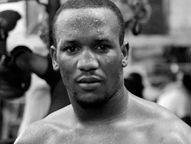 Photo © TimWitherspoonJr.com

By J. R. Jowett reporting from ringside

It started small and got smaller. Damon and Marty Feldman's "The Celebrity Team" planned a modest grassroots show of prelim bouts for at the Marple Sports Arena in Broomall, PA on Saturday. As is often so with such endeavors, the show shrunk. By first bell, there were four bouts plus an exhibition. The exhibition was a brisk scrap in which Philly's Anthony Abbruzzese had Baltimore's Allen Burris nearly out on his feet in the third and final round. But it took a toll. Boxer Josue Rivera, who was scheduled to face Tim Witherspoon Jr. in what promised to be a good main event, decided to work Abbruzzese's corner. He slipped on the steps, injured his ankle, and good bye went the main event!

The remainder was more than interesting to a gathering of about 200, producing two upsets and an uncommonly good record builder. Chris Steele, 136 1/2, Staunton, VA, 4-7-2 (1), earned a majority decision over house fighter Lonnie Jackson Jr., 135 1/2, Phila., 3-1-1 (1), in a fast-paced six. Every round was virtually the same, and none were decided by more than a couple of blows one way or other. But the switch-hitting favorite relied on smoke and mirrors more than clean punching while the underdog clearly took the fight to him. A big opening volley by Steele to start the final round sealed the upset win. Rose Vargas (now "Lacend") scored a not-outrageous 57-57, but John Gradowski and Joe Pasquale seemed to have the sharper pencils at 58-56 and 59-55, respectively.

"The thing is, this is my home town, too," the winner explained. "Everybody think I'm from somewhere else, but this is my home town, too...Yeah, I lived there (meaning VA) once. That's why I got a couple bad decisions when they keep puttin' me in somebody else's home...Yeah, I definitely be confident (that he'd get the decision). I prepared well. I work hard when I'm in there. I could feel the momentum going to my side. I could see him slowing down, so I was confident that with me bringing the pressure, it was going to go in my favor."

In a contest that had all the boxing skills of two muggers fighting over a handbag, Mike Moore, 197, Levittown, 1-1, emerged a split decision winner over Brian Donahue, 188, Croydon, 2-6-2, four. Donahue started as if to bulldoze Moore out of the ring. But after an interruption for clash of heads, the crudely persistent Moore muscled his way into the contest. He took round two on strength and vigor, as the pair twice wrestled to the canvas. Donahue changed tactics in the third, moving back and potshotting from outside. But the decisive fourth was all Moore as he willed himself to win with a mauling attack. All scores were 39-37, but the decision was decided for Moore by Pasquale's and Gradowski's cards.

In a scheduled six, Sukhrab Shidaev, 149 1/2, a Russian fighting out of LA, 7-0 (6), looked good while demolishing no slouch in Evincii Dixon, 148 1/2, Lancaster, 3-4-1 (1), at 2:59 of round two. The shorter Russian immediately took the high ground with a rigorous attack, cutting down Evincii's movement with a rib roast. The rangy Dixon's jab couldn't hold off the pressing Shidaev. At the end of round two, with Dixon trapped in Shidaev's corner, both bailed out with simultaneous left hooks. Dixon crumpled to the canvas on all fours and ref Benji Esteves (all bouts) counted him out.