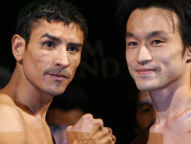 (Photo © Chris Farina / Top Rank)


In what just might be the best fight of a busy sports weekend, the WBC super bantamweight title is on the line when Toshiaki Nishioka defends his belt against Rafael Marquez at the MGM Grand as part of a special three-hour edition of "Top Rank Live" (Fox Deportes

9 PM

, ET). The winner of this fight could get a crack at Nonito Donaire early next year. Promoter Bob Arum said

on Friday morning

that the victor is "committed" to facing the "Filipino Flash" in 2012.
It's unusual for Japanese champions to come over to the States but Nishioka (who won this title back in 2009 when he stopped Genaro Garcia in the 12th round) is no stranger to America, having fought here twice before (halting Evangelio Perez in one in 2002 and then stopping Jose Alonso in four in 2006).
"I've fought in the United States before but this is the first time I've been in a main event and defending a world title," Nishioka said to the gathered media at the Top Rank Gym a few days ago (in quotes that were relayed by Top Rank publicist Lee Samuels). "This fight is getting a lot of attention in

Japan

and back there, Marquez is considered a very strong, powerful challenger. He's a big puncher I have to be concerned about."

Nishioka is no stranger to facing Mexican standouts who can bang. Back in

May of 2009

, he blew out Jhonny Gonzalez in three heats in

Monterrey, Mexico

. He has not lost a fight since 2004 when he lost a 12-round verdict to Veeraphol Sahaprom.
This figures to be a good scrap because, well, "Rafa" is involved. Win, lose or draw, the younger sibling of Juan Manuel has always been among the most crowd-pleasing and exciting fighters in the sport of boxing. Who can forget his memorable rivalry with

Israel

Vazquez or his series of fights against standouts like Mark "Too Sharp" Johnson and Tim

Austin

? In his last performance on the big stage

last November

,

he was engaged in a featherweight slugfest with Juan Manuel Lopez, before bowing out with an injured right rotator cuff after the eighth stanza.
He says of the shoulder that started deteriorating during the battles with Vazquez, "It feels real good. It's coming along perfectly." When asked through an interpreter why he didn't postpone the fight last fall, Marquez explained, "Because he had already backed up that fight for my finger. I didn't want to do that again."
Truth is, at age 36, with all the wear-and-tear, Marquez will have to live with such physical ailments. While he was able to flash his customary power in his

July
return
against Eduardo
Becerril
, Marquez's movements looked belabored and slow for much of that sixth round stoppage win. However, he believes that he is now back to his optimum weight class. "I came down in weight for this fight. I feel a lot stronger."
Marquez said of Nishioka, "I think this guy's got a weak chin, so I'm going to go after this guy right away.""That might be the best tact. Given his advanced age, "Rafa" may not have all the much left in the gas tank.
Hearing Marquez's statements, the champion responded, "I know what he said about my chin. Well, I put it like the Americans say: 'Bring it on.'"
This three-hour edition of "Top Rank Live" on Fox Deportes (9 PM ET/6 PM PT) which will also feature WBA junior flyweight titlist Roman Gonzalez defending his crown versus Omar Soto. Young bantamweight hopeful Jesse Magdaleno will also see action. Top Rank is promoting this card in conjunction with Teiken Promotions.
"What happened was, this is, I believe, the 20th anniversary of the WOWOW cable network in Japan and in order to celebrate it, they wanted to do a fight in

Las Vegas

and the carrot for the casino is they're bringing in all of these well-to-do Japanese fans and so forth, who are good casino customers and it's a win-win for everybody. The casino is not paying anything for it. They'll just get customers. It's being financed by [Akihiko] Honda-san, who is the agent for WOWOW and buys fights from everyone in the United States.
"And it gives Marquez a good payday and it's a good fight. It's just good for everybody."
As promised, Corey Erdman and I have brought back "MaxBoxing Radio" which has now been expanded to one full hour. On this week's show, we discuss Nishioka-Marquez, Sergio Martinez-Darren Barker and everything else in the sport of boxing. For everyone that wrote or tweeted at us, we appreciate you guys' concern and are thrilled to be back doing this. Give a listen (and spread the word):
SATIRE?
A few days ago, I received this email from a "Tee Bruce" on Mayweather-Ortiz:
"Do u think Floyd deservs KO of the yr....as boxing fans, we know that anything can happen in a fight...people gets KO'd in the first rnd and when its unpredictable its very exciting...The starpower was AMAZINGLY exciting....Floyd chased this guy who outweighed him by 14 lbs, and deSTROYED him...I thought Floyd has resculpted himself as a very exciting, combination-throwing, SRL type of fighter...his offense is severely impressive, he came forward without getting hit...rarely seen such defensive-offense.....and we know that ANYONE can get a one punch KO....Sergio KO'ing Pwill is the same as Pac KO'ing Hatton...every KO is the same....but for Mayweather a guy who hasnt gotten a KO in yrs, to have such a dramatic, surprising ending is VERY shocking....who would have predicted that Ortiz would headbutt him, then hug him several times, and Floyd would deSTROY him with one sneaky punch....I mean it was amZING..what happened that night...the fight was very exciting and it was worth every penny of that 70bucks cuz it was VERY shocking...The commentators have the ability to manipulate the viewers into seeing it their way.....those same commentators congratulated Floyd for punching Mosley in the mouth when he tried to touch gloves twice in a row....those same commentators(although did not commentate on the pac-mosley fight cuz it was with showtime) where along with everyone else when we got mad to see Pac and Mosley hugging, kissing, touching gloves between rnds....we all complained.....but For Floyd to shock the world with that venomous KO....I mean it was CRAZZY...That had to be one of THE most historic and exciting KO's that I have ever seens...I kno some peope argue whether it was right or wrong....thats not even a discussion...Not only was Floyd RIGHT, but he was SUPPOSED to hit Ortiz...SRL, Jack Johnson, Jake Lamotta, SRR, Ali, Hagler...any REAL fighter would have hit Ortiz for hugging them several times...and Floyd's perforance showed that NOT only is he skillful, agressive, but this guy is an ANIMAL and he has that VENOM that a TRUE champion needs...when the commentators tried to pretend that Floyd did something wrong, they manipulated the viewers all over the world into thinking that it was bad...but in actuallity..Floyd was a BRILLIANT champion for that performance, and for that ending...it was a BEAUTIFUL KO ending man...as far as Ortiz...It was funny to watch Ortiz slowly realize that he was not their to win...he was their to make Floyd look good....Ortiz has a history of getting frustrated and trying to lose by DQ....How can u ruin Mayweather's legacy with a DQ victory?...He almost broke Floyd's jaw....but man...U see the look Floyd had on his face as he huged Ortiz?...That sneaky shiesty decietful look he had in his eyes?...Thats the look of a BRILLIANT champion who cannot be trusted in that ring...I thought everything about that card and the ending was aMAZZZINGGG, And I think Floyd has turned himself into a MikeTyson like Fighter..Offense, skills agressive and he will be a WAAAAAYYY Bigger star in his next fight cuz people see him as an exciting fighter now...I havnt heard u speak too much of it, but dont u think Floyd deserves KO of the yr considering that this has got to be THE most hisTORIC KO ending to a championship fight that I have ever witnessed and it was very shocking and contreversial and EVERYONE on twitter went ballistic, on the radio, on the news shows....Floyd just helped saved Boxing so dont u think he needs KO of the yr?"
Folks, to be perfectly honest, I don't know if this guy is being serious or not. Either way, I got a good chuckle out of it.
OCTOBER FLURRIES
The HBO card featuring Sergio Martinez-Darren Barker and an opener of Andy Lee-Brian Vera II starts at 10 PM ET/7 PM PT...My remote control and DVR will be working overtime as not only do we have the fights on but starting at
8 PM
, ET, you have both
Alabama-Florida
on CBS and Wisconsin-Nebraska on ABC...Let the Curtis "Picasso" Painter era begin in Indy...Really, Kobe? Italy?...So the Red Sox collapse is on Terry Francona? Seems a bit unfair but that's life as a manager in the big leagues, I guess...We'll have more on this story but yes, Tim Bradley has signed a promotional pact with Top Rank, Leighton Ginn broke the story
on Thursday night
: