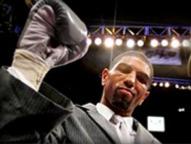 Winky


Lost in the frenzy over Lamont Peterson and Andre Berto testing positive for synthetic testosterone and nandrolone respectively, two outcomes that killed two much anticipated rematches, was the news that Peter Quillin and Winky Wright had agreed to do USADA (United States Anti-Doping Agency) testing for their June 2 match at the Home Depot Center in Carson, CA. The bout is part of a quadruple-header on Showtime. When it was revealed Peterson had tested positive and then Berto's positive was revealed the next week, Wright, a 40 year-old fighter returning after a four year layoff to take on a top middleweight contender in Quillin. The fight itself is going to be tough enough. All Wright was looking for was what Floyd Mayweather hoped to bring to the table almost three years ago: a level playing field.

"Everybody kept popping up positive for all this other stuff," Wright told Maxboxing.com early Saturday morning. "I was just like boxing isn't always a fair game. I figured I should get this, too. So I called Golden Boy and said 'Why we ain't doing it' They was like "uh, etc., etc., this and this and that. What's his name and someone didn't want to pay or it something. I said 'Ok. I'm going to pay for it. It's all good. I just want to play on the same field, that's all."

According to Wright, his pricetag was $10,000 for the extra testing. Wright agreed. I asked which testing organization he asked for, USADA or VADA (Voluntary Anti-Doping Association, an independent testing organization that detected Peterson and Berto's positive tests).

"I didn't know the difference between them," said Wright. "I just told Golden Boy I wanted to be tested and they came back with (USADA). I said 5."

According to Wright, contracts were signed early last week. An exact date is forthcoming but somewhere around May 21 both sides had signed up for more testing. Peter Quillin discussed doing VADA testing on "The Boxing Lab" radio show Tuesday May 22. This writer tweeted a correction that night that it was in fact USADA testing he was doing.

The next day, May 23, this writer asked Richard Schaefer of Golden Boy Promotions if in fact, Wright and Quillin would be doing USADA testing. He told me no the testing was not happening due to the fact that the fight was happening June 2. There was no time to establish baselines and doing the testing properly with just two weeks to go, Schaefer said, was not possible. He seemed to not know what I was talking about. Schaefer did say that Golden Boy was working out a deal with USADA to do testing in future fights as opposed to VADA.

That same day, as told to Maxboxing.com's Steve Kim by Peter Quillin, USADA collected both blood and urine samples to be tested for the Wright fight. On Thursday, Wright gave blood and urine to USADA as well.

"They came to my house at 6 in the morning. They took urine, blood. Everything," said Wright.

But suddenly, just two days approximately after Quillin's sample was taken and a day after Wright's sample was taken, USADA contacted Wright's lawyer and announced they would not be doing testing after all. The reason given was that USADA did not have the proper time to educate the fighters on what to take and what not to. The decision has Wright not suspicious of Quillin but rather perplexed by the whole situation. In the case of his fight with Quillin, he is the odd man out. Quillin is with Golden Boy and managed by Al Haymon. Wright has done business with both in the past but is something of a free agent.

"I think it was like two days. Two days later Golden Boy called and told Damien [Ramirez, Wright's manager] and Damien told me. I don't understand it. All I'm asking is 'How do you take urine and take blood and then all of sudden you say you aren't going to test it?' Then they tried to make up an excuse and say they wanted to teach us. They ain't nothing to teach. They took blood, they told us we would take a test and either come up positive or negative. That's it. What are we doing this for? Are you going to tell me not to take something I don't need to be taking? That's cool. All I want to know is we are playing on the same field."

Wright, wondering what was going on, decided to at least get the samples taken tested. This morning, his lawyer informed him that according to USADA, the samples have all been destroyed.

"They told us that weren't going to do [testing] two days ago," said Wright. "So my lawyer called today and asked for it to be tested and they told him today they threw it out."

It is unclear at press time what the protocol would be in this situation and why USADA, after getting signed contracts and going so far as to take samples, suddenly decided, two days later, to cease testing.

"They told my attorney they threw it out. That's crazy. Why would they throw it out.?They just finished telling us and they are going to throw it out already? Does this sound crazy?" asked Wright.

As he said, all he is looking for is a level playing field. But now, he is looking for answers to questions like 'Why did they do the testing in the first place if there was not enough time? Why sign contracts? Why take samples of blood and urine?

"If they say that it's too close to the fight to do the testing, I can understand," said Wright. "But we gave samples. Let's test that and let me see the result. They threw it out. I just don't understand that. Does it sound weird to you, too?"

More details to follow.