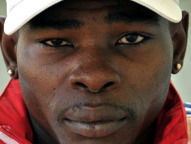 Guillermo Rigondeaux


The plan is for

Nonito Donaire

to face Guillermo Rigondeaux

on April

the 13th, most likely in New York. While it's not a fight against Abner Mares, it's an acceptable replacement for the "Filipino Flash" - according to many fans - and actually a more difficult bout. While the Cuban southpaw may not bring the fan base or the marketability of Mares, he is considered a more skilled boxer, one who could trouble Donaire.
You could make a strong argument that this would be the most daunting challenge for either boxer thus far in their professional careers.
There's just one problem, however.

"They're having problems on their side," said Cameron Dunkin, who manages Donaire,

on Wednesday afternoon
. "Our side is fine and I'm going to talk to Todd [duBoef] about it in a few minutes."
Both Dunkin and duBoef, President of Top Rank, which handles both fighters, were in Los Angeles for a press conference to officially announce the

March 16th

bout between Tim Bradley and Ruslan Provodnikov. DuBoef told Maxboxing, "We always know that the Rigondeaux saga...there's always issues. He has a manager, a co-promoter; he has things and he's all over the place. So as far as I'm concerned, he should be very grateful and he should be blessed to get a fight with Nonito Donaire, the 'Fighter of the Year,' and to take on that challenge."

Rigondeaux is set to receive $750,000 on his end. While that sounds lucrative on the surface, the real issue, according to sources, is that Caribe Promotions and Gary Hyde will take a significant piece of that pie. Then he still has to pay his trainer and whoever else's hands are in his pocket.
But there is another way to look at this. Let's say Rigondeaux ends up with just a third of that number at the end of the day. That's still a quarter of a million dollars to a fighter who isn't an attraction or a ticket seller (to put it mildly). Last year, when he headlined against Rico Ramos in Las Vegas, Rigondeaux sold less than 500 tickets. You could make an argument that even at that figure, he is getting more than his actual market value. And there's this reality: he may never get this crack at Donaire again. It's no real secret that Dunkin prefers another fight and it wouldn't be a shock to anyone if Donaire ends up moving up to featherweight after this date in April (possibly against Vic Darchinyan, which may or may not be green-lighted by HBO).
So will Rigondeaux bite the financial bullet and take his shot at greatness?
"If he doesn't," said duBoef, whose company has never made Rigondeaux a real priority, "I feel sorry for him because the train may leave the station and he may be out there."
FLOYD
Floyd Mayweather had the Twitter-verse buzzing when he announced

out of nowhere

on Tuesday night

that IBF welterweight beltholder Devon Alexander was suddenly out in front to face him

on May 4th
To say this floated like a lead balloon with the masses would be an understatement. But my guess is (and that's all it is because I have no inside knowledge of what's really going on) this might have been a 140-character smoke signal to Robert Guerrero to drop his asking price.
But Mayweather vs. Alexander on pay-per-view?
LOVE TKO
Then a short time later, she claimed her account was hacked. Uh, yeah, not even Ronaiah Tuiasosopo or Manti Te'o could believe what she was claiming.
But honestly, Garcia said he had a damaged rib, not that he was in a coma. Being injured doesn't preclude anyone from going out and having a good time. What I find funny is how she put their business out there for public consumption. I mean, what did Carmelo Anthony once say? "No snitchin'"?
DuBoef says he is sick and tired of reading and hearing about how Top Rank won't work with other promoters. And he gave examples - like Banner Promotions, which has Provodnikov - of them doing so, which is true. The problem is they don't do anything with Golden Boy Promotions (and vice-versa).....Johnathon Banks has pulled out of his February 16th rematch versus Seth Mitchell after injuring his thumb in sparring. Seriously, this is becoming an epidemic...Puerto Rican Olympian Felix Verdejo will return to the ring March 23rd on a "Solo Boxeo" card on the Island...Uh, anyone see this "Facelube" commercial with Victor Ortiz (http://www.youtube.com/watch?v=fIrQCN-OTDM)? Yeah, not exactly "Mean" Joe Greene and his Coke ad; is it? [Editor's note: …the hell?!]...Ole Miss certainly made a statement on National Letter of Intent Day...Can any of the Lakers' big men stay healthy?...Miami couldn't land a much needed D-tackle but got a real playmaker in Stacy Coley, who I think could be the best incoming wide receiver this program has had since Andre Johnson
…
I can be reached at k9kim@yahoo.com and I tweet at www.twitter.com/stevemaxboxing. We also have a Facebook fan page at www.facebook.com/MaxBoxing, where you can discuss our content with Maxboxing readers as well as chime in via our fully interactive article comments sections.