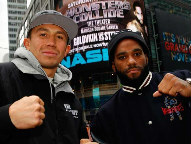 Photo © Will Hart / K2


In every Gennady Golovkin vs. Curtis Stevens article that quotes the 28-year-old former "Chin Checker"-turned-middleweight wrecking ball, Stevens comes off like a loud-mouthed dude who didn't learn much from his early days as a tough-talking but not always hard-training 168 and 175-pound contender (the same contender who either peaked or bottomed out in a lackluster points loss to Jesse Brinkley in January 2010). But every time this writer talks to him one on one, Stevens is levelheaded, thoughtful, humble yet logically confident. And when he told me over the phone last week why he will take the fan favorite WBO middleweight champ "GGG" to the wall this Saturday on HBO from the Theater at Madison Square Garden, I couldn't quite say he didn't convince me.
A 5'7" with a 71.5" reach, Stevens, 28-3 (18), is built like the kind of running back defensive lines hate playing against. His frame is meant for bullying his way in and punishing. All his losses (a quick stoppage loss to Marcos Primera in a fight he was winning - immediately avenged - the Brinkley fight and to Andre Dirrell in a dreadfully boring fight), in which Stevens has been outworked en route to being outpointed, were at 168 or 175 pounds.

Since his return from a two-year break, Stevens has been on a roll. He's on TV again with the help of Kathy Duva and her team at Main Events and has won four in a row. Two of them, versus the rugged Elvin Ayala and Saul Roman, were secured by spectacular first round knockouts. At 168 and 175, Stevens could crack. At 160, with stoppages of two guys meant to go rounds, he could be a very dangerous man.
"

168 was my weight. In the amateurs, I always fought at 178. I turned pro at 175. Then I went to 168. And now I am 160. I don't know. Maybe, I won't say its because I am smaller but at 160, I hit much harder than at 168," Stevens told Maxboxing.com a few days before breaking camp. According to Stevens, the move down won't affect him at all in a negative fashion.
"

Well, no, the weight loss is good," said Stevens. "I feel good. I train very hard so making weight isn't too much of a burden."
"

I mean, I honestly thought that we were going to get some rounds with Elvin and I thought we were going to get a couple rounds with Roman but that didn't happen," said a respectful but laughing Andre Rozier, Stevens' uncle and trainer. "We got in a few rounds with [Derrick] Findley [last April]. At a certain point, I wanted Curt to get rid of him but we weren't coasting. We were working. Findley has never been officially stopped, so there's no shame in that and he has fought some of the best. Andre Ward, Andre Dirrell. There's no shame in that one. As for [Stevens] coming back [from hi hiatus] with a vengeance, I think he definitely did. His performance is basically showing it all. He was like a bobcat and the results were what they should have been. I think that he is performing just as he should at 160."
Golovkin vs. Stevens is a fight between a burgeoning champion, who has fought a lot of 154-pounders (one recent exception being middleweight contender Matthew Macklin, who had already been beaten down by linear and WBC middleweight champion Sergio Martinez) vs. a former 168-175-pounder now campaigning at 160. While Stevens has not always been successful doing so, he has spent a career fighting larger men. How the two men mesh at this 160-pound proving ground will be interesting.
"

I think most definitely," said Rozier. "Needless to say, in the light heavyweight division, there was some guys that could crack and the super middleweight division. And those were guys that you have to definitely be on our Ps and Qs and keep your eyes open for things. [Stevens] was there working and doing what he had to do. As he has come down to 160, he is performing ay optimum levels. Some of the opponents, namely Elvin Ayala is a several title world title challenger, with [Stevens] stopping him in the first round...this is a man who went 11 rounds with Arthur Abraham and we know Arthur is a big puncher. There's no two ways about that one."
To Rozier, this is a close fight. Stevens is an experienced fighter whose power is proven.
"

It should be pretty evident that my nephew has the goods," said Rozier. "He was knocking guys out at light heavyweight. At 160, the results have been quite stellar. And he's always been a big puncher. At 160, his hands seem to be so much faster so the big punches seem to be getting there so much quicker. Keep in mind, I do happen to be a fan of 'GGG' but its a lot for him to be dealing with in this point and time. Although he did have a wonderful amateur career, also the kids I brought up have been numerous amateur champions, vied for Olympic berths and they've been on the scene. Curtis had over 200 amateur fights. At a certain point in time, it basically is what it is," he said, laughing.
As an old-school fight guy, Rozier knows we can talk this all to death. At some point, the bell will ring but Stevens does wonder what to expect of Golovkin while at middleweight. Is he hype or real?
"

He's real in the sense that he is [beating who he needs to how he needs to]," said Stevens. "I'm not taking anything away from what he has accomplished. But you know, I was on a [two]-year hiatus and so I believe people put that on him and where I bring to the table and what can I do. Being that they have seen 'GGG' fighting and knocking out these 154-pounders, I believe they took a liking to it. At the same time, you have to remember, they has been154-pounders and no match for [Golovkin]. Macklin was scared sh*tless though. Taking nothing away from his knockouts and wins but it'd be one thing if he was knocking these guys out at 160. Gabe Rosado, his corner stopped the fight because they saw too much damn blood. If the fight had gone 12 rounds, hate to say but we don't know. When [Golovkin] fought [Kassim] Ouma [in June of 2011], Ouma was giving him a run for his money. If Ouma had some power, Ouma probably would have swelled him up. He was swelling. [Golovkin] probably has more power but Ouma was right there punching him, had the fight [not been] stopped [because of] his eye. He's not going in there and knocking these guys cold out of their socks, so you know..."
"

I happen to be a fan of the young man," said Rozier. " [Golovkin] is a solid fighter but I am not impressed by the fact that they have billed him as a middleweight killer and once again as you just stated, he has fought a lot of 154-pounders. I haven't given him that credit yet. And unfortunately for him, he's about to box my nephew and I don't think I will be able to give it to him."
The key to Stevens' success is to be the best version of himself he can be and go from there. Against Golovkin, 27-0 (24), Macklin fought out of character. Rosado did to some extent as well. Only Ouma seemed to have been himself and that took him deep into a competitive fight.
"

I just got to come out fighting. I don't believe I can change who I am. We have a game plan. We are prepared to execute it very well. The first round, I'll do what I do, which is go to the center of the ring and fight. Anything after that, I will adapt to my environment and so be it."
A few days out from breaking camp, Stevens took me through what that tension is like.
"

I try to envision [the fight]," said Stevens. "The fight is next week. The end of camp is only a couple days away. At night, I try to go to sleep but I am so anxious to fight. I am already in great shape; now I am just ready to leave and go home. I don't want to be in camp no more. I am ready and I am envisioning at night when I go to sleep. I closed my eyes and I go over it. What if tries to do this and is he going to meet me in the center of the ring; you know? Is he going to step in like he does everyone else? I try and envision it but you never know especially with a guy like myself who possesses the power that I have. We prepare for every game plan.
"
I can slug as much as I can box," continued Stevens, "It's just making sure we do it the right way and not the wrong way. But no, the fighters are scared of [Golovkin]. I wasn't called for the fight; you know? There's an awful big difference between someone getting called for the fight. 'Should I take the fight or should I not?' I asked for this. Be very wary of someone who asks for something because they want it. They know the task at hand and what it's about. To not be the one who is undefeated, I don't believe I am too worried in a sense."
To Rozier, this is the proving ground for both men. While he remained calm and cool all through the interview, the thing that did rile Stevens was the hyperbole used by Golovkin's trainer, Abel Sanchez.
"

Abel Sanchez is one to try these unbelievable quotes," said Rozier. "I don't go back and forth with quotes but lately, he has been saying that Gennady should be number three behind Sugar Ray Robinson and Bernard Hopkins. He would too much for Marvin Hagler. I mean, quite honestly, if no one else will say it, I'll say it. The man is talking ludicrous. I'm one of the biggest Hagler fans walking this planet. Just for [Sanchez] to state that foolish statement, that idiotic, ignoramus statement, I'm not going to let up off of him. I'm going to grill him like he was on the barbeque. From that point on, I was like, he has to get it. That's it. No more 'Mr. Nice Guy,'" laughed Rozier.
I asked him finally what the difference in his nephew is between now and before that two-year break. In Rozier's opinion, it's a combination of things.
"

Basically maturity. Hes a bit older. He's also a parent now. That's plays into the scope of things heavily. He's with a fantastic promotional team. The team of Main Events, actually they are like protective mothers and you don't find that very often. He is very comfortable and it's a fantastic union and I think all of those pieces play together to paint a wonderful picture and a fantastic product," said Rozier.
Before we parted, Rozier made a striking comparison between this fight and the recent bout between Danny Garcia and Lucas Matthysse.
"
That's why we are looking forward to November 2 because a lot of things will be exposed," said Rozier. "And I for one meant to tell Abel this because he states constantly: 'GGG's' never been off his feet.' Well, neither was Matthysse until he boxed against Danny Garcia," referring to the junior welterweight champion's dismantling of Lucas Matthysse, a puncher many fans and media hyped heavily whose
résumé
was as easily taken apart as they gather Golovkin's could be
.
"

That was a big one for me," explained Rozier, whose apparel company, Havoc, outfitted Garcia for the fight. "I'd been [asked] to create this boxing uniform and we were talking about it and I told him, 'I know you are going to destroy [Matthysse]. Don't get sloppy. Just take care of business.' He said, 'Don't worry about it. I am going to rough him up.' And that's what he did."
For Stevens, everything has led to this. He won his first Golden Gloves in 2002 in the Garden. Now he is returning to fight for the title. He may be the underdog but he is not the opponent. He asked for a chance to fulfill his destiny. Its proving time.
"

I won my first Golden Gloves in the Garden in '02," said Stevens. "I fought there two times after that. To have your first [time at the Garden] be when you win the Golden Gloves and then come back and fight for a world title, in my mind, to win it would be a fairy tale."
Please visit our Facebook fan page at
www.facebook.com/MaxBoxing
, where you can discuss our content with Maxboxing readers as well as chime in via our fully interactive article comments sections.