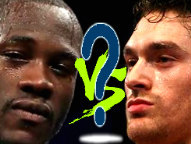 (Image created by © Chee, MaxBoxing)


At the beginning of the week there was a lot of talk, centering around a heavyweight bout between Tyson Fury (who, when it was all said and done, will not be facing the oft-injured David Haye) and Deontay Wilder. On paper, it looked to be an exciting scrap between two undefeated big men. The internet buzzed with excitement over this potential match-up. Well, I hate to be a buzzkill but this may not be coming to fruition.
Richard Schaefer, Golden Boy Promotions CEO, told Maxboxing on Friday afternoon, "I got a call on Monday from Mick Hennessey, Tyson Fury's promoter, who asked me if we would be interested in the fight. I said yes. I said, 'What kind of deal structure do you have in mind?' He said, 'Well, let me think about it. I'll get back to you later on tonight or tomorrow.' That was on Monday and I didn't hear anything from him on Tuesday so I called him. He doesn't answer his phone. He doesn't return calls and it has become absolutely silent. So I think that Tyson Fury, he was yapping about Wilder. I think he and his team must have realized maybe that's too much of a step up for him."

So was the Tyson end merely bluffing?

"Yes," opined Schaefer, who explained, "because I think they probably thought they were going to call me and I'm going to say, 'Oh, no, we're not going to come to the U.K. No, we're not interested.' I said, 'No problem. We can do it February 8th in the U.K. That date works for us; no problem. Let me know what the deal is. If you want, we can do 50/50.'" Schaefer said he was willing to go down the line on all incoming revenue, make a deal and then have each side pay its respective fighter. "[Hennessey] said, 'Let me think about it.' I said OK.
Mick, if you're out there, give Schaefer a call. He's waiting.
This much is clear; Abner Mares will be fighting on February 15th at the Staples Center. The question is, will it be a rematch against Jhonny Gonzalez, who took his WBC featherweight title back in the summer with a stunning first round knockout?
"If [Gonzalez] is not going to honor the rematch clause, then I'm going to ask the WBC to strip Jhonny Gonzalez because that was not a mandatory defense and if he's not going to honor the rematch option we have, I'll ask him to be stripped and Abner Mares will fight against the next available contender - which I think is this guy, Robinson Castellanos - for the vacant title," said Schaefer.
He says of Gonzalez and his representatives, "They're being very difficult."