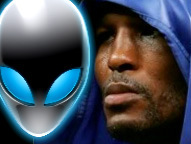 (Image by Chee)


Many years ago, Bernard Hopkins was an afterthought in boxing at the championship level. He lost two close decisions to Jermain Taylor, in which he saved his energy until the final rounds and mounted furious rallies, but gave up too many early ones to win on the scorecards.

He claimed that the weight hindered his energy amount, not his age; at the time he was forty, ancient in boxing terms. So he moved up to 175 pounds, to face the man that had shocked the sporting world by knocking out seemingly untouchable Roy Jones Jr., Florida's Antonio "Magic Man" Tarver.
Nobody gave him much of a chance, except his camp and new conditioning coach Mackie Shilstone.

Shilstone was known in boxing for building up Michael Spinks from a light heavyweight to a strong heavyweight to face Larry Holmes in the mid 1980's. Months of hard work in the New Orleans sun brought a chiseled Executioner to the ring, and he not only won, but dominated Tarver in shockingly easy fashion, even knocking him down at one point.

Fast forward two years later, and Hopkins was again a massive underdog against power punching Kelly Pavlik of Ohio. Pavlik had recently brutally knocked out Jermain Taylor, effectively ending his time at the elite level in boxing, and many others along the way.

Pundits feared for Hopkins's health, especially former trainer Freddie Roach, who noted Hopkins walked to the wrong corner four times against his loss to Welshman Joe Calzaghe. Taylor and Tarver were strong punchers as well, but Pavlik was knocking out everyone in his path with his long arms and excellent leverage.

Once again, Hopkins didn't just prove people wrong, but made them feel absolutely foolish. He cruised to a dominant decision victory.

Fast forward three years later.

After a brutal bout against Haitian-Canadian Jean Pascal in which he was knocked down twice and salvaged a draw, Hopkins traveled back to Quebec to face him in a rematch.

The bout against Pascal was his most brutal since facing Segundo Mercado in Ecuador in 1994, and many thought Hopkins was finally showing his age. He was always known for slick defense and a strong chin, so Pascal would certainly finish the job this time.

Hopkins surprised everyone, most of all Pascal, by standing in front of him, and beating him to the punch while evading everything from Pascal on the way to a decision victory.

After this, Hopkins lost two clear bouts to Chad Dawson, the undefeated light heavyweight champion at the time, and the thought was finally Hopkins had to hang them up.

However, going against the grain as always, Hopkins signed to fight strong Tavoris Cloud of Florida, who claimed to have thunder in his fists.

Again, Hopkins made the younger man look foolish and confused, and won back a piece of the light heavyweight title.

After totally outfoxing contenders Karo Murat of Iraq and Beibut Shumenov of Kazakhstan, Hopkins was in line to face knockout artist Adonis Stevenson, another Haitian-Canadian. However, Hopkins pulled a last minute swerve and instead signed to face rival Sergey Kovalev of Russia.

Always streetwise, Hopkins suspected Al Haymon was trying to pull a fast one by extending negotiations to a point where Hopkins would be stripped, especially with young contender Thomas Williams on the rise.

Never one to give up a belt, or to let anyone take advantage of him, Hopkins held on to his belt and at the same time effectively ended the Cold War between HBO and Golden Boy Promotions by becoming the first GB fighter to fight on the network since, well, Bernard Hopkins.

Now Hopkins again has his back against the wall, facing a monstrous puncher much younger than him. But to those who question him, let us look at history. He has proven us wrong over and over, so why should we doubt him this time? A man with this level of self-belief and history of excellence, knows exactly what he is doing.

Questions or comments, e-mail
Vikram at: vikram.birring@gmail.com