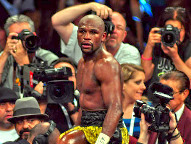 (Photo © German Villasenor)


On Saturday, Floyd Mayweather Jr., the top star in boxing, will once again return to the ring and screens across the world. In movie theaters, bars and on closed-circuit televisions, "Floyd Mayweather vs. Marcos Maidana: The Moment" is upon us. But what is it? What exactly is "The Moment?"
Is it "The Moment" Mayweather, who doubles as the world's best matchmaker, picks the wrong prepackaged foe? Marcos Maidana, 35-3 (31), is billed as a power-punching threat but is in fact a perfect style to be beaten by a boxer as evidenced by Andriy Kotelnik, Amir Khan and Devon Alexander over the years at both 140 and 147 pounds. Yes, Maidana arguably beat Kotelnik. Yes, he hurt Khan late with a single shot. Yes, Alexander soundly beat Maidana over 12 rounds. No, none of them are anything close to being as good a boxer as Mayweather.

Is this "The Moment" Mayweather changed his mind and put himself at risk? Robert Guerrero was not a true threat to Mayweather. Saul Alvarez, at 152, was a drained fighter, as evidenced by the fact his next fight and his upcoming fight were and will be contested above the 154-pound junior middleweight limit. Is this "The Moment" Mayweather throws caution to the wind? The 11-1 odds Vegas has put down on this fight say no.
At age 37, this could be the moment when Mayweather gets old though it must be said that he is as well-preserved as any fighter in the game near his age. Still flexible, agile and quick of reflex and mind, adjusting moment to moment, Mayweather getting so old that Maidana is able to capitalize seems highly unlikely. It is the wish of someone hoping for the proverbial puncher's chance. If you need that kind of help, this is not going to be your moment.
Will this be the moment when boxing fans wise up and save their ducats for a fight worthy of their hard-earned cash? After all, $70 for a fight in which you know the outcome and have, in fact, seen before with fighters not of the caliber of Mayweather is steep. Sure, people buy vanilla ice cream because they like it and know what they are getting, same as they watch "Transformers" sequels. Same as they buy Mayweather fights, I guess. Stability is comforting but at some point, the world's most abused fans, boxing fans, need to demand more for their money by asking more from "Money."
This is not to say Maidana is a shot fighter or an old guy being fed to a young lion. Yes, this is a mismatch not worth a $70 price tag on pay-per-view, especially considering its undercard. But I will say this for Maidana: he's actually experiencing a bit of a resurgence under the physical conditioning of Alex Ariza, who had him bull-strong and relentless versus Adrien Broner in Texas last year. Also, the tutelage of Robert Garcia is a key factor in Maidana's winning ways of late. He jabs more, uses feints and regularly shakes up his offense. But he remains terribly slow and a bit wide with his shots, not to mention how predictable he can be in his patterns. Some of that is changing with Garcia. Will it be enough to win? Again, this is an 11:1 fight hand-picked by a fighter obsessed with maintaining his market value by remaining undefeated.
While some will argue Maidana earned this win by beating Broner last December, is Mayweather vs. Maidana a fight out of Maidana's league? He beat Adrien Broner to get the chance. What did Adrien Broner ever do at welterweight that would make him worthy of being a Mayweather gatekeeper? Nothing at all. Andre Berto was a more accomplished welterweight. Luis Collazo has done more at that weight. Broner? As a welter, much less an elite fighter, has proven to be less than ready for the top level. That is simply a fact.
This first Mayweather fight of 2014 is at his customary site, the MGM Grand in Las Vegas Nevada. The cable outlet selling this "pay-per-view" event, Showtime, is fresh in its relations with Mayweather but the overall hustle is the same: a prepackaged mismatch of a headliner featuring the "best boxer in the world" versus an overmatched fighter. Seems an easy solution to fix the problem here: don't buy this crap and it won't keep getting recycled to the paying public. But give in to watch one fight on the card, be part of the conversation about it or simply to get your boxing fix and you are part of the problem, part of the bilking of the boxing public that has been the hallmark of Floyd's PPV career since leaving Top Rank Promotions: high-reward, low-risk PPV garbage sold on reality TV called "All Access" or "24/7," designed to make you buy something you really don't need.
There was a time when PPV meant the card was extra special. That each fight had significance within the larger picture of the sport. What we have here is a fighter who has reached that upper echelon where he can call his own shots, pick his opponents and is only fighting for his own wallet without the sport or the consumer's best interests at heart. Real challenges would do so much more to bring in the casual fan. Real danger is palpable. "The Moment" is certainly not that. If Khan, Kotelnik and Alexander can do it, certainly Floyd Mayweather can. So where is the challenge? There isn't one. This is simply a repeat of what we have seen before.
Will this be "The Moment" boxing fans realize that and take some measure of power by showing, through lack of sales, that they and their time are worth more than this? Unlikely, but we can hope. It's hard to fool people forever.
Showtime...
Despite an unsatisfying end to Keith Thurman vs Julio Diaz, my mind didn't change about two things: Diaz needs to seriously consider retiring and Thurman has mad upside. He can punch on the fly like few others in the sport. As his technique improves defensively and he gains experience, Thurman will grow into arguably the most dangerous welter in the game.
Lucas Matthysse vs John Molina was a helluva war. Anthony Crolla vs. John Murray is my "Fight of the Year" currently but this one lived up to the StubHub's rep for having the best wars SoCal boxing has to offer. The left hook to the solar plexus of Molina by Matthysse was a thing of destructive beauty. Molina showed his mettle and some of that potential that has been lurking all these years. I hope this is a springboard for him and not a setback of epic proportions.
I don't know what's up with Omar Figueroa but he looks off to me. I wonder if it is a weight issue with him but he seemed a bit underwater to in beating Jerry Belmontes. The layoff may have had something to do with it.
Please visit our Facebook fan page at
www.facebook.com/MaxBoxing
, where you can discuss our content with Maxboxing readers as well as chime in via our fully interactive article comments sections.