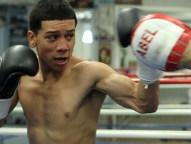 (Photo © Miguel Salazar)


As it should, tomorrow night's bout between Gennady "GGG" Golovkin and Curtis "Showtime" Stevens is getting a ton of attention from boxing media. It's going to be fun fight for as long it lasts. However, looking around this particular evening, there are some hidden, violent gems in the making.

"

First time in New York City. First time at the Garden. First time for everything," an excited Diaz told Maxboxing.com at the final press conference in New York City for Golovkin-Stevens.
"

It's good. A blessing, actually," said Diaz. "I don't just get to fight at the Garden; you know? I get to fight on a great undercard."
Diaz is promoted by Boxing 360 and trained by Abel Sanchez, who also trains "GGG" at "The Summit" training facility in Big Bear, CA. Diaz became a fan favorite prospect with a brawling victory over Guy Robb last year. Since then, he has been training in Big Bear, waiting for his moment and fighting through a hand injury that is at last healed.
"

It's been a bumpy year for me actually. A very bumpy year. It's been seven months since I stepped in the ring. It's great to be a part of this group. It's great to be part of Gennady's posse; you know?" smiled Diaz. "I'm ready. I've been training. I haven't taken nothing off. Just been training up there in Big Bear and waiting for my moment; you know?"
As for the main event. Diaz is an insider, watching Golovkin train over his last few camps.
"

I think Stevens doesn't have a chance against him. I think [Stevens] is a much smaller guy. I think the only thing he's got over Gennady is speed. That's the only thing that I see," said Diaz. "He has the speed and Gennady has the power and the movement. I think it is going to be a short night for Stevens. The more aggressive [Stevens] is, the shorter the night. It won't go past the seventh round."
Also on this card is Dusty Hernandez Harrison, a 17-0 (10) welterweight out of Washington, D.C. gets his first shot at a regional title when he battles Josh Torres, 12-2-1 (5), for the vacant WBC Youth world welterweight title.
"

It means a lot. I came up here to watch [Felix] Trinidad vs. [Ricardo] Mayorga with my dad. Last row but it was so exciting. My mom is Puerto Rican so it was really exciting. I saw [Miguel] Cotto fight Zab Judah. Ever since that I wanted to fight here. A lot of people are coming to support me. A full bus of people. Maybe three times as much as the bus are coming. Not only does [fighting at the Garden] mean a lot but to have a crowd here feels good."
"

It means a lot to me. Its a green belt. Its something I can have to show people all the work I do, so I do think about it. It mean s a lot. It's a championship title, 'world' title, so it does mean a lot to me.
"

This fight is the most I have looked at tape," said Hernandez who studies tape of his opponent and himself. "I think my speed and combinations will be too much for him. He has really good one-punch defense. When you throw one punch at a time, he does good but I think when you throw combinations, he gets flustered. I think that will be the difference in the fight."
Nothing makes fight fans happier than hearing the plan is to throw a lot of punches.
Perhaps the largest hidden gem on the GGG-Stevens card is between a Cuban national fighting out of Ireland, Mike Perez, 19-0 (12), vs. Magomed Abdusalamov, 18-0 (18), from Russia by way of John David Jackson's Florida gym. This is a heavyweight fight between southpaw undefeateds looking to make a statement in a division bereft of them as of late.
At 32 years old, "Mago," has quietly burst onto the scene. This is his biggest close-up for America audiences yet. Promoted by Sampson Lewkowicz and managed by Boris Grinberg, the 6'3" Mago is an tenacious as he is awkward.
"

I respect Perez very much," "Mago" told Maxboxing.com at the final press conference. "He is a very good pro as well as an amateur. I do feel this is going to propel us into the next level. I am going to give a good showing and win for the fans."
"

I've seen this type of fighter. [Perez] is a good fighter. He throws a lot of punches. But we have 10 rounds to find the key to the fight. And I am sure I will find the key and unlock it," said a calm Abdusalamov.
Combinations and speed are Perez's strengths, according to "Mago," who also said he has no worries about facing a fellow southpaw. "Its not that rare. I've faced pro lefties, southpaws. So its not that difficult. Righty, lefty, it doesn't matter."
It's one thing to say things leading up to the fight. Its another to get up in the ring. So we will see how it goes, see what we have and unlock the key," said Abdusalamov.
"

When he was an amateur, he was winning his fights by knockout because he threw a lot of punches. He finds the space where to put his gloves," said Grinberg. "It will be the same in this fight."
Before we parted, Abdusalamov said he predicts a Stevens wins for precisely the same reason. Mago described watching" GGG" find space for his uppercut, turning it at an odd angle in order to fit it between the gloves of an opponent. He feels that intelligent adaptability will be the difference in the main event.
As for Perez, his fighter journey began at age five.
"

I was a very hyper kid," Perez told me. "I was having trouble with other kids in school. I was in wrestling and so one guy asked me,' Do you like boxing?' I said, 'I don't know. I will try it.' I try it and liked so I became a fighter. I left Cuba in 2007 to come to Cancun then to Ireland. Now I am professional fighter."
"

Everyone asked me why Ireland. It is something that I don't want to talk about," said Perez.
Perez said Ireland is very different from his home in Cuba but after a time, he adjusted. The father of three kids, Perez is engaged to be married, giving him even more to fight for.
"

When I do something in boxing first, then I will get married," he said.
Perez explained that while he fights purely southpaw, he does do certain things (such as play baseball) right handed, catching with his left but throwing with his right. Not a tape watcher, Perez says he only fought one southpaw, Tye Fields (a TKO in one in 2011), but explained it was only early on in sparring in which he had trouble adjusting to moving around with a mirror image fighter.
"

Now we have everything worked out," said Perez.
When pressed to describe himself, Perez said he is an all-around fighter, not boxing himself into a label.
"

In this weight, everyone can punch. I think in this [fight], I can move around more but I do a bit of everything," said Perez.
While neither heavyweight is a mainstream fighter yet, this is one fight pundits and insiders alike are tabbing as an intriguing bout that could turn into something special. For Perez and Abdusalamov, this is the big close-up moment on not only a large stage but a hallowed one.
"

I don't think people know much about me but the people who follow boxing, they know. I think they will see an exciting heavyweight fight," said Perez. "Like I said, I don't know the guy. He is a good heavyweight. I am good too. So we see Saturday night who is better."
A first title shot, a returning fighter, and match-up between undefeated heavyweighgts with a middleweight title fight as the cherry on top. Safe to say, Saturday night at the Garden has something for everyone.
Tickets are still available for the Golovkin-Stevens card. The venue is configured for 4500 people with about 4000 tickets now sold.
The gem of the weekend is more than like Hernan Marquez vs. Giovani Segura on UniMas. Do what you have to in order to catch this fight. Both men have been in "Fights of the Year." Neither gives any quarter. It figures to be a good one.
Please visit our Facebook fan page at
www.facebook.com/MaxBoxing
, where you can discuss our content with Maxboxing readers as well as chime in via our fully interactive article comments sections.